[Written by Don Burgess]
You have heard some of the hype surrounding the Gold Cup, but what is it? And how did Bermuda qualify for it?
The Gold Cup is the equivalent of the UEFA European Championships or the Copa Americana except for countries from North and Central America and the Caribbean. In 2021, the Gold Cup will be used to determine the representatives for the FIFA World Cup.
Bermuda booked its ticket for the Gold Cup by finishing in an impressive fifth place out of 34 nations in the Concacaf Nations League Qualifying.
The Gombey Warriors finished ahead of such vaunted competitors such as Jamaica, Nicaragua, and El Salvador.
The top 10 nations from the qualifying advanced to the Gold Cup and were added to the pool that included to the six countries that were in Concacaf's Qualifying Hexagonal – Mexico, Costa Rica, Panama, Honduras, the United States, and Trinidad and Tobago.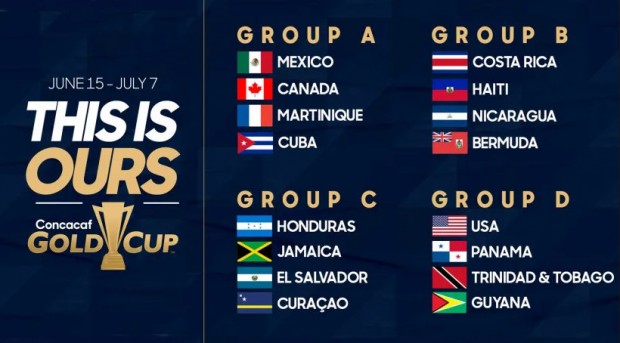 The 16 teams were then put into a four-group draw and Bermuda will play Costa Rica, Nicaragua, and Haiti, which was the top team from the Nations league Qualifying.
Games are set for June 16 in Costa Rica, June 20 in Frisco [Dallas], Texas, and June 24 in Harrison [Newark)], New Jersey.
The top two teams from each group will advance to the quarterfinals. Bermuda's Group B will play the first two teams from Group A on June 29 in Houston, Texas. That Group includes top seed Mexico, along with Canada, Martinique, and Cuba.
The winners from the quarters will play on July 2 in Glendale, California and July 3 in Nashville, Tennessee with the finals scheduled for July 7 at Chicago's Soldier Field.

In an effort to provide comprehensive coverage of Bermuda's debut in this highly prestigious regional competition, Bernews will have a dedicated reporter traveling with the team to all the games in order to bring all the latest action and insights of our Gombey Warriors, with the special coverage thanks to the support of Butterfield & Vallis, One Communications, and Bermuda Security Group.

Read More About