The Bermuda Underwater Exploration Institute will present a screening of "Hampstead" on Sunday, July 14 at 5:15pm in the Tradewinds Theatre at BUEI.
The event poster says, "Though Emily [Academy Award Winner Dime Keaton] and Darold [BATA Award Winner Brendan Gleeson] live in the some idyllic London neighborhood of Hampstead, the worlds they inhabit could not be more different.
Trailer for Hampstead:
"She is an American widow occupying a posh apartment she can no longer afford and filling her time with charity work as she struggles to figure out a next step. He is a gruff Irish loner who lives off the land in a makeshift cabin and wants nothing more than to be left in peace. When his home is threatened by greedy real estate developers, Emily believes she has found here new cause-but get more than she bargained for when unexpected romance blossoms.
"Based on an inspiring true story, Hampstead is a buoyant, sparklingly witty tale of two underdogs who took on the system and showed a nation that heart is where the home is."
Tickets cost $15 for adults and $12 for students, and are available by calling 294-0204 or visiting BUEI's Oceans Gift Shop.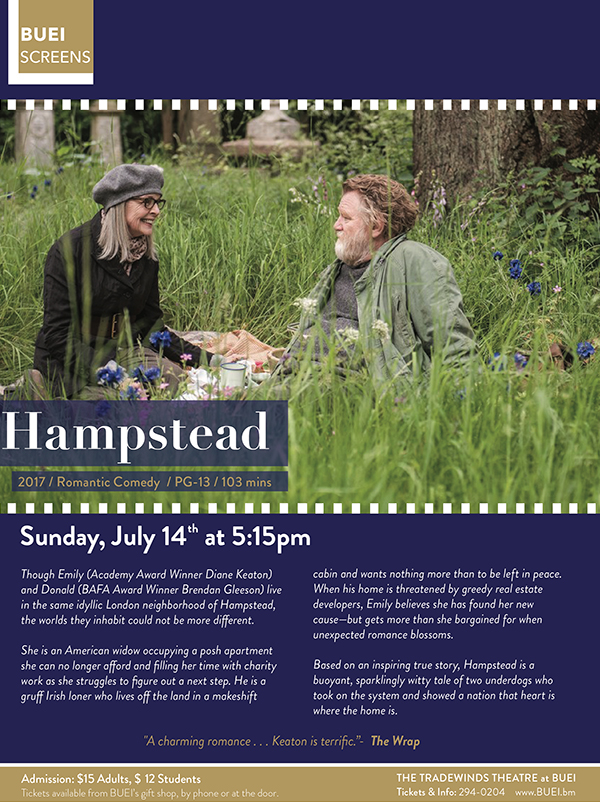 Read More About
Category: All, Entertainment, Films/Movies