"I reported in October last year on the progress being made in filling critical vacant posts in the Engineering section. I rise today to give a further report on additional progress in this area as well as highlighting summer student support this year," Minister of Public Works Lt/Col David Burch said in the House of Assembly on Friday.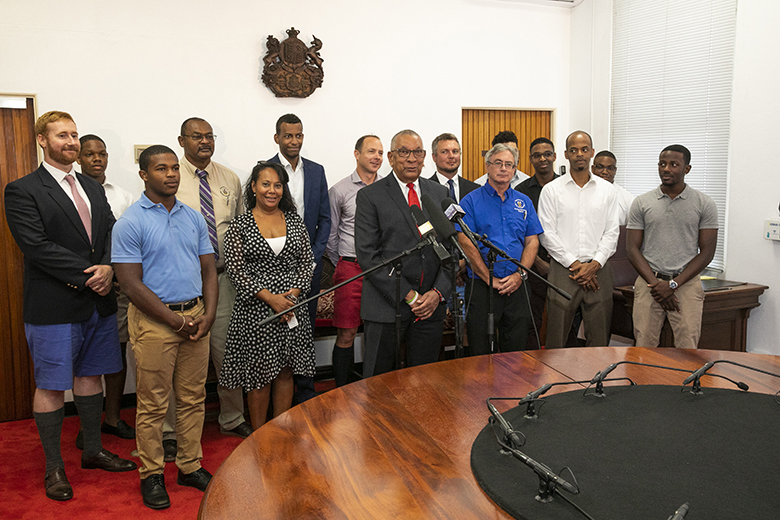 The Minister also held a press conference later in the day where he reiterated some of the accomplishments saying that this "is an outstanding array of young professionals – the majority of whom are Bermudian."
The Minister's full statement follows below:
Good Morning, Mr. Speaker.

I am pleased to first report that the Department of Land Valuation Bursary Student, Ms. Andesha Busby, has successfully completed her 3 year Bachelor of Science in Real Estate degree programme at the University of Reading in the UK.

This summer she has just completed 7 weeks of work experience with the Department as a Bursary Student. She has recently returned from attending her graduation ceremony in the UK.

We are currently awaiting confirmation from the UK Valuation Office Agency on the placement location for the 2 year secondment opportunity for Ms. Busby on their Graduate Scheme. It is anticipated that she will commence her work experience with the VOA in September 2019.

I would like to commend the Director, Mrs. Diane Elliott for her unwavering commitment to ensuring that Andesha was successful – both of whom are in the gallery this morning.

Mr. Speaker, I reported in October last year on the progress being made in filling critical vacant posts in the Engineering section. I rise today to give a further report on additional progress in this area as well as highlighting summer student support this year.

Mr. Speaker, Bermudian Remi Subair – a former trainee and graduate of Western New England College [now University]. Following a secondment to Associated Engineering in Edmonton Canada he returned to a full time post in 2009 as an Electrical Engineer and was promoted to Principal Electrical Engineer in September 2017. Since that time he has been instrumental and unrelenting in pursuing the recruitment of staff for the electrical section.

Dr. Martin Biffin joined the department as the Mechanical Engineer in July 2011. He briefly assumed the role of Principal Electrical Engineer in January 2015 before moving to Principal Mechanical Engineer in August that year. In that position he is responsible for all fleet vehicles maintained and operated from the Quarry Depot. He will be retiring at the end of this month and returning to his native Wales. It is expected that he will be succeeded by a Bermudian.

Mr. Speaker, Attila Fustos joined the Ministry over a year ago as a Principal Structural Engineer. He is responsible for the government owned heavy civil structures on the Island. He states "It has been a challenging and exciting experience working for the Bermuda Government and I am fortunate to be part of such a motivated Bermudian team. I look forward to continuing to encourage the future generation of engineers on the island. "

Mr. Speaker, Tarik Christopher – Chemical Engineer began his career in 2001 as a trainee operations engineer for water and sewage. Having completed a year's secondment with the infrastructure planning division of KMK Consulting in Brampton Ontario he returned to the department. A former Bermuda Government Bursary Student with an Associate Degree in Political Science from the Bermuda College, he graduated from Dalhousie University with a Bachelors of Engineering degree in Chemical Engineering and he currently serves as the Principal Engineer Water and Sewage.

Mr. Speaker, Tina Beer-Searle a Bermudian who holds a Bachelor's Degree in Civil Engineering with a minor in structures. She joined the Ministry in September 2009 as Assistant Highways Engineer, followed by a year's secondment with Associate Engineering in Edmonton Alberta Canada to obtain her professional designation. She left the Ministry in October 2015 to join Public Works in Sedona Arizona and returned as Consultant Engineer in July 2016 and then hired as Civil Engineer Highways in August 2018. She is currently the Acting Principal Highways Engineer.

Mr. Speaker, Carmen Trott will be known to you as the lead engineer on the recently completed Kings Wharf project. She has served as a Trainee Civil Engineer, Assistant Civil Engineer in 2005 and then Civil Engineer [Structures] in 2010. In 2013, the Ministry sent Carmen on a one year secondment to Mott MacDonald in London, UK working in their maritime and bridge design teams. In 2015, Carmen took a position in the private sector where she is currently employed. The Ministry hired that firm under a Structural Services Support contract in 2016 and she returned to the Ministry as a full-time in-house consultant in January 2018 working on the Artemis Building relocation, King's Wharf and the Bridges projects.

Mr. Speaker, Bermudian Daniele Bortoli rejoined the ministry last year after an almost 3 year hiatus working for one of the leading design engineering firms in Manchester – BDP Ltd. There Daniele was employed as an electrical design engineer working predominantly on new hospital projects and university campus developments.

He holds a Bachelor's Degree in Engineering from the University of Leicester and a Master of Science Degree in Sustainable Electrical Building Services from Manchester University.

He has extensive international experience having worked with some of the best engineering consultancies in North America and Europe. With experience in the industrial, commercial, residential and healthcare sectors, Daniele brings a unique skillset and a deep practical know how to this post having started his career as an electrician.

Mr. Speaker, Bermudian Austin Kenny, first worked for the Ministry as a trainee engineer in 2010/11. He left to gain experience overseas working in Canada and Australia on maritime, oil & gas projects. He completed his undergraduate degree in Civil Engineering [Structures] in 2010 and Master of Engineering Structures degree in 2013. He returned to Bermuda and MPW in late 2018 as the Senior Structural Engineer.

Carolina Drew has been with the Ministry since May 2008 as the Highways Design Engineer. During this time she has been involved in several road designs and widening projects such as Pender Road, Sandy's, bridges, walls and roundabout designs, such as Blue Hole and Black watch pass roundabouts and is now working on the new alignment of the St David's Roundabout in preparation for the new swing bridge.

Mr. Speaker, Bermudian Curtis Charles is a registered Engineer in Arizona and has a Civil Engineering Degree from North Arizona University. He was a trainee in 1979 and began employment in 1986. He is currently the Construction and Maintenance Engineer for the Highways Section.

Mr. Speaker, Bermudian Ricardo Graham-Ward has been a Trainee Structural Engineer since 2015 having started with the department as a summer student in 2010. He holds both Bachelor and Master degrees in Civil Engineering. He has completed a secondment in Toronto Canada and recently returned from a yearlong attachment with the new bridge consultants Ramboll in the UK.

Mr. Speaker, Bermudian Zeeko Johnstone joined the ministry in April last year. After achieving his Associates Degree he transferred to Florida International University where he studied Mechanical Engineering. In 2017, he graduated Cum Laude [with distinction], with a Bachelor of Science Degree in Mechanical Engineering. During the last 6 months Zeeko completed a secondment in Canada where he worked with H. H. Angus designing and drafting heating and cooling systems for numerous commercial buildings. He also learned cutting edge technology in 3d modeling of buildings and structures which he has already trialed at Kings Wharf since returning home. Zeeko is currently working towards his professional engineering license and registration with The Professional Engineers of Ontario.

Mr. Speaker, Bermudian Jamar Dill started in the ministry in May 2018. He has a Bachelor's degree w/ honours in Electrical Power Engineering and a Masters Degree in Maintenance Management with an emphasis on Reliability.

He too has recently completed a 6 month internship in Toronto at Mulvey & Banani where he worked on large complex projects gaining valuable international work experience.

He is also currently working towards his professional engineering license and registration with The Professional Engineers of Ontario.

Mr. Speaker, Bermudian Tabia Butterfield has been working with the Department since December 2016. She first came to the Ministry as a summer student working in the Highways and Structures Sections. After a short placement during Christmas 2016, Tabia returned to Seneca College where she completed her Civil Engineering Technician Diploma in June 2017. That summer she designed and managed the building of a bus shelter and curb realignment on Palmetto Road. She was also awarded a Works and Engineering Government Bursary to pursue four-year masters of engineering degree at Cardiff University. She returned to MPW during the summer of 2018 and has been involved with the Bridges and Kings Wharf projects.

Mr. Speaker, Jarreau Daniels graduated from Florida International University in May last year with a Bachelor of Science degree in electrical engineering, power systems and network telecommunications. He joined the Ministry at the beginning of 2019 as an electrical engineering energy consultant. Jarreau is currently identifying ways to reduce governments' energy consumption, beginning with primary and middle schools. He has already completed surveys at several schools and identified significant cost saving measures.

Mr. Speaker, let me now turn to the 4 summer students we have in the engineering section.

The dean of summer students is Lance Brown – his 3rd summer with us – an electrical engineering student currently attending Aston University. The program involves him in various projects around the island and includes many aspects of the electrical engineer's professional life.

Cody Simons returns for a second year working alongside the electrical engineers gaining valuable insight, knowledge and experience, not only as to what an engineer does, but how they approach a problem from different perspectives. Mr. Speaker, Cody is currently studying mechanical engineering at the University of New Brunswick.

Mr. Speaker, Alex Doyling first started the Public Works engineering program in 2018 as a work placement student as one of the requirements of his high school. That summer he began with the structural engineers. After his first year of university he returned and rejoined the structural engineers. Currently, he is studying computer engineering at Kutztown University.

Mr. Speaker, Jaire Lawrence-Salaam – he is the newest and at 17 years of age – the youngest summer student in the structural engineering section. During his short time at the ministry he has been exposed to a number of new concepts and technologies. Including working with the Chief Engineer to construct a tender document on the online application Orbidder for the upcoming PGA tournament. He has also been exposed to AutoCAD in 3d and other assignments to help him become more proficient with the program.

Mr. Speaker – Kirk Outerbridge – currently serves in the dual role of plant manager at the Tynes Bay Waste to Energy Facility and Assistant Chief Engineer. Kirk is a former trainee and Operations Engineer who has managed the Tynes Bay Facility since 2007. He championed the power engineering training program at Tynes Bay, introduced a solid waste contingency system for the island and acted as owner's representative for the major plant refurbishment, including the installation of a new turbine generator.

As Assistant Chief Engineer for the last 3 years – he has not only shadowed the Chief but assumed responsibility for and overseen the operations section, assisted with the day to day running of the Department, learned all aspects of the department in preparation to assume the Chief Engineers post next month.

Mr. Speaker, these are just a few of the outstanding young Bermudians doing amazing work in the Ministry of Public Works and the wider community.

Mr. Speaker, I am sure that you and colleagues will agree – this is an outstanding array of young professionals – the majority of whom are Bermudian. Many of them have joined us in the gallery today – so that they will know – we are all very proud of their accomplishments thus far and to serve as encouragement to them that we will assist them in reaching their full potential.

Mr. Speaker, there are many people who are responsible for the progress we have made in the engineering department over the last 3 years but none more worthy of our thanks and appreciation than the current Chief, Mr. Yves Lortie.

Since joining the Ministry just under three years ago, our Chief Engineer – better known to all as simply 'Bob" has set the example for what a guest worker and expert in his field should be all about.

Mr. Speaker, for years private firms, the Government, and in particular, the Ministry of Public Works has employed guest workers with the proviso that they prepare locals to either fill their posts upon departure or at the very least, set them on a career path that would eventually position them towards the more senior positions. In this regard, Bob has single handedly filled nearly every cubicle in the Engineering Section with young Bermudian professionals in the fields of Civil, Structural, Electrical, Mechanical, Power and Highways Engineers.

From his first day on the job – his primary mission was to identify a replacement for himself. Within months – he did so in the person of Kirk Outerbridge – and promptly set about designing the steps needed to ensure he was ready to take the job before the end of his contract – and as you heard earlier – Kirk is ready and will assume the post.

I would pause here to invite my Honorable Colleagues to look into the gallery at those young men and women – they are the testament to the impact Bob has made while on this island.

Frankly, Mr. Speaker, I am amazed at where he finds the talent on this little island as from time to time I have walked through the Engineers Section, only to see a new face and learn that Bob has added yet another team member. Mr. Speaker, I am convinced that he has built in radar that allows him to track down persons who are engineers or that aspire to be.

Not only is Bob able to identify talent, but he nurtures this talent in ways I have never seen before. He is also a very humble man and would much prefer to remain behind the scenes and let the young talent receive the accolades for the work they do – so he won't be too happy with this part of the statement.

Mr. Speaker, one such example is with the Kings Wharf project in Dockyard where Bob worked alongside three young engineers, Ms. Carmen Trott, Mr. Austin Kenny and Ms. Tabia Butterfield, which you will recall in a previous Ministerial Statement, were the lead persons on that project – that set the Gold Standard for projects in the Ministry. This team ensured that the Kings Wharf Dock was ready for the first cruise ship of the season.

Mr. Speaker, I recall leading up to the first cruise ships arrival, the team was working around the clock – and here comes Bob on his motorcycle that was completely weighed down. When he stopped, the bike almost toppled over. To my surprise, Bob had converted the basket on his motorcycle into a cooler and brought everyone cold water and juices. And on the floor board on this same bike, he provided a variety of snacks.

Mr. Speaker, not only does Bob look out for staff by willingly passing on his knowledge and expertise, I have witnessed where he has offered some of his own funds to ensure a student could remain in an engineering programme. I know he wouldn't want me to mention this, but I have to give credit where it is due.

More recently, Bob worked with two top engineering firms in his home country of Canada to secure secondments for two of our engineers, Zeeko Johnston and Jamar Dill, who worked for six months gaining valuable experience and credit towards their engineering designations.

Mr. Speaker, all of this is done with a unique sense of humor – often added to by the fact that English is not his first language. He views life from a pragmatic position – be serious in your work but have as much fun as possible along the way.

Notwithstanding all that, Mr. Speaker, all good things must come to an end. Sadly, Bob will be leaving us in a few weeks to return to his native Canada at the conclusion of his contract. However, although he will no longer be on island, our relationship with him will not end. Mr. Speaker, such is the quality of this man that he remains committed to helping our team of engineers even after his departure. That in my view is a true testament to the quality of this man.

Mr. Speaker, I know I speak for the Permanent Secretary of the Ministry of Public Works, Mr. Randy Rochester and the entire team when I say we will be talking about Bob and his impact on Bermuda for decades to come and express my sincerest thanks to him for all the good work he has done while here and the many fun times we have had together.

Thank you, Mr. Speaker.
Read More About