Bermudian golfer David Ferreira recently earned medalist honours in a U.S. Mid-Amateur Qualifier at Indian Valley Country Club in Pennsylvania.
The report in Gap Golf said, "A proven champion and an unproven newcomer shared medalist honors in a U.S. Mid-Amateur Qualifier administered by GAP Monday at a steamy Indian Valley Country Club [par 72, 6,769 yards].
"Whitemarsh Valley Country Club's Will Davenport, who captured the GAP Middle-Amateur earlier this year, and Merion Golf Club's David Ferreira, whose round total for 2019 sits in the single digits, carded respective 5-under-par 67s to top the leaderboard and thus grab two of five qualifying positions available.
Photo courtesy of Golf Association of Philadelphia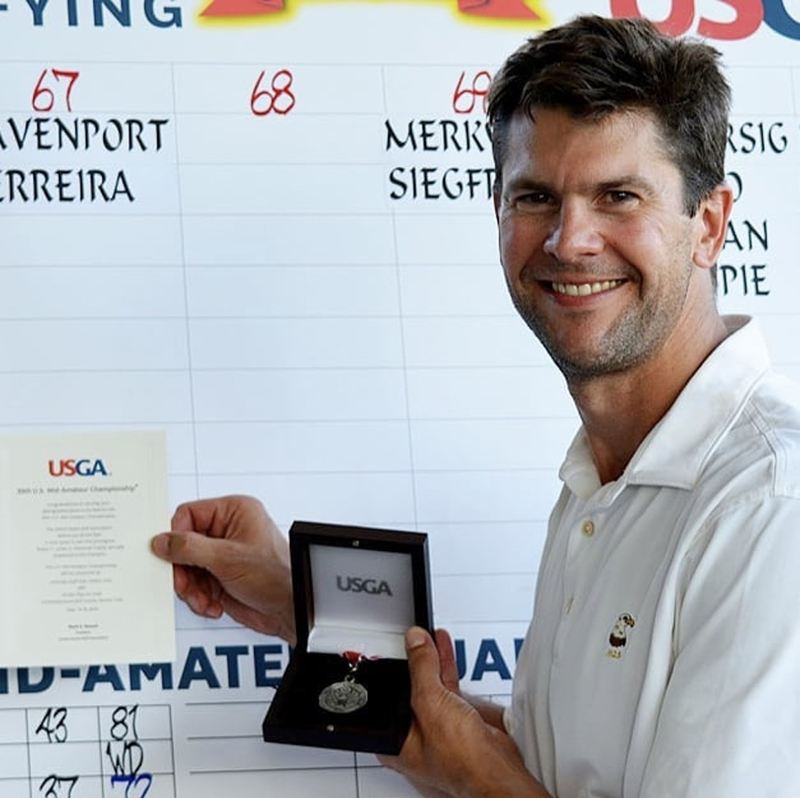 "Playing in the afternoon, Ferreira matched Davenport's mark thanks to a fist-pumping chip-in birdie on No. 18 [par 4, 387 yards].
"I had to shape a 9-iron [from 146 yards uphill] in there [for my approach]. It was one of those lies where you had to keep the clubhead moving through the ball," Ferreira, 37, of Haverford, Pa., said. "I was having a great day. I knew that I was right there. I just wanted to be aggressive. Sometimes you just get lucky. That one went right in the heart, which is awesome."
"Luck also intervened on No. 9 [par 4, 367 yards], where Ferreira's tee shot ricocheted off a tree and into the fairway. He then knocked a 9-iron 156 yards to 12 feet for birdie.
"I thought from No. 9, things were kind of going my way. I just needed to hang on through the back nine," Ferreira said.
"That he did. Back-to-back birdies on Nos. 14 [par 4, 377 yards] and 15 [par 5, 551 yards] separated Ferreira: a wedge 135 yards to 15 feet on the former, an up-and-in on the latter.
"The greens were great today. They rolled true," Ferreira, a partner at a hedge fund in Chadds Ford, Pa., said. "If you hit your lines, you were in good shape. I hit my lines. I have no clue about any stats. I was taking it one shot at a time.
"I was pretty loose. I was just coming out here having fun. I holed a bunch of putts thanks to my caddie, Des Atkinson. He made sure I got over the line."
"Ferreira, a Bermuda native, moved to the Philadelphia area nine years ago for the sake of matrimony. He grew up 'playing regional tournaments against Justin Rose, and I would lose all of the time.' Golf is limited these days — professional and personal [three kids under the age of 6] obligations. But now a national event awaits.
"I'm going to show up, apologize to my wife profusely and have a ton of fun. Zero expectations," Ferreira said. "I'm thrilled that I put up a great round of golf today. I'm going to really enjoy my first USGA experience."
You can read the full story here on the Gap Golf website.

Read More About