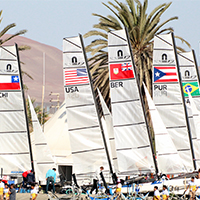 Ceci and Michael Wollmann competed in the Mixed Multihull Opening Series at the 2019 Pan Am Games in Peru.
The Wollmanns come off the water having sailed four more races on the day and remain in 8th place with 45 net points.
The Wollmanns finished the first race of the day and the fifth of the series in 6th place, before finishing 5th in the second race and then they finished 6th in the third race, before finishing 7th in the fourth and final race of the day.
Ceci Wollmann said, "It was windier today and we seemed to have good boat speed which is always helpful. Our maneuvers and starts were better which put us closer to the top guys and we were able to be a lot more competitive with them. Hoping for the momentum to continue, we're only a few points behind Puerto Rico."

Read More About