The Berkeley Educational Society in conjunction with The Berkeley Institute will be hosting an Alumni Anniversary Reception on September 6th 2019 in the Upper Atrium of the new Berkeley Institute Campus on 26 Berkeley Road.
"The school will endeavor to celebrate its opening 'birthday' on 6th September every year going forward. On that day we invite alumni to represent Berkeley's legacy by wearing something green or gold," a spokesperson said.
"This is the 122nd Anniversary of the opening of The Berkeley Institute on 6th September 1897 when there were 27 students –15 boys and 12 girls. Its parent body, The Berkeley Educational Society, was founded on 6th October 1879, some 18 years before The Berkeley Institute opened at Samaritan's Lodge on Court Street, Hamilton.
"The Berkeley Institute continues to celebrate its legacy and history since its inception as an all-age school, becoming a selective 'grammar' school and evolving into a senior secondary school offering a modern comprehensive education to students of all abilities.
"So gather up a group of your alumni classmates and heed these words to the school song 'oft as we can, we'll come back again.' Come back to socialize and reminisce about the days of the 'Green and Gold we will e'er uphold' on 6th September 2019 from 6:00 p.m. until 8:30 p.m."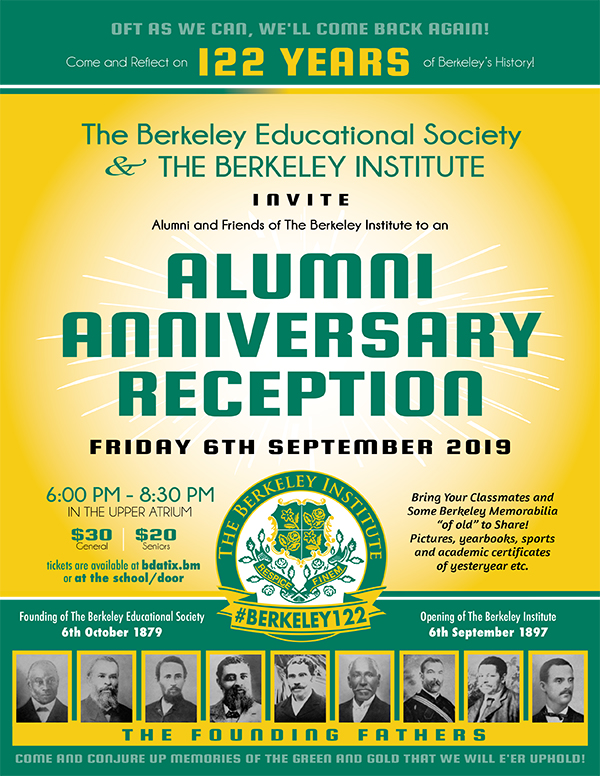 Read More About
Category: All