The 142-year-old riddle of Bermuda's own Sphinx has finally been unravelled.
Prompted by a photograph of the statue of the Baskerville-scaled Great Dane of that name in the National Museum of Bermuda's collection, the institution's executive director emeritus Dr. Edward Harris donned his deerstalker.
And then, over the course of several years, he set about solving the mystery of how the enduring monument to a well-loved pet came to be built near the Paget foreshore in 1877.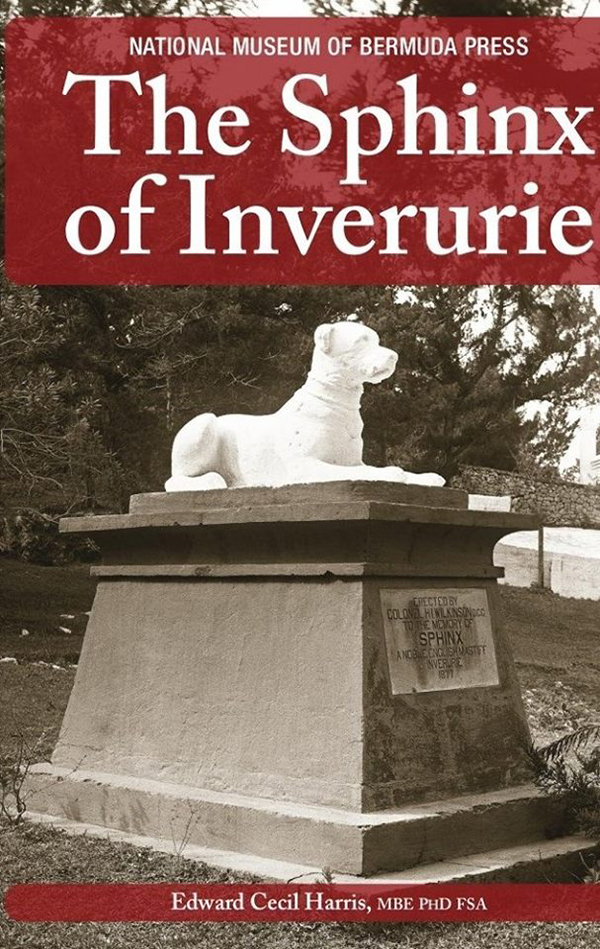 The results of Dr. Harris' research are published in the recently released National Museum of Bermuda book Sphinx of the Inverurie.
Located at various locations on the Inverurie property since it was designed, sculpted and erected by Sphinx's owner, British army officer and gifted amateur artist Col. Henry John [Harry] Wilkinson, the statue has for many years been the subject of what Dr. Harris somewhat despairingly calls the "legends that suffer as truth in Bermuda history."
But in his new book on the more-than-full-size canine memorial, Dr. Harris traces the real story of Sphinx and his owner: it's an intriguing tale, one which spans the globe from Col. Wilkinson's birthplace in northeast Victorian England to the battlefields of the Crimea [his sketches of war scenes were used as the basis for lithographs in the Illustrated London News] to Inverurie, one of the island's most historic houses, built by 18th and 19th century Bermuda privateer Hezekiah Frith and home to the officer, his family and their outsized dog when he was stationed with the British garrison here in the 1870s.
The now-restored statue of Sphinx is still to be found on the Inverurie property which, after a long spell as a hotel, was converted into an apartment complex and high-end rental accommodation for visiting businessmen in the 1990s.
And it is still drawing curious glances, and an endless stream of questions, from Bermuda residents and visitors alike.
One critic has said: "Dr. Harris provides the answer to the minor but abiding puzzle of Sphinx in his delightfully written and meticulously researched account, one which portrays the multi-faceted Col. Wilkinson as a man of action, a man of art and a man of enormous sentiment when it came to his 'noble English mastiff', as the dog was described on the tablet attached to his statue."
As Dr. Harris concludes, the tenderhearted Col. Wilkinson could have provided the inspiration for his contemporary Rudyard Kipling's little poem The Power of The Dog:
"There is sorrow enough in the natural way
From men and women to fill our day;
And when we are certain of sorrow in store,
Why do we always arrange for more?
Brothers and Sisters, I bid you beware
Of giving your heart to a dog to tear …"
The Sphinx of Inverurie is available from the National Museum of Bermuda, The Bookmart and the Bermuda Bookstore.

Read More About
Category: All