Bermudian style influencer and fashion expert Shiona Turini conducts Essence readers on a guided tour through her native island in a major new travel piece posted at the magazine's website.
Titled Get Lost: 72 Hours In Bermuda, Ms Turini's article recommends would-be American visitors book now to enjoy a three-day weekend on the island over Cup Match 2020.
Screenshot from the Essence website: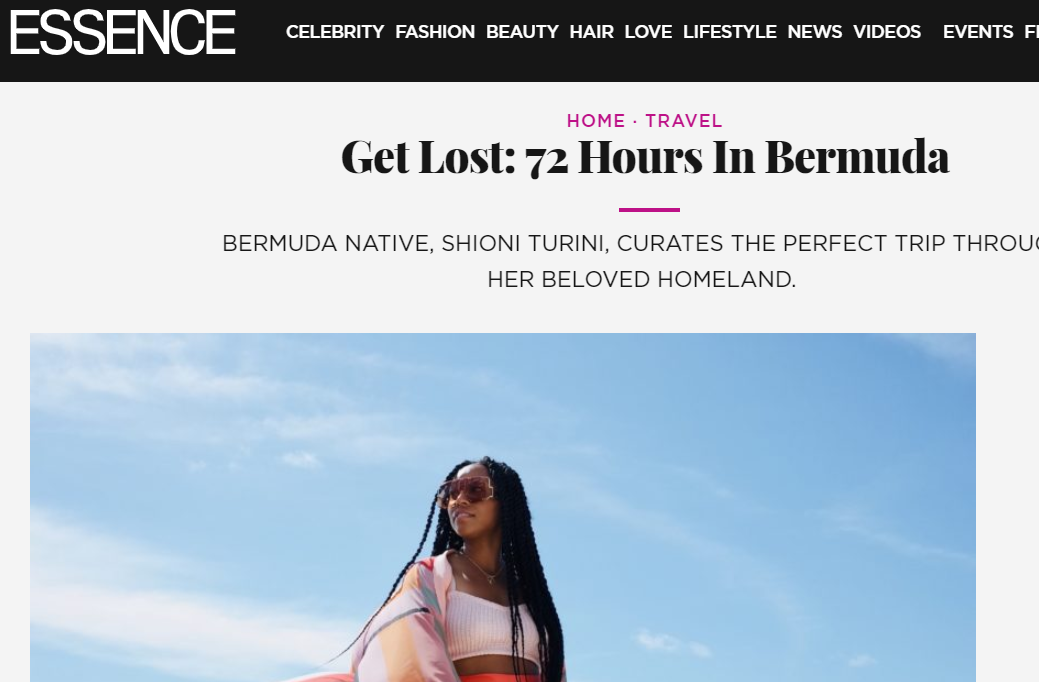 "From the average tourists' perspective, the best time to travel to Bermuda is between May and October, but as a native, trust me when I tell you, you really don't want to miss Cup Match weekend, held annually on the weekend nearest to August 1st," she said. "Cup Match is the celebration of the 1834 Emancipation of Black slaves in Bermuda and during this weekend, Bermuda is in full party mode.
"Bermudians come together for community events that mark and commemorate their pride and freedom, including a friendly cricket game between rival teams, Somerset and St. George's [more on that later] and Non-Mariners boat day."
Now based between Bermuda and New York City, fashion industry veteran, stylist and writer Ms Turini said checking in on the actual Cup Match cricket game between the St. George's and Somerset Cricket Clubs was non-negotiable for anyone visiting the island over the holiday.
"Once you hit the cricket field, get ready for a serious turn up. St. George's fans are decked out in blue, while Somerset fans wear red and blue," she said. "Choose your allegiance wisely—the spirit and team-pride run deep. No matter who you pick, game-goers can at least agree on two things: you must have a Swizzle [or four], Bermuda's national rum cocktail, and hit the Crown & Anchor tent to get in on the gambling action."
But aside from cricket she pointed out vacationers would be spoiled with choices over a long Cup Match weekend.
She suggested visitors take a cultural detour to the historic town of St. George, participate in the Bacchanal Run and attend the boat raft-up at Mangrove Bay.
"By the time your flight home arrives," she said, "you'll leave Bermuda feeling more like family than a visitor, which means it's never goodbye, its see you soon!"
You can see her full Essence article here.

Read More About