As of 6.30pm this evening [Sept 20] a total of 11,081 customers remain without power due to Hurricane Humberto, and BELCO crews continue to work on restoration and said that is "anticipated that all customers will have their power restored by end of day on Monday."
A spokesperson said, "BELCO crews continue to work across the island to restore customers who lost power as a result of Hurricane Humberto.
"As of 6.30 pm a total of 11,081 or 31.7% of customers remain without power. As crews continue their work there is a likelihood that customers who have had their power restored may have it turned back off to allow for other circuits to be brought back on to the system safely.
"BELCO crews will continue working until 12 am with work to resume at 8 am. It is anticipated that all customers will have their power restored by end of day on Monday.
Sign seen on the road side in Paget thanking BELCO workers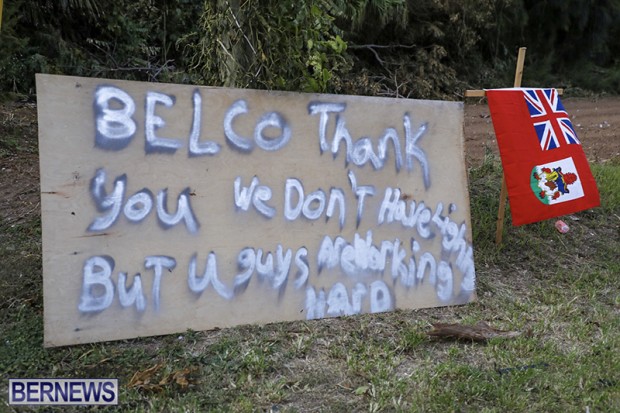 "As a reminder, a BELCO spokesman asked that the public not call the company unless there is an emergency which includes a pole fire or downed power line.
"Customers are also strongly urged to unplug their appliances, electronics, and power cords from wall outlets to protect their technology from power surges.
"BELCO recommends installing surge protectors to help safeguard valuable electronic equipment and to plug sensitive equipment into a separate, grounded circuit to isolate them from fluctuations caused when a major appliance, such as a refrigerator, restarts after a power outage.
"This is increasingly important as restoration continues, with the likelihood of temporary power cuts throughout the day as more and more areas are brought online.
"BELCO also advised customers that overloaded electrical outlets or extension cords pose a serious fire risk. Never overload your electrical outlets. Overloaded outlets are one of the main causes of electrical fires, especially during and after a major storm when systems are more fragile.
"Residents are encouraged to visit the BELCO website at www.belco.bm for up-to-date information."
You can view our live updates on Hurricane Humberto here, and all our coverage of Hurricane Humberto here.

Read More About