While Bermuda is being spared the brunt of Hurricane Dorian, others are not so fortunate, with Dorian — a category 5 hurricane with maximum sustained winds near 180 mph [285 km/h] — set to move over the Bahamas, and is also expected to affect the south east of the United States.
The "extremely dangerous" storm is the strongest hurricane on modern record in the area, the US National Hurricane Center said, and two hours ago they tweeted "Catastrophic storm surge of 18 to 23 feet from Dorian will affect the Abaco Islands during the next several hours. Seek elevated shelter immediately."
Grand Bahama residents have reportedly been evacuating from its predicted path, and parts of Florida are now under mandatory and voluntary evacuation.
Graphic courtesy of the NHC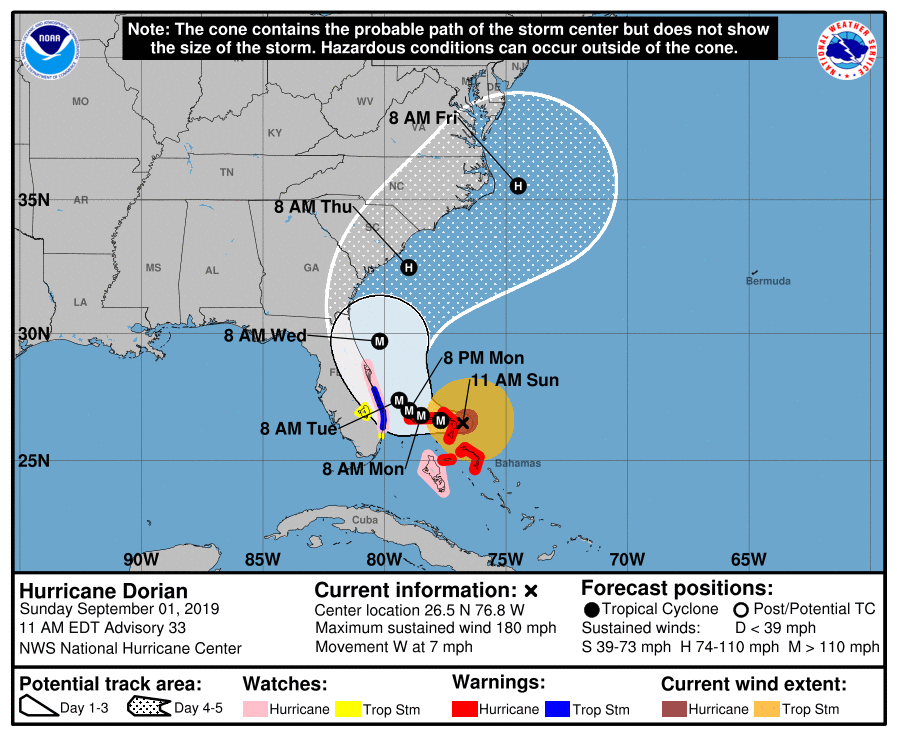 The U.S based National Hurricane Center said, "At 1100 AM EDT, the extremely distinct eye of Hurricane Dorian was located near latitude 26.5 North, longitude 76.8 West. Dorian is moving toward the west near 7 mph. A slower westward motion should continue for the next day or two, followed by a gradual turn toward the northwest.
"On this track, the core of extremely dangerous Hurricane Dorian will continue to move over Great Abaco and move near or over Grand Bahama Island later tonight and Monday. The hurricane should move closer to the Florida east coast late Monday through Tuesday night.
"Maximum sustained winds have increased to near 180 mph [285 km/h] with higher gusts. Dorian is a extremely dangerous category 5 hurricane on the Saffir-Simpson Hurricane Wind Scale. Some fluctuations in intensity are likely, but Dorian is expected to remain a powerful hurricane during the next few days.
"Dorian has grown larger in size. Hurricane-force winds extend outward up to 45 miles (75 km) from the center and tropical-storm- force winds extend outward up to 140 miles [220 km]. Ham radio reports indicate that Hope Town in the Abacos just reported wind gust to 100 mph."
Read More About
Category: All