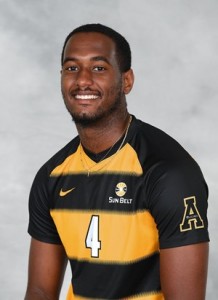 Bermuda's Zeiko Harris scored for his Appalachian State University men's soccer team as they defeated George Mason 2 – 0.
The school's match report said, "The Appalachian State men's soccer team recorded its second straight victory Friday night, shutting out George Mason 2-0. The Mountaineers used back-to-back goals in the second half to put the Patriots away.
"App State is now 2-1-0 on the season, while George Mason falls to 1-2-0.
"We recorded our first shutout of the year which is something we've been talking about and striving for, so I was very pleased about that," head coach Jason O'Keefe said. "To score back-to-back goals again is something we talk about. George Mason is a very good team and it could have gone either way. Goals change games and they certainly did tonight."
"The Patriots held the edge in the first half, outshooting the Mountaineers eight to four. App State goalkeeper Jacob Madden made one save to keep the score 0-0 heading into the break.
"The breakthrough for the Mountaineers came in the 71st minute as Alex McGrath found Zeiko Harris' head off a corner kick to put App State up 1-0. This marks the defender's third goal against George Mason in his career, scoring two goals in the 3-0 win a season ago.
"Sophomore Alex Hernandez added to the lead, scoring his first goal of the season off an assist from Camden Holbrook in the 72nd minute.
"The Mountaineers weathered the storm from George Mason for the remaining 18 minutes, as Madden made four key saves to clinch the shutout and his second win of the season. His five saves against the Patriots are a new career-high.
"George Mason outshot the Mountaineers 12 to five in the second half, but were unable to find the back of the net. George Mason's keeper Tillman Theurich made one stop on the night. He falls to 1-2-0 on the year.
"App State returns to the pitch on Sunday, hosting American at 3 p.m."

Read More About