Bermuda's Zenawi Bowen and MacQuille Walker both scored for their Thomas College men's soccer team as they played to a 6-1 win over UMaine-Farmington.
The school's match report said, "The Thomas College men's soccer team used a six-point game by Zenawi Bowen [St. George's, Bermuda] to earn a 6-1 win at UMaine-Farmington on Tuesday afternoon to remain unbeaten in North Atlantic Conference (NAC] play this year.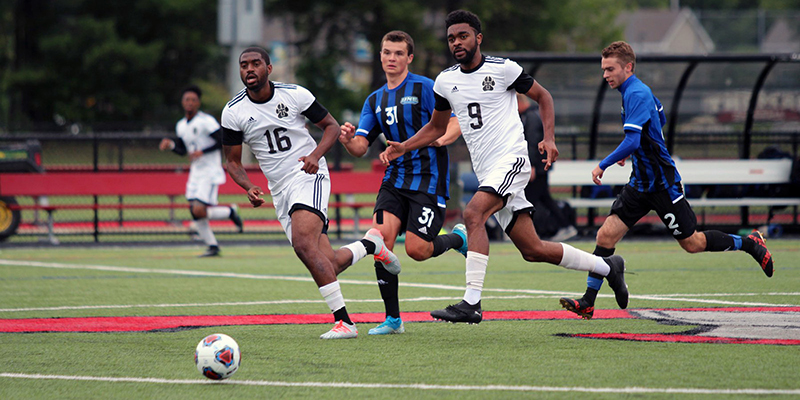 "Bowen scored twice to jump the Terriers to a 2-0 lead. He scored his first in the 33rd minute off a feed from Avian Girard [Castries, St. Lucia], then followed that with a goal in the 48th minute assisted by Woodlin Placide (Les Cayes, Haiti]. Bowen picked up his fifth point of the day with an assist on a goal by MacQuille Walker [Hamilton Parish, Bermuda] in the 52nd minute.
"After a UMF goal in the 64th minute made it 3-1, Eric LaBrie (Yarmouth, Maine] pushed the lead back to three with his third goal of the season off a dish from Bowen. Kyle Patterson [Spanish Town, Jamaica] scored his first of the year in the 79th minute, before Josh Morrissey (Scarborough, Maine] capped the scoring with a goal assisted by Ben Carter [Sitka, Alaska].
"Nick Chandler [Wells, Maine] earned his first career win in goal, playing the first 45 minutes. Jonathan LeClair [Belmont, N.H.] took over in the second half, making two saves.
"Thomas will host Unity in a non-conference game on Saturday, October 5 at 5:00 PM on Smith Field."

Read More About