In the title number of Sail Away, his 1961 Broadway musical set aboard a luxury cruise ship, one-time Bermuda resident Noel Coward literally sang the praises of a sea voyage's recuperative value.
The combination of sea and sky and time and tide can work miracles on the dispositions of even the most tired or jaded travellers, he counselled.
Now musical theatre fans will be able to put that legendary playwright/composer's theory to the test, only with the additional inducements of show tunes and a host of Broadway stars to help lure them aboard a ship bound for Bermuda.
Norwegian Pearl, which made its first visit to the island earlier in 2019, will be hosting next year's "Broadway Cruise" to Bermuda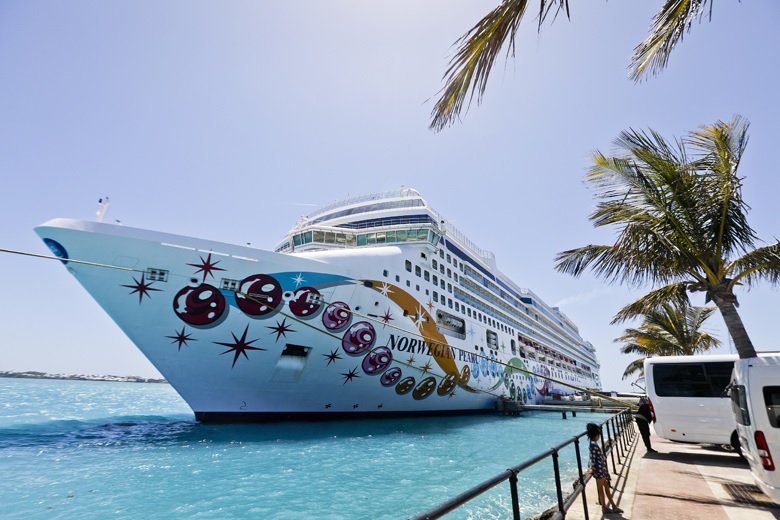 What's being billed as "The Broadway Cruise" on the 2000-passenger Norwegian Pearl will be sailing to to the island from New York next October 10-14
"Get ready for four nights of one of a kind performances and fun from Tony Award winning headliners Alan Cumming and Laura Benanti as well as intimate and grand scale shows and cabarets from Broadway's coolest talent," said organisers in a statement announcing cruise earlier this week [[Oct 24].
With prior cruises have been themed around specific Broadway shows, ranging from Grease to Mamma Mia, next year's Bermuda voyage is being billed as the most ambitious and star-studded sea-going event of its kind.
Alan Cumming in his signature role as the sardonic Emcee in Cabaret, a dark musical set in Berlin during the Nazi rise to power in the 1930s
Aside from the various performances passengers on the "Broadway Cruise" will be treated to, they will also be able to attend celebrity meet-and-greet sessions, sing along at Broadway karaoke nights and gain insight into the craft of theatre at panel discussions.
Confirmed performers and artists include Tony winner Mr. Cumming [Cabaret, Design For Living, The Threepenny Opera].and Ms Benanti [My Fair Lady, Gypsy, Into The Woods], who will each perform multiple unique shows on the main pool deck.
Additional stars include Norm Lewis [Phantom of the Opera, Porgy and Bess, Les Misérables], Sierra Boggess [Phantom, School of Rock, The Little Mermaid]; Norbert Leo Butz [My Fair Lady]; Jenn Colella [Come From Away]; and Taylor Louderman [Mean Girls, Bring It On], with more to be announced.
Makeup designer Joe Dulude II [Wicked, Beetlejuice, SpongeBob SquarePants] will be aboard Norwegian Pearl to do demonstrations and conduct sessions with guests.
Broadway Phantom of the Opera co-stars Norm Lewis and Sierra Boggess will be reunited during next October's New York-Bermuda cruise
Costume designer Paul Tazewell [Hamilton, The Wiz LIVE!] will discuss his creative process for creating Tony Award-winning fashion on stage.
Tony-nominated choreographer Kelly Devine [Come From Away, Rock of Ages] will teach daily dance classes on board. Chris Jahnke [Dear Evan Hansen, Les Miserables] will serve as music director and supervisor and oversee an ensemble of Broadway performers. Additional talent will be announced on a continuing basis between now and the sailing.
Theatrical legend Mr. Cumming, who recently appeared alongside Bermudian Broadway actress Rebecca Faulkenberry in an episode of his CBS TV crime drama Instinct, said of the upcoming cruise: "It's going to be a super-duper extravaganza.
"I'm going to be performing twice on the main deck. I'm really, really looking forward to it. I hope you will come and join me there!"
You can find out more about the cruise here

Read More About