Minister of Public Works and Acting Minister of Tourism and Transport, Lt/Col David Burch spoke at the Bermuda Hotel Association's [BHA] Annual General Meeting, held yesterday [Oct 24] at Fourways Inn, Paget.
Minister Burch said, "I am grateful that you have accepted me as a stand-in for the substantive Minister of Tourism & Transport, the Honourable Zane DeSilva – I believe that I am eminently qualified for such a task as the owner of that brand new hotel soon to open on the South Shore in Warwick – the Bermudiana Beach Resort. Actually, I don't own the hotel – we all own it – those same buildings that some said would fall into sea, but yet they are still standing and will soon be fully utilized!
"On a more serious note though I wish to thank the Directors and members of the Bermuda Hotel Association for this opportunity to address you today at your Annual General Meeting. In the spirit of collective responsibility of the Cabinet – I am somewhat familiar with the work Minister DeSilva is doing in the Tourism space – so I feel comfortable addressing you.
Newstead Belmont Hills GM and BHA Chairman Bushara Bushara, BHA CEO Stephen Todd, Minister Burch, Hamilton Princess & Beach Club GM and BHA President Tim Morrison, and Fairmont Southampton GM, Hotel Employers of Bermuda President and BHA Director Kiaran MacDonald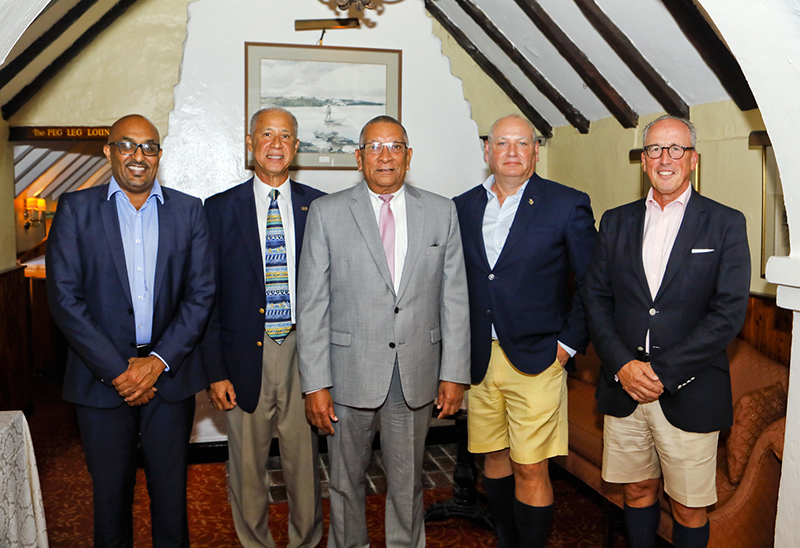 "Your association plays a critical role in upholding the standards and professionalism of this industry. You also represent a crucial driver of economic success for our tourism industry. So, I applaud you, and all the work that you do—not only in carrying on Bermuda's legacy of world-class hospitality, but also in helping to forge its future.
"Last week at the annual Bermuda Tourism Summit—attended by many of you—Minister DeSilva spoke a bit about the power of partnership and collaboration. I'd like to reiterate that again here today.
"Collaboration and partnership are our competitive edge. It's our super-glue. Our secret sauce. In tourism…and everything else we do.
"I know they matter to all of you. It's important to Government, and the Tourism Ministry, too. That's why the Ministry acts as a key partner alongside the Bermuda Tourism Authority, and stakeholders like the BHA, to help progress our National Tourism Plan. Each organisation is an essential piece of that puzzle, just as you and your properties are, and we all have a critical role to play.
"Tourism is, of course, one of our country's two core economic pillars, alongside international business. But they go hand-in-hand…business and tourism are very much inter-dependent on each other. And our hotels are critical to the success of both sectors.
Minister Burch addressing the audience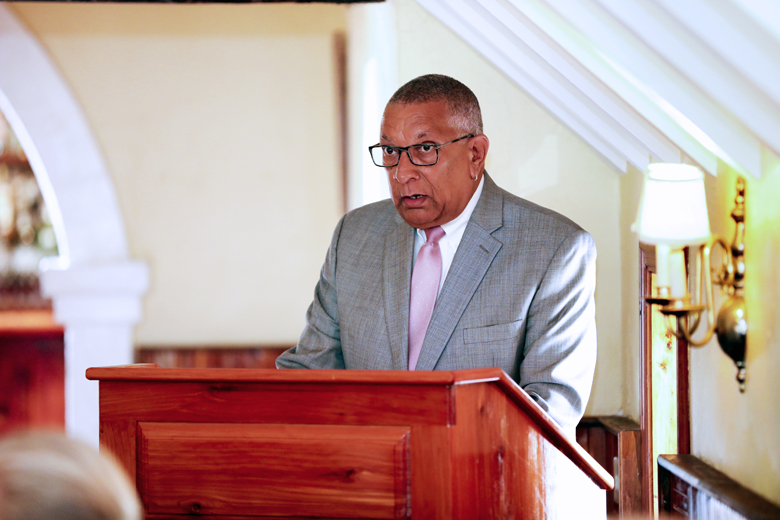 "Certainly, in the tourism industry, our hotels play a strategic role in sustaining and growing air visitor arrivals—the metric which the National Tourism Plan identifies as vital to the industry's overall success.
"We live in challenging times, for the tourism industry in particular. Competition from other destinations is high, as you well know. The cost of air travel to and from the island is also high, and subject to decisions often beyond our control. The global economy is facing pressures such as trade tariffs, federal elections, and divisive issues like Brexit that can wreak havoc on our customers' pocketbooks and travel plans.
"But there are many reasons to feel optimistic about Bermuda's hospitality industry right now:
"While 2019 figures may be down, in the past three years leisure arrivals have gone up by almost half—46 percent to the end of 2018–and that's quite an accomplishment;
"Leisure air visitor spending–another very important data point—is up by a whopping 67 percent since 2015;
"Most visitors are feeling genuinely positive about their Bermuda experience; in 2019 exit surveys to date, 82 percent of air visitors say they'd definitely recommend our island to others. That has a lot to do with you, by the way, and your respective teams' success in creating memorable visitor experiences;
"We have a new airport terminal taking shape to be operational next year;
"The Government, with the BTA, Skyport, and Bermuda Airport Authority, have hired experienced air-service development consultants to help shape a long-term sustainable airlift strategy for the coming years;
"Perhaps, most notably, in the context of Bermuda history—a raft of brand-new hotel projects are coming online very soon to join your own properties.
"These are all advancements worth celebrating, and they should translate into a growth in hotel beds, tourism revenue, local optimism and positive global recognition of the Bermuda brand.
Minister Burch speaking to the audience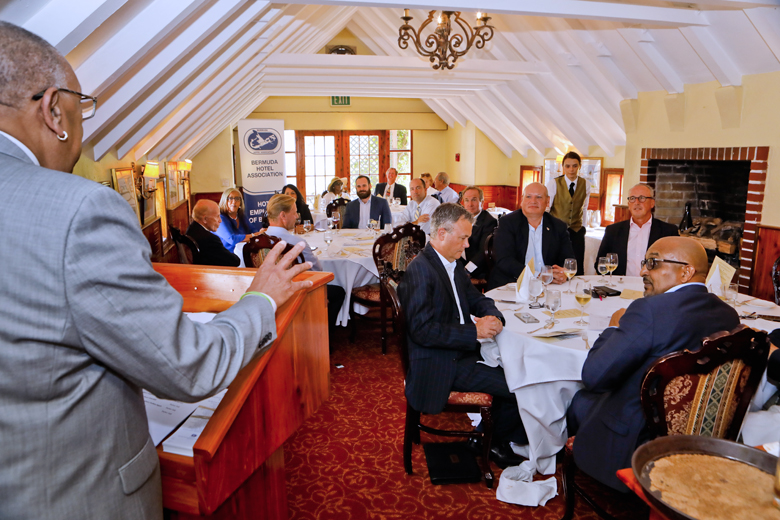 "We recently braved the effects of Hurricane Humberto. I know several of you suffered the impact of physical damage and are reinvesting in repair roofs, rooms, and public areas. I applaud you for keeping our visitors safe and sound.
"Our message to the world the day after Humberto was that Bermuda was open for business—which it was. You just wouldn't see that type of determined resilience from many other affected communities after a Cat-3 Hurricane. It's a testament to our ability as an island with first-rate infrastructure, insurance coverage, and long- and short-range community planning to bounce back quickly.
"I am confident we can meet other global challenges the same way. The spirit of shared responsibility and togetherness will guide our success in this industry.
"And everyone has a role to play. There are three significant and fast-approaching challenges/opportunities I wish to highlight for your members today. They will challenge us, but also offer substantial opportunity:
"The first concerns workforce development. As new hotels open in the next two years—the St Regis, the Azura Bermuda, and Bermudiana Beach Resort—and as your existing needs also grow due to the aging population, we hope to work with you to attract, and retain, Bermudians to fill new openings in the industry.
"A PwC study found that by 2021, the gap between Bermuda's future talent supply and demand for hospitality workers may range between 555 and 814 positions. That's driven largely by the total estimated 335 new hotel rooms due to become available. The range is based on differing scenarios in 2021, depending on whether new properties open by target dates.
"Our Government's Department of Workforce Development is currently working with the BTA and the Bermuda College on an outreach initiative to connect with Bermudians who may be interested in hospitality careers. We've created a database through which they can be alerted about job openings, specific training, and learning and development opportunities if they need to refresh or learn new skills. It's a first step in a larger campaign that we hope can prepare Bermudians to be ready for the opportunities ahead.
"We invite you to work with us to ensure we leverage the home-grown talent we have in our own community to fill those jobs. I know from my responsibilities in Public Works that both the St. Regis and Bermudiana Beach Resort are approaching staffing in a very different manner than the traditional way by recruiting and training staff in the St. Regis and Hiltons ways before the hotels open. In the case of Bermudiana Beach Resort – there is a strong likelihood that the General Manager will be a Bermudian.
"That said – we are fully cognizant that not every job can be filled by a Bermudian – but we are determined to put Bermudians first and equally commit to working with you to fulfill those remaining jobs with guest workers without any difficulties.
"The second 'challenging opportunity' revolves around our Government's plans to address environmental protection and long-range energy conservation. The National Tourism Plan adopts this as a goal called "Greener"—the "G'' in its AGILITY mission. I'm talking about the Government's new I-R-P, our ''Integrated Resource Plan," which has a to-do list across Ministries and its ambitions include substantially reducing single-use plastics and lowering energy consumption.
"In the case of environmental protection– specifically the marine environment – Bermuda through the advocacy of Keep Bermuda Beautiful is fully conversed with the United Nations Cartagena Convention for the Protection and Development of the Marine Environment of the Wider Caribbean Region. There is much to be learned from their research that in many instances is parallel to ours.
"The collaboration in this regard will greatly assist us in developing our own action plans. Additionally, the work of our Water and Waste Water section will also go a long way in addressing once and for all the discharge of raw sewage into the waters surrounding Bermuda. A pilot programme is already underway in the East End to serve as a template for the entire island.
"The IRP could be transformative for the island and lead the way for our tourism industry—so your support will be essential. Hotels will naturally play a leading role, not only in achieving the concrete goals of energy reduction, but also by setting an example for our community and sending a message to the world about Bermuda's commitment to sustainability.
"Lastly, I hope you won't take offence if I stray just a tiny bit out of the tourism lane and issue a challenge to you around innovation and price. I think we all agree that empty hotel rooms in winter do no-one any good. Let's work—collaboratively—to get heads in beds year-round.
"Your industry now has technology tools available to allow you to make informed decisions around revenue management and to attract visitors in ways that would have been impossible just a few short years ago. Let's use those resources to get people here during the non-summer season when we all know Bermuda is a perfect escape…but only if the price is right.
"You and your businesses understand all those principles. And I know you are already committed to keeping this industry forward-looking.
"Our government and the Tourism Ministry commend you for the quality hospitality and professional service you deliver every single day to our visitors, and we're committed to working with you and other partners to keep this industry strong and growing.
"By working together, I truly believe we can continue to set Bermuda apart.
"So, I want to thank you again for allowing me to stand in for Minister DeSilva and wish you much success in the coming year."

Read More About