The XL Catlin Deep Ocean Survey of Bermuda's reefs and marine environment resulted in nine major scientific research papers, the discovery of a hundred new sea species and the identification of a new ocean zone off the island,
Writing earlier this year in the online marine conservation magazine InDepth, editor Amanda White said the project, financed by Bermuda-based re/insurer XL Catlin, produced a treasure trove of data which scientists are still poring through.
J.P. Bresser of Global Underwater Explorers produced this video of the work conducted off Bermuda during the course of the XL Catlin Deep Ocean Survey
"This 2016 mission in Bermuda, along with the 2017 mission in Fiji, demonstrates how a coordinated team of divers and submersibles can significantly contribute to the scientific studies of both the shallow and deep aquatic environments by collecting massive quantities of usable data," says Ms White.
Launched in 2012, the XL Catlin Seaview Survey — along with associated studies falling under its umbrella — was a major scientific initiative aimed at documenting the composition and health of coral reefs worldwide.
Specifically, the survey was intended to "carry out a rapid assessment of the current state of coral reef systems and to make this scientific record publicly available for scientists worldwide to use."
A Bermuda reefscape as captured by the cameras of researchers working on the XL Catlin Deep Ocean Survey. Photo courtesy of XL Catlin Seaview Survey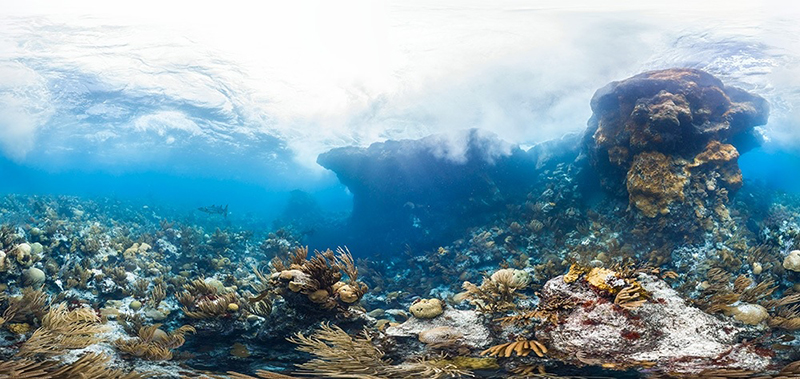 The comprehensive Bermuda survey involved a team from Florida-based Global Underwater Explorers [GUE] working in conjunction with marine research outfit Global Sub Dive [GSD] and its conservation-oriented Nekton Mission subsidiary.
"During the project, GUE volunteer divers and two three-man Triton submersibles established 92 Project Baseline stations total at the five dive sites," says Ms White "They also teamed with scientists from several universities, including Oxford and Stanford.
"Over the 30-day mission, five sites were explored and documented between 15-300 m/49-984 ft; the submersibles were deployed at 300, 200, and 150 meters and volunteer divers at 90, 60, 30, and 15 meters. Data was collected in the form of water samples, stereo video transects, specimen collection, and photographs."
You can read her full report on the Bermuda survey and its findings here.

Read More About
Category: All, Environment, News, Videos