The history of Saltus has been brought to life following the renovation of the school's Alumni Hall and Saltus alum will be among the first to visit the newly transformed space at the 'Christmas in November' Holiday Cocktail Reception on Friday, 15th November 2019.
Fire at Saltus in 1977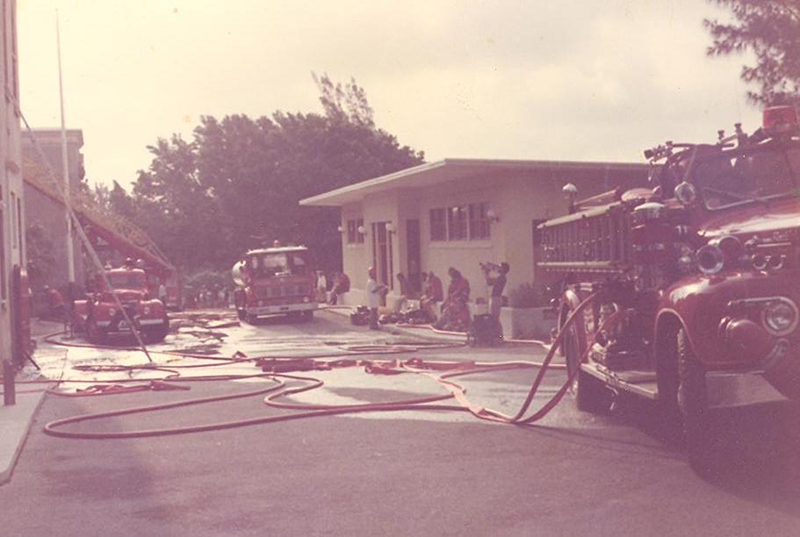 As part of the rejuvenation, an historic photo project has been underway for the past two years.
The school has hung photographs in Alumni Hall and adjacent buildings depicting different episodes in its long history; including a fire in 1977 which destroyed the gymnasium that previously occupied the Alumni Hall space.
Jon Beard, Deputy Head of School, explained that one of the reasons for adding the photographs was to "show the strength of the Saltus history as the School surges forward in the implementation of its' strategic plan."
Saltus Alumni Hall History Project
Portraits of the previous Saltus Heads of School also adorn the walls of the Alumni Hall and the recognition wall for the Alumni 'Buy a Brick' campaign is now complete.
The Buy-A-Brick campaign was designed to help fund the revitalization of this central campus meeting, performing, dining, multi-purpose space.
Denise McAdoo, Director of Advancement said, "we are pleased to recognize the generosity of our Alumni, Alumni Parents, Grandparents, Trustees, Employees, and friends of Saltus, who helped make the refurbished Alumni Hall a reality."

Read More About
Category: All