The West End Development Corporation [WEDCO] is inviting the public to take part in a day of Christmas fun at the Royal Naval Dockyard on Sunday, December 8.
A spokesperson said, "People are being urged to make their way westward for a truly epic day of Christmas fun at the Royal Naval Dockyard.
"Sunday, December 8 will have an intense line up of events ranging from Santa's Workshop to Carols with the Dolphins, the Dockyard Tree Lighting Ceremony, and more."
Stephanie Rodill, Marketing & Events Manager at WEDCO, said, "This is going to be a full day of family fun and celebration. Children in particular will be thoroughly entertained, but there is something for each family member to enjoy."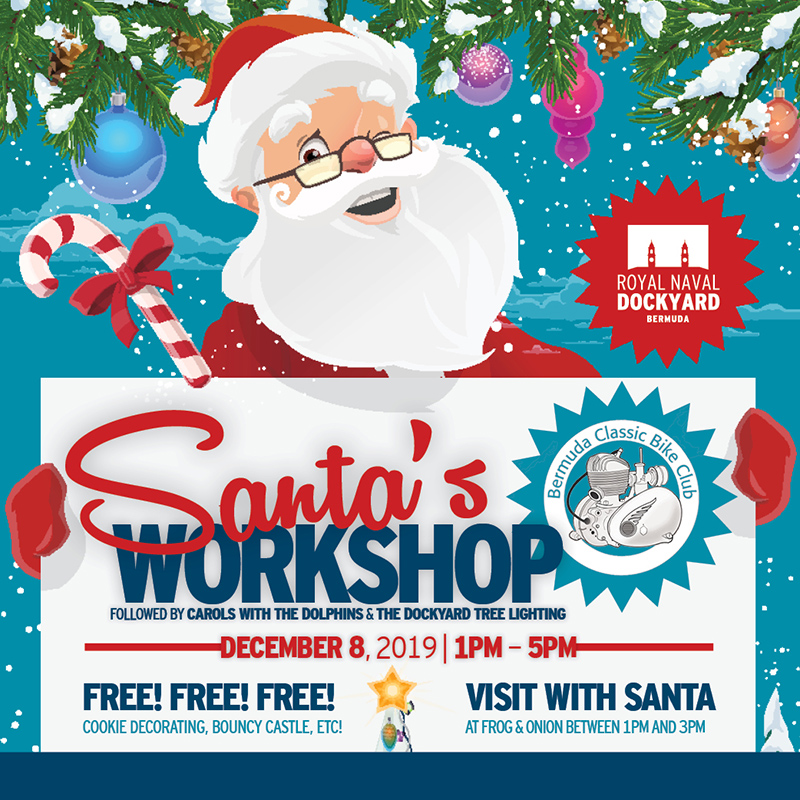 Festival of Trees Competition and Display
"Ten local elementary and middle schools entered into a competition to win cash donations. The public has been casting votes for their favorite tree since November 16 and voting will close on Saturday, December 7, 2019. The trees will be on display for viewing in the Clocktower Mall until the beginning of January 2020 and the winners will be announced at the Dockyard Tree Lighting Ceremony."Participating schools are Bermuda Institute, Paget Primary, Warwick Academy, Mount Saint Agnes Academy, St. David's Primary, Whitney Institute, West End Primary, Heron Bay Primary, Port Royal Primary and Purvis Primary."They need your votes to win the following cash donations: [1] First Place – $2,500.00; [2] $1,500.00; [3] $1,000.00; [4] Fourth & Fifth Place: $500.00; and [5] x5 Honourable Mentions – $250.00 each.
Historical Reenactment and Walking Tour
"This tour is offered to the public for free and starts at the Moongate on the Cruise Ship Pier at 11.00am and ends at the Clocktower Mall at approximately 12.15pm.
Selfies with your Faves
"On the upper level of the Clocktower Mall, guests will get to meet and take photos with PJ Mask from 11.00am to 12.00pm and Cookie Monster from 12.00pm to 1.00pm. This event is entirely free.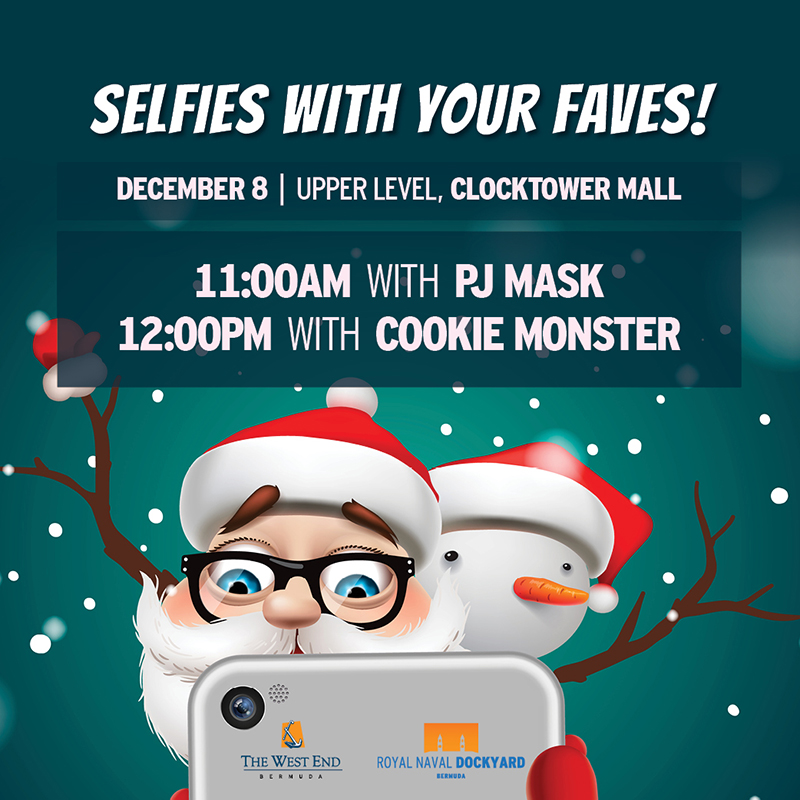 Lunch with Santa
"Book a reservation for your lunch with Santa at the Frog & Onion between 1.00pm and 3.00pm.
Santa's Workshop
"In the Victualling Yard from 1.00pm to 5.00pm, Santa's Workshop will offer for free a giant slide, bouncy castle, sketched canvas painting [first 40 free, $12 per canvas after this], giant games, ornament/craft station, cookie decorating station, face painting by Rebecca Martin, snow play, bubbles play, a coloring station and more. The event will feature music by DJ Allstar and will see a new popular visitor every 30 minutes, available for meet and greets and photo opportunities. The schedule of visiting guests is as follows:
X2 of Santa's Elves from 1pm to 5pm
Emoji from 1pm to 1:30pm
Elmo from 1:30pm to 2pm
Baby shark from 2pm to 2:30pm
Doc McStuffin from 2:30pm to 3pm
Skye from 3pm to 3:30pm
Woody from 3:30pm to 4pm
Jessie from 4pm to 4:30pm
Marshall from 4:30pm to 5pm
Bermuda Classic Bike Club Display
"For all the bike enthusiasts out there, the Bermuda Classic Bike Club will be putting on a bike show in the Victualling Yard between 1pm and 5pm for all to enjoy. While perusing the bikes on display, be sure to vote for your favorite as the bike owners will be competing for the coveted People's Choice Award. The winner will be announced between 4:00pm and 5:00pm in the Victualling Yard.
Carols with the Dolphins
"Enjoy a dolphin demonstration and musical performance by The Big Chill at Dolphin Quest from 5.00pm to 6.00pm. Free entry into Dolphin Quest opens at 5.00pm and the dolphin demonstration commences at 5.30pm. Free hot chocolate and warm pretzels will be on offer while supplies last.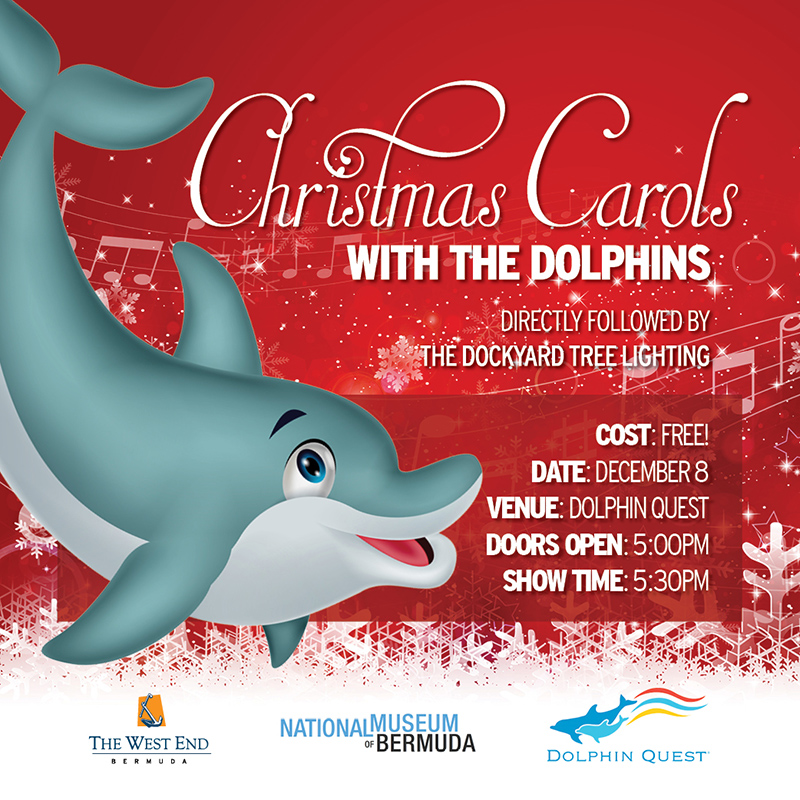 Dockyard Tree Lighting Ceremony
"Join us on the North Lawn from 6.00pm to 9.00pm for performances by Northlands Choir, Bermuda Institute Choir, Warwick Gombeys, Pyrotechnics Fire Dancers, DJ Rusty G and Bermuda Dance Academy. We will have the official lighting of the Dockyard Christmas Tree and announce the winners of the Festival of Trees Competition. Free glow wands will be on offer while supplies last. There will also be various food vendors at the event.
"The Clocktower Mall will be open for business on Sunday, December 8, from 10.00am to 5.00pm. Check out each stores' holiday offering, such as Grand Bazaar, who are offering 50% off all queen and king size bedspreads and handmade area rugs until December 31."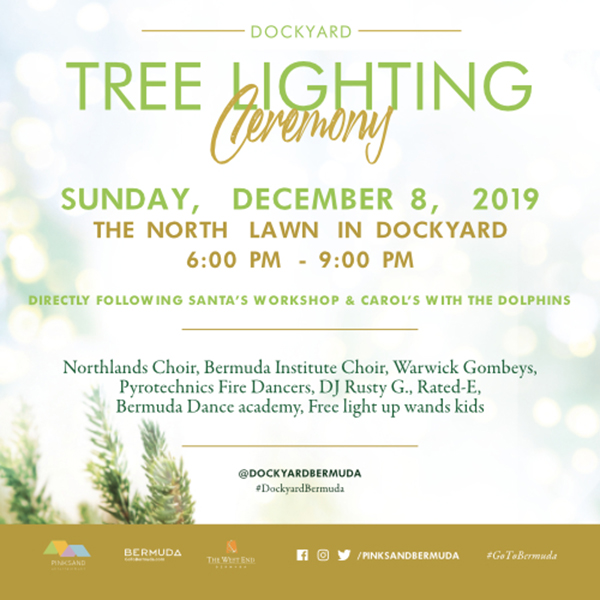 "We are so excited to celebrate the season with everyone." said Ms Rodill. "Dockyard is really going to be a Christmas wonderland and I hope people come down and spend the entire day with us."
The spokesperson said, "Any weather-related updates on the event will be posted on our website, our Facebook page and Twitter."

Read More About
Category: All, Business, Entertainment