Christmas came early for animal welfare charity SPCA [Society for the Prevention of Cruelty to Animals] following a recent 'lunch and learn' session at Third Point Reinsurance.
Staff at the Hamilton-based specialty property and casualty reinsurer surprised SPCA Executive Director Kate Terceira and Board member Louisa Knight with a wheelbarrow full of gifts – the result of an employee drive to purchase much-needed items from the SPCA's Christmas wish list.
Third Point employees Yan Leclerc, Shuri Munt and Greg van der Made with SPCA Executive Director Kate Terceira  and SPCA Board member Louisa Knight, with Brasco, a Staffordshire bull terrier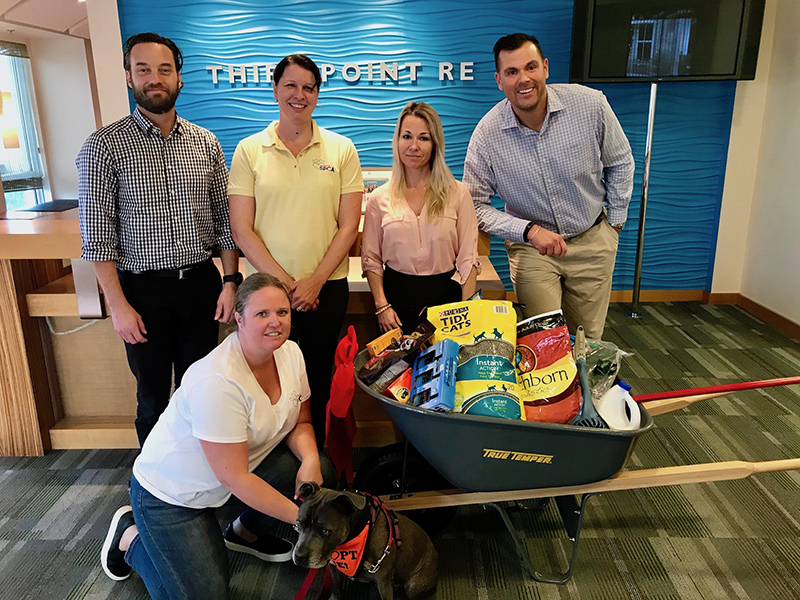 Ms. Terceira said she was "overwhelmed" by the surprise donation which included animal feed, cleaning accessories and walkie-talkies.
Third Point Re's Suzanne L. Wylie, Assistant Vice President, Legal Administration, said: "We're delighted to help support animal welfare in Bermuda and in particular the mission of the SPCA to promote the education for the general public on care and well-being of all animals."
During the lunch and learn session, Third Point employees heard how the charity – which is celebrating its 100th year – aims to be more than "just a shelter" through educational programmes like its planned Compassionate Classroom initiative.
Designed to "encourage children to develop compassion and empathy skills for life through the lens of animal welfare", Ms. Terceira said the SPCA hopes to introduce the programme to all primary schools over the next two years.
At any one time, the SPCA shelter cares for between 40 and 100 abandoned, abused or neglected animals and in an average year, its adoption service finds homes for more than 300 animals.
Ms. Terceira explained that the SPCA was working towards a "managed intake" system in order to properly look after the increased number of animals it is asked to take.
"People have to be prepared to wait," she said. "We are trying to encourage people to plan ahead. We understand that things happen – people leave the island or become too old to look after a pet – and it's not always possible so we try very hard to work with every situation on an individual basis but we only have so much room."
For more information about the SPCA, visit spca.bm.

Read More About