The National Museum of Bermuda [NMB] is opening its doors for free to all Bermuda residents during the month of February, with residents asked to please bring proof of residency such as a license or utility bill.
"While 'Free for February' has been a yearly initiative at the Museum, this year NMB is excited to offer free activities for all visitors on each Saturday of the month," a spokesperson said.
"Saturday activities offer a unique opportunity to experience the Museum in new ways, learn a new skill or craft, connect with our past and engage with people from the community.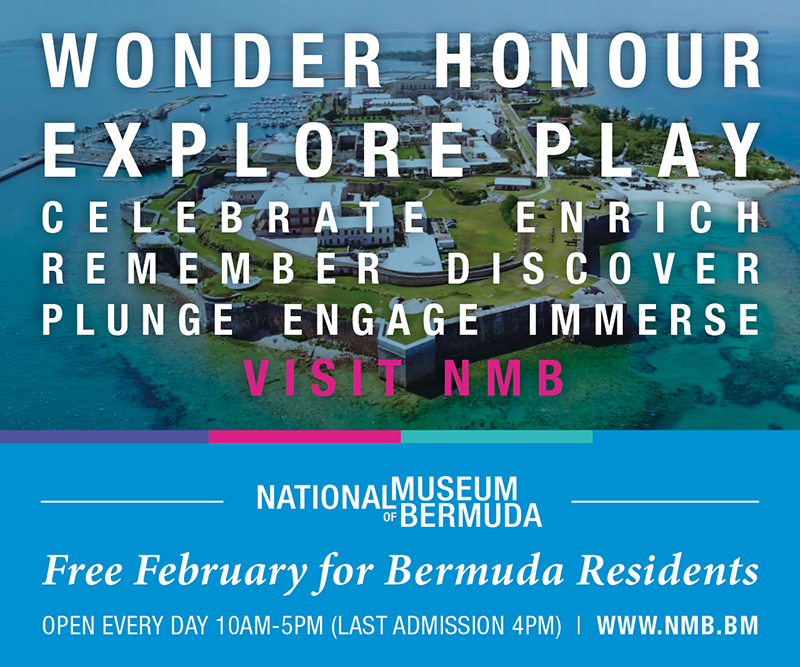 "Local artist Ronnie Chameau will conduct a workshop on palmetto weaving focusing on women and work in the 17th and 18th centuries.
"Bermudian author and storyteller Florenz Maxwell will be sharing highlights from two of her published books: "The Spirit Baby" – a collection of uniquely Bermudian tales – and the award-winning "Girlcott", based on the events of the 1959 Theatre Boycott and written from the perspective of a 16 year-old Bermudian girl.
"Self-taught photographer AB Wilson will guide groups through the Museum property, focusing on details of the grounds, historic objects and buildings—don't forget to bring your camera or phone.
"Bermuda National Library librarian Marla Smith will read excerpts from The Story of the Bermuda Cedar Tree by Kevin Stevenson and other stories, and her colleague, librarian Ellen Hollis, will host a workshop on genealogy and Bermuda family history.
"Registered Yoga Teacher Lisa Wingood will demonstrate ways to do yoga in a chair to improve flexibility and reduce stress, and NMB Staff will be on site in the Hall of History, Commissioner's House to connect with visitors and guide them through the 1,000 square foot mural masterpiece by Graham Foster.
"There will also be a kid-friendly scavenger hunt encouraging participants to explore the expansive Museum grounds and focus in on otherwise passed-by details. All Bermuda residents can enter a draw to win a free family membership."
The Museum is open every day, 10am – 5pm [last admission 4pm]. Visit www.nmb.bm to learn more.

Read More About
Category: All, Entertainment, History