The Spirit of Discovery, a Saga Cruises ship, made its inaugural visit to Bermuda on December 31st.
As part of its New Year's cruise theme, which began on December 5th, the ship arrived on Tuesday morning from New York with 506 crew and 873 passengers for a one-night stay at the Royal Naval Dockyard.
Carmen Tucker [WEDCO], Captain Nick Sunderland [Spirit of Discovery], Roger Todd [Ministry of Tourism and Transport].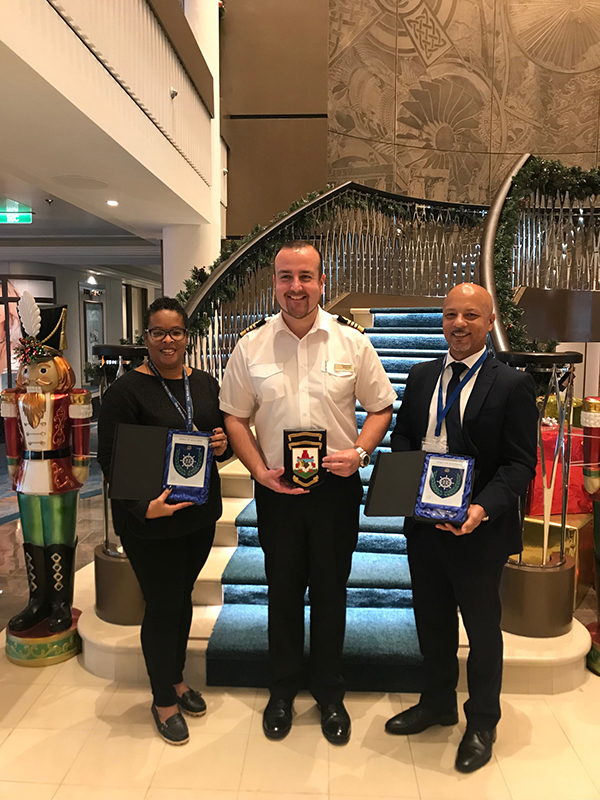 On departure, it is bound for the final destination of its 35 day cruise itinerary, which is Southampton, England.
Captained by Nick Sunderland, the newly built Spirit of Discovery officially began operations on 10 July 2019 and grosses 58,250 tons. It is specifically designed for the British Market, catering to individuals in the 50+ age group.
The ship is wheelchair friendly and all wheelchair accessible cabins have an adjoining cabin for a companion. All 540 staterooms have private balconies, which means the ship has no inside cabins. Among the many features and amenities are 4 restaurants, several bars, indoor and lounges, and a modern wellness complex.
In addition to Bermuda and New York, the New Year's cruise destinations included Portugal, Barbados, Dominica, St. Maarten, Puerto Rico, Florida and Virginia.

Read More About