AXIS Capital Holdings Limited announced today that Michael Butt, Chairman of the Board of Directors, will retire from the Company, effective September 16, 2020.
"A co-founder of AXIS and member of the Insurance Hall of Fame, Mr. Butt is a recognized industry leader who is credited for his instrumental role in establishing Bermuda as one of the world's foremost [re]insurance hubs. Mr. Butt will be succeeded by Henry B. Smith, who has served as a member of the AXIS Capital Board of Directors since May 2004 and as Lead Independent Director since May 2012," the company said.
"I want to express my deep appreciation to Michael for all he has done for our Company since its inception, and for the many contributions he has made to the [re]insurance industry over the course of his career," said Albert A. Benchimol, AXIS President and CEO.
"Michael's impact on our industry and our Company has been immense. It has been an honor and a privilege to serve with Michael and call him my mentor, colleague and friend."
The company noted, "Over the course of his five-decade career, Mr. Butt has been a builder of business, a builder of markets and a passionate voice on issues such as climate risk. He was appointed Chairman of the AXIS Capital Board of Directors in September 2002, and has played a pivotal role in guiding AXIS from a start-up into an established player in the global [re]insurance industry.
"Mr. Butt has held numerous leadership roles within the industry which have included serving as Chairman of Sedgwick Limited; CEO of Eagle Star Holdings plc and Eagle Star Insurance Company; CEO of MidOcean Limited; and Director of XL Capital Limited and Farmers Insurance Group.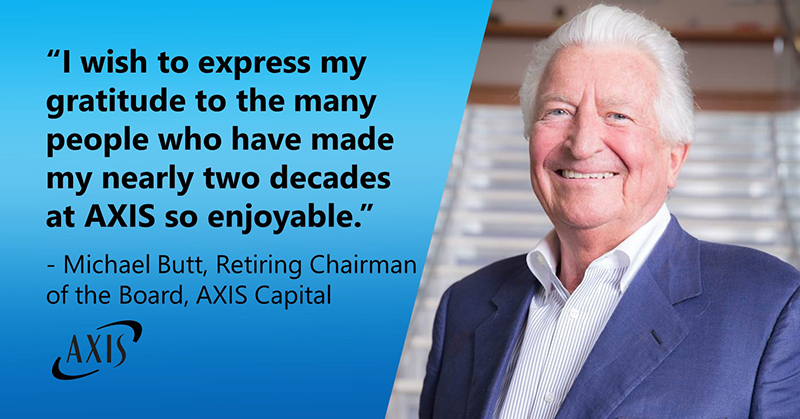 "In 2011, Mr. Butt was appointed as an Officer of the Order of the British Empire [OBE] to commemorate his distinguished contributions toward the building of the Bermuda reinsurance industry and in 2019 was named by the International Insurance Society as its 2019 Insurance Hall of Fame Laureate."
Mr. Butt added: "I wish to express my gratitude to the many people who have made my nearly two decades at AXIS so enjoyable. I particularly want to thank my fellow Board Directors and AXIS colleagues, as well as our shareholders, clients, and partners in distribution.
"I am confident AXIS is in good hands under the leadership of our CEO Albert Benchimol and the incoming independent Board Chairman Henry Smith, and believe the firm is very well-positioned to be a leader in the specialty insurance and global reinsurance industry."
Mr. Smith is the former CEO and President of W.P. Stewart & Co., Limited. Previously he served as the CEO of the Bank of Bermuda Limited, a position he held for seven years until the acquisition of the bank by HSBC Holdings plc.
At AXIS, in addition to the role as Chairman-Elect of the AXIS Board of Directors, Mr. Smith is current Chair of the Executive and Compensation Committees and a member of the Corporate Governance & Nominating and Risk Committees.
Read More About