International Professional Squash returns to Bermuda next month with the Men's and Women's Bermuda Open 2020, an official stop on the PSA Pro World Tour.
The Bermuda Squash Racquets Association launched the event today with news that 32 professional players from all over the world will be in Bermuda competing from March 17-21 for $12,000 in prize money.
BSRA Director of Squash, Patrick Foster commented; "We at the BSRA are looking forward to a thrilling event. This year's tournament has an amazing entry with players from 14 countries coming to compete in our club. Everyone is just so excited and can't wait for the matches to start"
Top seed for 16 player Women's draw is Canadian World #64 Nikki Todd who will face Ingy Hammouda of Egypt in the opening round. Bermuda #1 Rachel Barnes will face #4 seed Karina Tyma of Poland in round one and will be hoping to go further than last year with what looks like a promising draw.
Other Bermuda stars competing in the Women's event are Juliette Ferrari-McComb and Susie Howells who both face Columbian internationals for a place in the second round.
The Bermuda Open 2020 Men's main draw has two Bermudian players confirmed in the draw with National Champion and WR#141 Noah Browne taking on WR#272 Faisal Riaz from USA for a place in the last 8.The Men's Draw wildcard goes to Micah Franklin, former WR#149 who will start his campaign with against WR#181 Connor Turk of Canada.
The Bermuda Open 2020 will be held entirely at the BSRA, Devonshire with matches start times varying through the week. The first round begins Tuesday March 17 with 16 matches to be played on two courts starting from 4pm. For full details please visit www.bermudasquash.com.
Tickets are available for all sessions for just $30pp per night and are available only at the BSRA. Visit the official Bermuda Open 2020 website for all event information www.bermudasquash.com.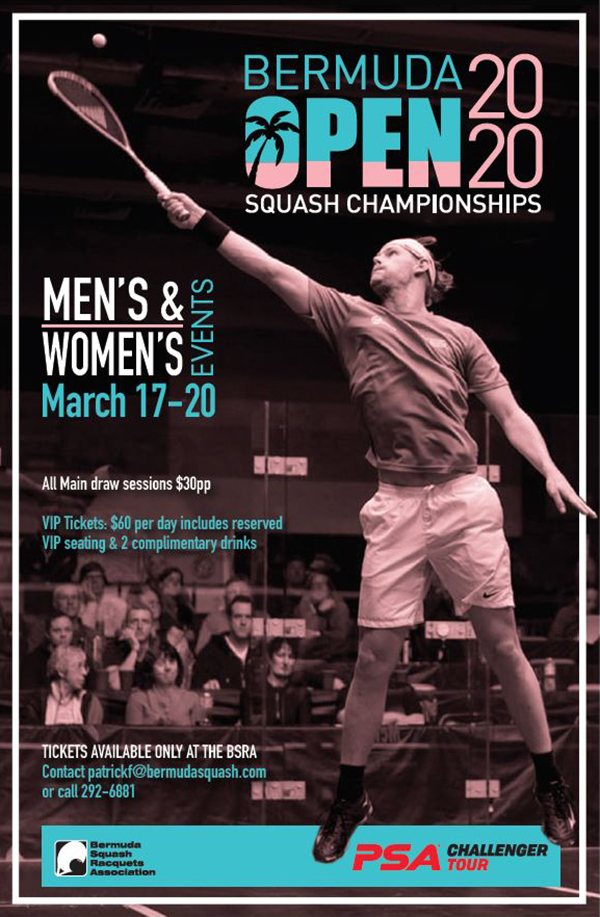 The full Men's & Women's Draw follows below [PDF here]

Read More About