Bermuda's newest soldiers yesterday [Feb 24] fired their first shots on the Warwick Camp range after a week of intensive classroom rifle training.
The Royal Bermuda Regiment recruits used the SA-80 rifles in a live firing exercise under the watchful eye of qualified range supervisors.
Private Cush Smith, 20, said he enjoyed the experience and his first taste of life as an RBR soldier.
He added: "It's good – I like firing the weapon and seeing how I did. I did okay."
Range supervisor Corporal Dijon Arruda checks the rifle of a new recruit on the Warwick Camp firing range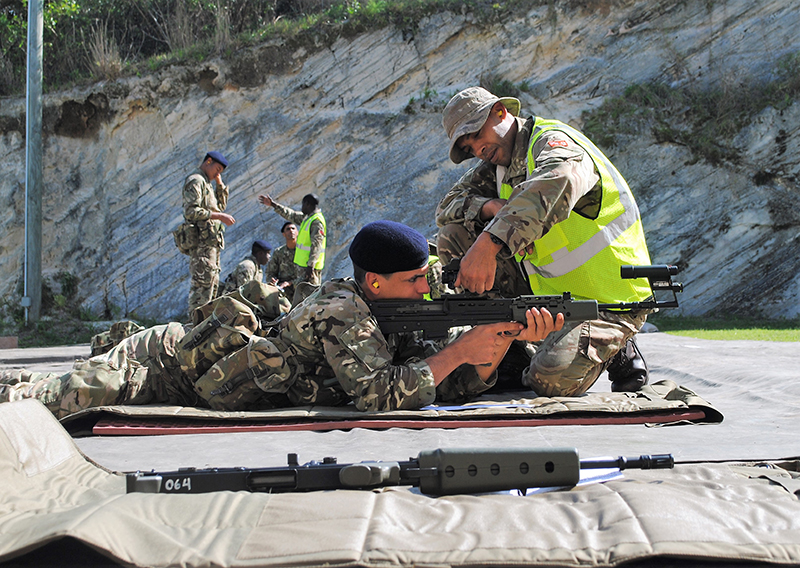 Pte Smith, a farmer from Sandys, said: "I'm enjoying Recruit Camp because it's good experience and you learn good lessons here, like time management and discipline.
"But I've enjoyed the shooting most so far. All the classroom work and safety lessons were worth it."
Pte Maria Deleon Garcia, from Southampton, added: "I was a bit scared at first, then I thought 'I've got this'. I enjoyed it."
Pte Deleon Garcia, on a break from a Bermuda College nursing assistant's course, said: "I joined the Regiment because I wanted something different and I don't have a job at the moment.
Officer Cadet Theodore Kelly of the Cayman Islands Regiment and RBR recruits [far left] watch Royal Bermuda Regiment medic Lance Corporal Siva Senthanmaraikannan demonstrate how to use a potentially life-saving tourniquet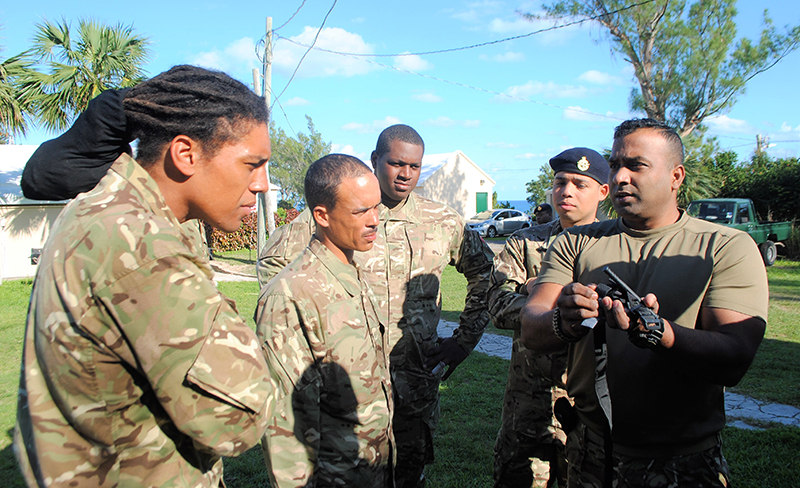 "I like talking to my new friends and the exercise. My legs hurt, but I just get on with it."
Recruit Camp section instructor Corporal Nigel Lee, 28, a nine-year veteran of the RBR from Devonshire, added: "They were all good on the range.
"I could tell they were nervous, but they did well."
Cpl Lee, who works for courier firm IBC in civilian life, added he was pleased to see that the painstaking instruction on safety and the mechanics of the SA-80 rifle had been absorbed by the recruits.
RBR recruit Private Maria Deleon Garcia [front] and her section prepare to open fire on the Warwick Camp range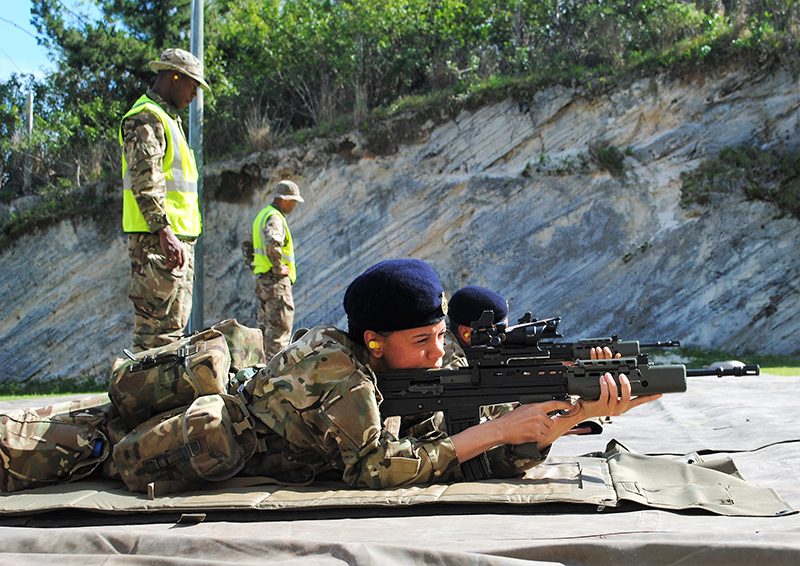 He said: "It's a good feeling to see that all the information got across to them so they did well in their first shoot of their military careers."
Cpl Lee, who is attached to the RBR's Training Wing and a first-time Recruit Camp instructor, added: "I've enjoyed the teaching.
"I like seeing the instructors' hard work paying off when they passed the weapons handling tests."
The troops also had lessons in first aid and communications, including how to set up a field radio mast.
Soldiers check their scores on the Warwick Camp firing range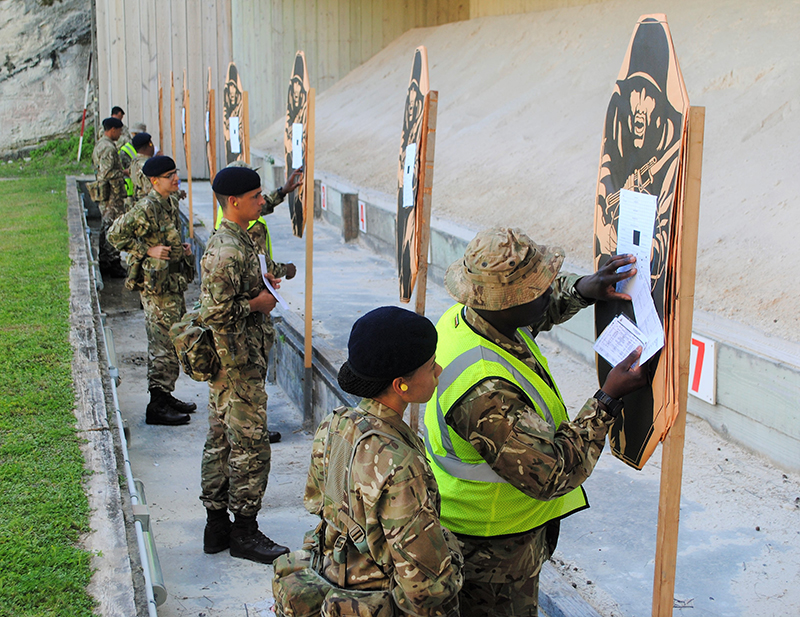 They will today spend their first night under canvas at Hog Bay Park in Sandys.
Cpl Lee said: "From the first day, you could tell they were nervous but, as time went on, they became more and more soldiers rather than civilians.
"They're all looking forward to the Passing Out Parade on Friday and to going home."

Read More About