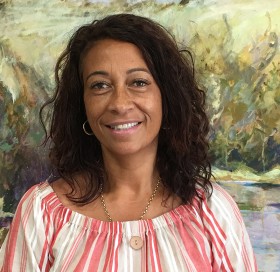 The Bermuda Hospitals Board's Child & Adolescent Services [CAS] team is offering telephone support for "families with children who are worried or fearful about the Covid-19 pandemic."
A spokesperson explained, "CAS offers mental health services for children up to 18 years old.
"Usually delivering services from the Mid-Atlantic Wellness Institute [MWI], the CAS team offering telephone support for any children who may feel heightened fears or worries due to the pandemic.
"Parents of the children themselves can call 249-3370 between 9:00am and 5pm, Monday to Friday.
Jayne Isaacs [pictured], Manager of Child & Adolescent Services, comments: "This special Covid-19 pandemic telephone support service is for parents and children who may be struggling with fears and worries about illness, being isolated or about coping with all the changes.
"During these challenging times, we are here to support families with children who need help. Being stuck at home with schools closed, public transport suspended and without normal supports from family and friends, can be incredibly challenging for families.
"We are not used to these restrictions and families who need help with the stress and anxiety caused by our situation can call to speak to our mental health experts."

As the island and world deals with the Covid-19 pandemic, we are doing our best to provide timely and accurate information, and you can find more information on the links below.
Officials are urging everyone to please follow all guidance like washing your hands, adhering to self quarantine if relevant, and practicing social distancing, and they have asked that if it is not urgent, a necessity or work, to please stay home to prevent the spread of the coronavirus.
Read More About