After heading into the final round as co-leader, Eric Dugas managed to hold steady, giving only one shot back on his way to securing a victory at the Dark 'n Stormy World Par 3 Championship.
The win sees Dugas taking home $10,000 [USD] and an exemption into the PGA TOUR's Bermuda Championship later this year.
Dugas finished 3 under after firing a second-round 1-over-par 55, winning by three shots over Mackenzie Tour-PGA TOUR Canada player Mark Hoffman and American Justin Regier.
He was the only player in the field to finish below par in the 36-hole championship at Turtle Hill Golf Club.
"I rolled it really well this week," said Dugas. "I was just trying to hit it one shot at a time."
Robby Thompson, Executive Director, Dark 'n Stormy World Par 3 Championship; Justin Belanger, Assistant Tournament Director, Bermuda Championship; Eric Dugas, Dark 'n Stormy World Par 3 champion; Nancy Gosling, President and CEO of Goslings Brothers Ltd.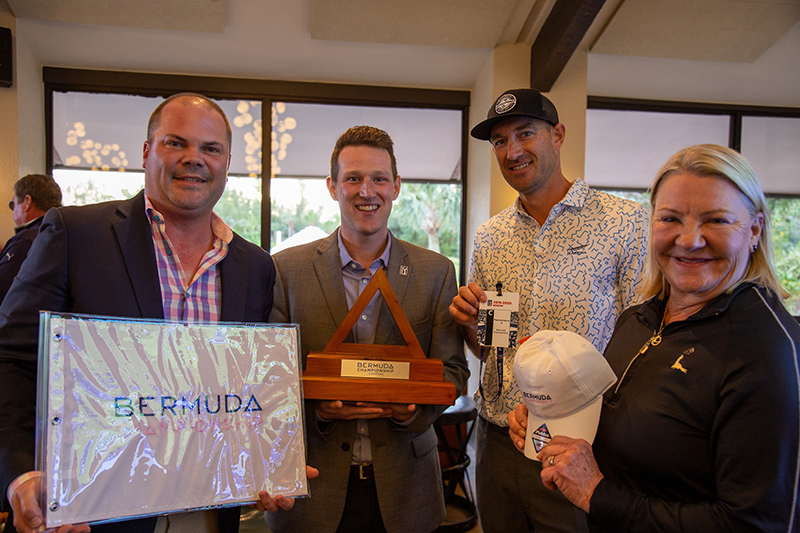 Players experienced another day of varying weather conditions, which Maui resident Dugas admitted he was used to.
He entered the final round expecting fellow competitors to make the odd bogey and knew that avoiding a big number was key to winning the championship.
"Sometimes a good shot is hitting it to 30-feet," noted Dugas.
Co-leader Joe Horowitz parred his first five holes of the day, but bogeyed five of the next ten, dropping him into fourth place alongside Mini Tour player Dalton Reese and LPGA player Megan Khang.
Khang finished the tournament with a two-day total of 1-over-par 109, after blazing through the front nine of her second round with a 5-under-par 22.
As the champion of the Dark 'n Stormy World Par 3 Championship, Dugas receives an exemption into the PGA TOUR's Bermuda Championship at Port Royal Golf Course, held Oct. 26 to Nov. 1.
Dugas has prior tour experience, having played multiple times in Hawaii's Sony Open, and qualifying for the '08 PGA Championship.
"I've been there before, so I kind of understand the process," Dugas said. "But it never gets old teeing it up with the best players in the world. You're in the field and no one can take that away from you."
Bermuda's Jevon Roberts won the amateur division by nine strokes over Canadian Simon McInnis, finishing at 6-over-par after two rounds. Fellow locals Tracy Burgess and Gary Brangman won the women's and senior men's amateur divisions respectively.
To view the full championship leaderboard, click here.

Read More About