Thanks to an idea born in Bermuda, more than 50 women across 11 cities and three countries walked, ran, or biked in a Virtual 5K in order to support charities during the ongoing Covid-19 pandemic.
A spokesperson said, "The Virtual 5K took place with no crowds and at different times. Women completed the 5K alone [or with in-home family members], in line with social distancing or curfew rules per their respective regions, and each donated $25+ to a charity of choice as their entry fee.
"Several women in Bermuda participated, donating to The Women's Resource Center, The Family Centre, and The Eliza Dolittle Society.
Photo courtesy of Stacy Baran: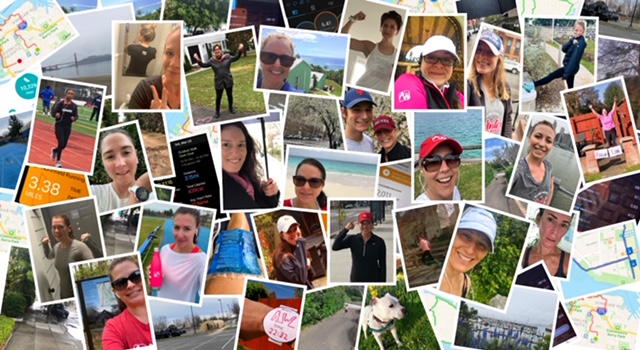 "There was not a winner per se, as times were not formally tracked — some women completed the 5K on Pelotons, others ran around their living room, some walked with children or pets, and some took leisure walks while stopping for snacks as it's loquat season in Bermuda.
"To prove efforts, participants submitted selfies and images of routes from their personal phones.
"Globally, charities included Johns Hopkins Covid Research, Citymeals on Wheels, City Harvest, West Hartford Meal Pantry, World Kitchen, San Francisco Marin Food Bank, FoodShare, Feed America, Feed the Frontlines, Project Angel Foods, Meal Bridge, Project Open Hands, Equal the Playing Field, Family Promise, Houston Food Bank, Infectious Disease Research Institute, CDC Foundation, BStrong, Feed our Healthcare Providers, CaringBridge, Mind, Women's Resource Centre, Family Centre, Eliza Doolittle Society, and more.

As the island and world deals with the Covid-19 pandemic, we are doing our best to provide timely and accurate information, and you can find more information on the links below.
Officials are urging everyone to please follow all guidance like washing your hands, adhering to self quarantine if relevant, and practicing social distancing, and they have asked that if it is not urgent, a necessity or work, to please stay home to prevent the spread of the coronavirus.
Read More About
Category: All