With Bermuda now in Phase 2 of its reopening process, the Government has released a document with guidance for personal services.
The Government document says, "Bermuda is undertaking a phased approach to reopening during the Covid-19 crisis. There will be limitations to what services can be provided in Hair, Barber and Nail Salons to limit the risk from COVID-19 to the community.
Permitted Under Phase 2
"Hair services including hair cutting, styling, and barbering services [no beard maintenance]. Services requiring hair washing are permitted but clients should be encouraged to come with prewashed hair for express services unless chemical services are scheduled.
"Pedicures and manicures including gel and acrylic nails.
Not Permitted Under Phase 2
"Beauty services requiring:
"Extensive touching of a client's body [shoulder or back massages, pedicures and manicures with add-on massages or paraffin wax treatments],
"A client to disrobe [massages, body wraps or waxing],
"Facial services such as beard shaping or coloring, brow or lash maintenance, waxing, threading or microblading.
"Permanent makeup [eye or lip liner] or any tattoo-type services, electrolysis, or laser hair removal.
"Mobile services or home visits are not permitted.
What to Expect?
"Salons operating during Phase 2 should have taken a number of steps to prepare to serve you safely during this period. These are the changes you should expect to see. These measures will help to protect you, the customer, and those providing the service.
Signage
"You should expect to receive additional information, see additional signage indicating that your salon has taken steps to prepare to serve you safely during this phase. Ask your stylist if they have had additional COVID-19 training. Look for additional training certificates.
Physical Distancing Policies, Barriers and Shields
"Your salon may have implemented physical barriers at service counters, between stations or you may notice that the salon serves less customers while you are there. These efforts are important for physical distancing.
Increased Hand washing and Use of Sanitizer
"You should be asked to sanitize your hands immediately upon entering the premises. You should notice increased hand washing and cleaning from your stylist.
Questionnaires about your Health
"To protect the stylist, you will be asked questions about your health. Do not attend if you are unwell, or if you have been around someone who has symptoms of COVID-19. Contact your physician.
Improved Recording of Client Contact details for Contact Tracing
"Be prepared to provide more information. Public health officials may require additional information during an outbreak. Your salon should ask for detailed contact information for this purpose.
Increased Cleaning and Sanitizing of the Salon
"Cleaning in between customers must occur for chairs, touch points, and work spaces. Be patient as salons complete this in between clients.
Use of Mask[s] and other PPE
"Personnel in the salon should be wearing a mask and you should wear one while on premises. If you forgot your mask call ahead to see if your salon provides them.
Increased Cleaning of Tools, Brushes and Implements
"Your salon should always provide clean tools [clippers, guides, brushes and combs] and new disposable implements [nail files and buffers]. If you are unsure ask questions.
The Phase 2 Personal Services Guidance for the Consumer follows below [PDF here]: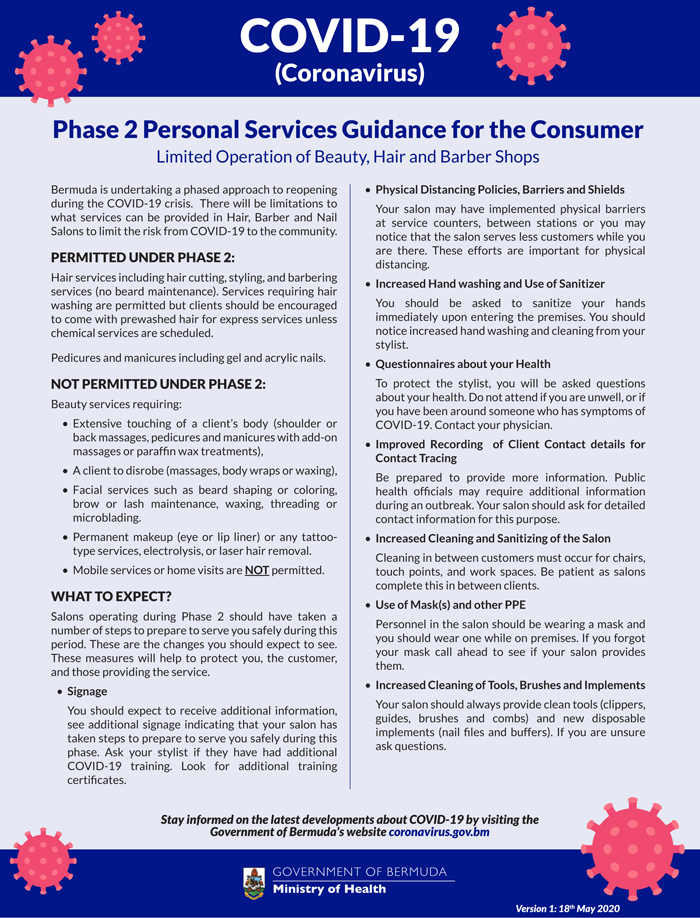 As the island and world deals with the Covid-19 pandemic, we are doing our best to provide timely and accurate information, and you can find more information on the links below.
Read More About
Category: All