The Department of Health will be hosting a competition dubbed "Cup Match Mask Mania Competition".
The poster says "The Department of Health invites all Somerset and St. George's Cricket Club fans to join the Cup Match Mask Mania Competition! We have to wear masks, so why not have some fun with it! Enter to win prizes and help declare a team winner.
"To enter select a category from below. Create a mask in your favourite Cup Match team colours, take a picture and submit to healthpromotion@gov.bm.
"Categories
"Hit A Six – overall best decorated mask
"Silly Mid-on – silliest mask
"The Captain's Choice – best adult [M/F] and child [M/F] masks
"Prizes to be won for each category
"Cup Match Champions – overall entries for Somerset or St. George's.
"Which Club will take home the cup?
"Team with the most submissions will be declared the Cup Match Mask Mania Champions.
"Rules
"Must be a functional mask [covers nose and mouth - no gaps].
"Must be self decorated [may purchase a plain mask to decorate].
"Decorated to represent Somerset or St. George's.
"Submit a picture of the mask being worn – front view and side view.
"Include name, contact information and category entered.
"Entries must be submitted to: healthpromotion@gov.bm by 11:59 pm on Friday, 24 July 2020.
"The deadline for submissions is 24 July 2020. Winners announced on 29 July 2020."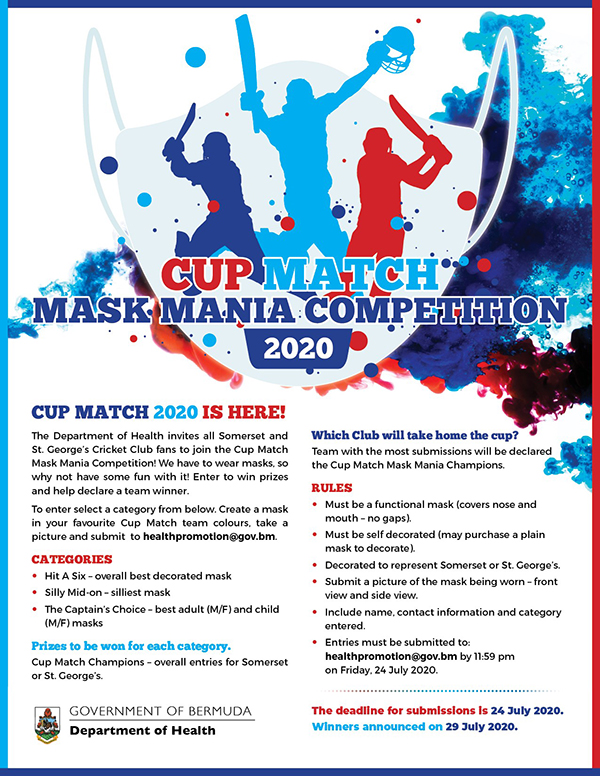 Read More About
Category: All