The Bermuda Government is spotlighting some of the health professionals who have helped during the pandemic, with this profile highlighting Testing Coordinator Kiandra Simons.
Ms. Simons' Covid-19 Health Profile says, "It takes a certain kind of individual to run towards danger, instead of away from it. But that's what exactly 29-year-old Kiandra Simons did this summer when she contacted the Ministry of Health to assist in the fight against COVID-19.
"She resolved to do her part to help her country, initially volunteering at the drive-through testing site at Southside and later being appointed a Testing Coordinator for coronavirus pop-up testing sites across the Island.
"Alongside her team, she would ensure that all aspects of the testing process ran smoothly, including proper site set up and personal protective equipment [PPE] usage and test sample security."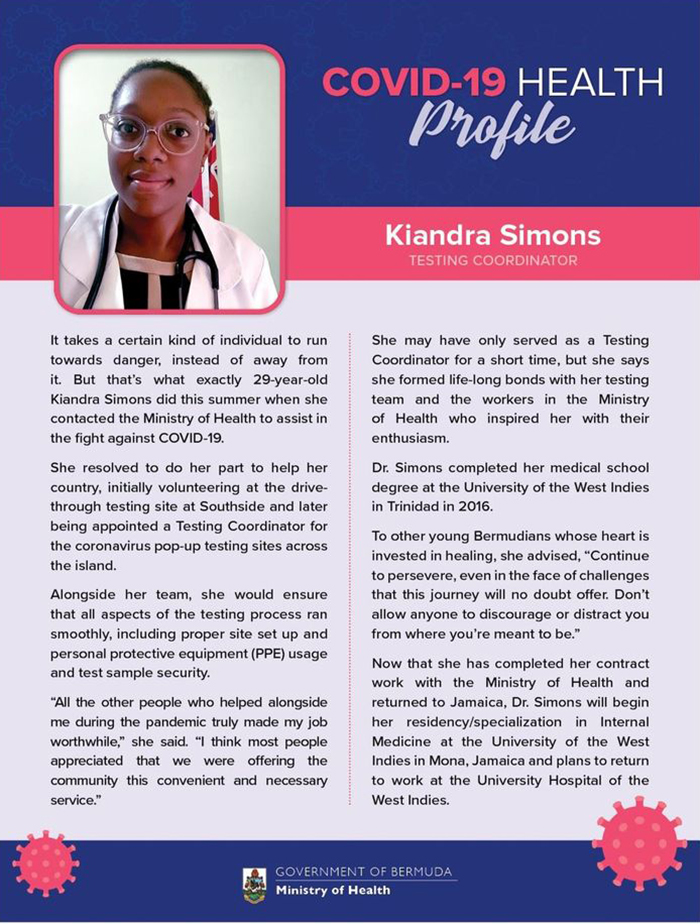 As the island and world deals with the Covid-19 pandemic, we are doing our best to provide timely and accurate information, and you can find more information on the links below.
Read More About
Category: All