Titan Express will be offering "The Religious Freedom Tour" on Oct 3, Oct 10, Oct 17, Oct 24, and Oct 31.
A spokesperson said, "Titan Express Presents "The Religious Freedom Tour", being held Saturdays in October, which is Oct 3rd, 10th, 17th, 24th, 31st. The Tour departs at 10:00am from outside the Visitor Service Center in Hamilton, which is next to the Hamilton Ferry Terminal and tickets can be purchased here.
Price: $35
Time: 10:00AM – 12:30PM
A spokesperson from the company said that "due to being unable to finish the offering of this tour in March, we will offer it in October instead.
"This tour will highlight the Enslaved and Free Blacks struggle for religious freedom and you will hear stories of their persistence and resistance to have this freedom.
"We believe in Sankofa which is an Akan proverb and it means to "Go Back and Fetch it", and in order to understand the present, you have to explore the past, and use that information to build a better future.
"For more information you can email, info@titantoursbermuda.com or visit the website at www.titantoursbermuda.com"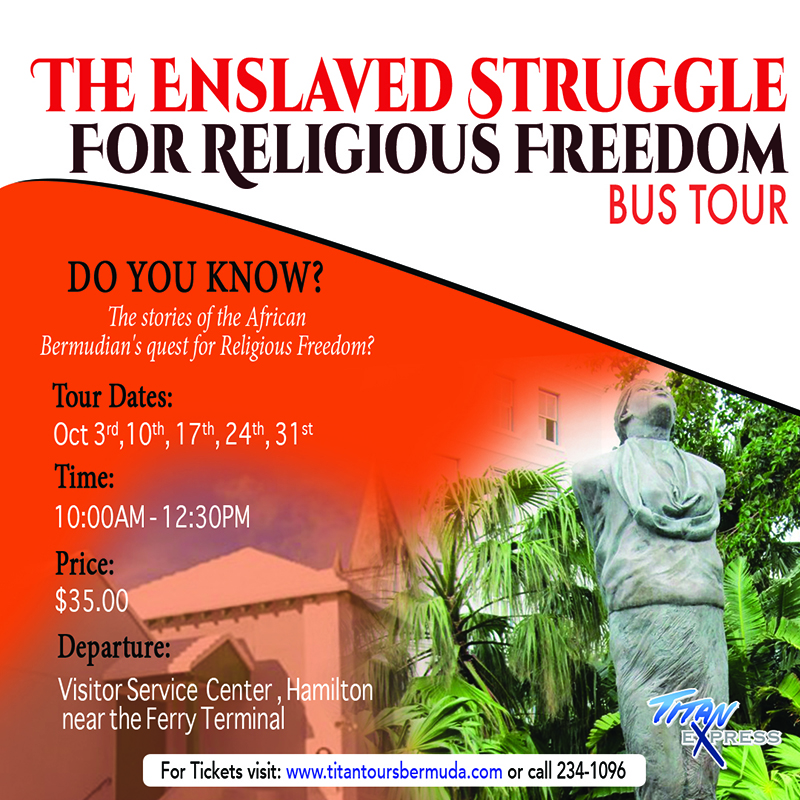 Read More About