The Ministry of Legal Affairs has welcomed Aqueelah Simmons, Terry-Lynn Griffiths, and Lorendae Symonds to its Pupillage Programme.
A Government spokesperson said, "The Attorney-General and Minister of Legal Affairs and Constitutional Reform, Kathy Lynn Simmons, is pleased to announce the recipients of the 2020/21 Ministry of Legal of Affairs' Pupillage Programme.
"Aqueelah Simmons, Terry-Lynn Griffiths, and Lorendae Symonds are the three Bermudians selected to join the one-year training programme."
Lorendae Symonds, Attorney-General and Minister of Legal Affairs Kathy Lynn Simmons, Terry-Lynn Griffiths, and Aqueelah Simmons: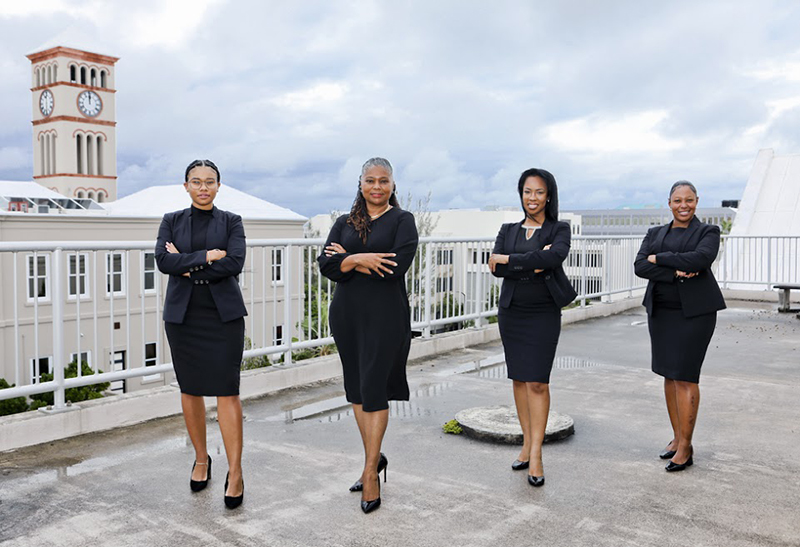 Minister Simmons said, "We are pleased to provide this opportunity to prospective Bermudian barristers. I have advocated for this programme to receive annual funding to offer this essential training to ensure that Bermudian pupils receive a comprehensive experience in the rigours of professional legal practice.
"After years of being dormant, we revived the Programme in 2018 that resulted in four Bermudians being successfully called to Bermuda Bar.
"Many of our local firms offer pupillage programmes, and this Government is committed to being amongst leaders in the legal fraternity to provide Bermudians with this pathway toward success. In a climate where many well-educated Bermudians find it challenging to obtain a training contract, we intend to keep this pathway open and provide well-earned opportunities.
"The Pupillage Programme is in keeping with this Government's pledge to increase apprenticeships and training for Bermudians.
"The Ministry's Pupillage Programme was formalised under the tenure of a former Attorney-General, Dame Lois Browne-Evans.
"The programme aims to train pupils to hone their legal skills to a competent level of professionalism, and also recruit promising new attorneys to join the Government's legal team.
Lorendae Symonds; Terry-Lynn Griffiths; Aqueelah Simmons and Minister Kathy Lynn Simmons: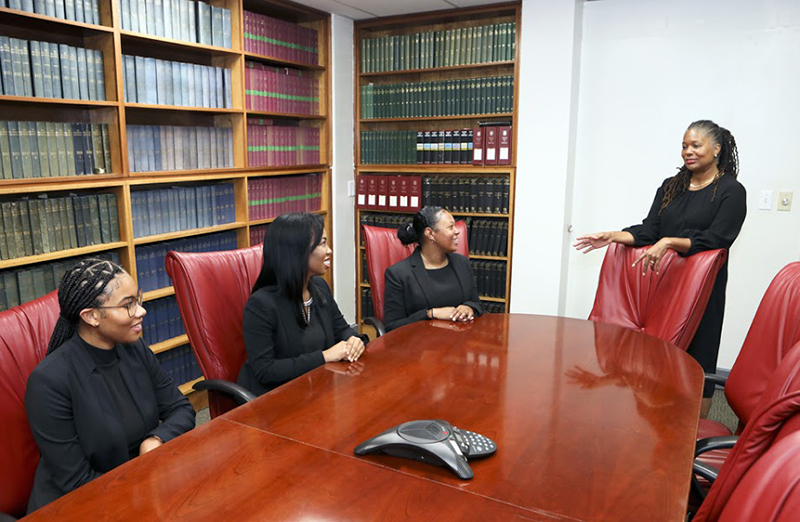 "Pupils will gain comprehensive training in the different areas of legal practice within the Attorney-General's Chambers, the Department of Public Prosecutions, and the Legal Aid Office."
Aqueelah Simmons, of Bermuda High School for Girls and Nottingham Trent University, said, "Everyone who knows me would tell you that I have wanted to be an attorney-at-law for as long as I could talk. Despite receiving my Legal Practice Certificate and Master of Laws in 2019, I was unable to secure a pupillage.
"I even considered changing career paths and began working in the compliance field. I was close to giving up, but you know what they say about God – He is always on time. When I was informed that I received a pupillage with the Ministry of Legal Affairs, it was as if a weight had been lifted off my shoulders.
"My dream is finally coming to fruition. I am so elated and eternally grateful that the Ministry decided to take a chance on me. In return, I look forward to proving that I am a great investment."
Terry-Lynn Griffiths of the Berkeley Institute, University of Western Ontario, University of London, and BPP Law, said, "I am incredibly thankful to the current Government for its commitment to investing in Bermudians, and I'm honoured to be selected for this opportunity. This phase of my journey proved to be a challenging one, in that securing pupillage in Bermuda is extremely difficult.
"I look forward to commencing pupillage with the Ministry of Legal Affairs and completing what I consider to be the most comprehensive training on the island. My training will include exposure to the legislative process, to public prosecutions and to the general administration of public law in Bermuda.
"I am extremely grateful to the Attorney-General and her team for affording me this extraordinary opportunity."
Lorendae Symonds, of Saltus Grammar School, City, University of London, and University of Law, said, "In completing my post-graduate legal studies while working full time, I learned the true meaning of the phrase, 'hard work pays off'.
"I am grateful for the opportunity to join the pupillage program within the Ministry of Legal Affairs, especially during these uncertain times.
"I look forward to furthering my legal career and gaining invaluable experience within Bermuda's multifaceted public legal sector."

Read More About