The Bermuda Championship Qualifier concluded at the Port Royal Golf Course, with Camiko Smith, Anthony Phipps, and Michael Sims all securing a spot in the prestigious tournament.
A spokesperson said, "There was an exciting conclusion to the Bermuda Championship Qualifier at Port Royal Golf Course. While Camiko Smith maintained a steady lead and became the winner of the 36-hole stroke play qualifying tournament with a one-under par round score, a number of players were in and out of contention, particularly as the back-nine pressure started to take its toll.
Photo courtesy of the organisers: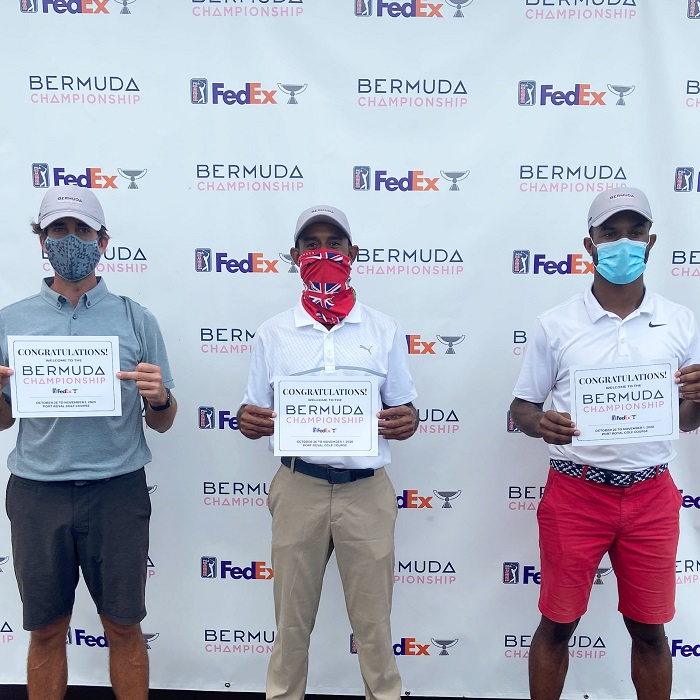 "Also qualifying for a place were, Michael Sims and Anthony Phipps Jr at 4-over par. These three players will qualify to play in the PGA TOUR Bermuda Championship on 29th October – 1st November.
"While the qualifiers placed based on their final scores, there were some interesting developments with the three alternate players, Andrew Trott claimed the first alternate spot after beating Will Haddrell on the first play-off hole with a birdie.
"The third alternate spot was a little more challenging with five players finishing their regulation play at 7-over par. Scott Roy was the eventual winner of the five-player play-off for the third spot after making a 30 foot chip for par from the back of the green on #18."
2020 PGA Bermuda Championship Qualifier Final Round Leaderboard
-1 Camiko Smith
+4 Michael Sims
+4 Anthony Phipps
+6 Andrew Trott
+6 Will Haddrell (a)
+7 Eric West (a)
+7 Robert Vallis (a)
+7 Scott Roy
+7 Jarryd Dillas (a)
+7 Daniel Augustus
+12 Mark Phillips
+12 Christopher Smith
+12 Mikus Ming (a)
+12 Dwayne Pearman Sr.
+13 Fraser Hunt (a)
+13 Philip Hagen (a)
+14 Jevon Roberts (a)
+14 Mark Robinson (a)
+21 Andrew Trott-Francis
+23 Calvin Hendrickson (a)
+27 Cornell Bean Jr
+32 Michael Wells (a)
+33 Tariqah Walikraam
WD Chaka Desilva

Read More About