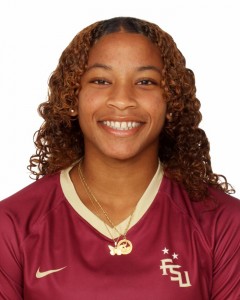 Bermudian footballer Leilanni Nesbeth and her second-ranked Florida State soccer teammates continue to play in the 2020 ACC Tournament on Friday, November 13th at 6:40 pm Bermuda time against fourth-seed and No. 6 Duke.
Florida State entered the 2020 ACC Tournament as the No. 1 seed after finishing the regular season without a loss or a tie for the first time in program history. This marked the fourth time that Florida State has entered the ACC Tournament as the top seed.
Florida State is 24-17-9 all-time in the ACC Tournament and are 12-8-4 in the first round. Heading into Friday's Semi-Final round, Florida State are 9-4-2 in ACC Tournament semifinals matches. FSU is 13-8-5 when the ACC Tournament is in Cary, N.C., and 16-12-5 all-time in Cary.
Friday's meeting between Florida State and Duke will be the 32nd meeting between the two programs. Florida State is 15-10-6 all-time against Duke. Florida State is 2-1 against Duke in games played in Cary, N.C. The Seminoles are 13-4-4 against Duke under head coach Mark Krikorian.
Florida State has out-scored Duke 41-35 with 13 shutouts in the first 31 games of the series. Since Krikorian took over Florida State in 2005, Florida State has out-scored Duke 27-16 with 11 of their 13 wins coming by way of a shutout.
The two teams met during the last week of the regular season in Tallahassee. Florida State shutout Duke 1-0 on a last-second goal by Jaelin Howell. The goal came off of a Yujie Zhao corner kick that bounced around inside the box before connecting with Howell's foot then the net. Florida State out-shot Duke 19-4 and Cristina Roque came away with a career-high three saves for Florida State.
The winner of the Florida State and Duke Semi-Final takes on the winner of North Carolina and Virginia on Sunday, November 15 at 1:00 pm Bermuda Time.

Read More About