BELCO provided an update on the island-wide power outage that occurred on Friday, December 18th, saying that 'while the incident is still under investigation, early indications are that the cause was equipment failure.'
BELCO President Dennis Pimentel said: "First and foremost let me again apologise to our customers for the inconvenience this outage caused. It should be noted that BELCO is one of the most reliable small island power plants in the world and this outage was a rare occurrence, the first such incident in more than 15 years, with the previous outage having been caused by a catastrophic fire. Our staff take great pride in their work and performance record and were equally disappointed and frustrated when the outage occurred."
Noting "the incident is still under investigation," Mr. Pimentel said "early indications are that the cause was equipment failure."
He said: "Our operations personnel proceeded to perform a standard operating procedure, however during this process there was an equipment failure which led to a cascade of built-in safety mechanisms being triggered that ultimately shut-off power to the entire island.
"When the fault occurred, the safety mechanisms performed as designed and prevented what could have been serious damage to the generating equipment and grid and taken much longer to repair and restore power."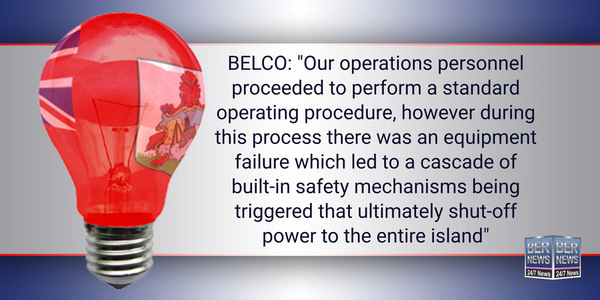 "A report on the incident is being prepared and will be submitted to the Regulatory Authority as a matter of urgency," BELCO said.
"The incident occurred at approximately 10.20 am on December 18th and BELCO's Crisis Management Team was convened by 10.30 am. Once a stable power supply was being generated, steps were immediately taken to set about restoring power to critical customers.
"Power was restored to customers in a phased approach beginning with the Hospital by 1pm, the city of Hamilton by 3pm, the majority of customers by 5pm and all remaining customers by 7pm."
Ascendant President Wayne Caines said: "We at the Ascendant Group of Companies, and especially BELCO, are acutely aware of the impact Covid-19 has had on our economy and way of life. Indeed, BELCO took a number of actions to assist the community during shelter in place such as a bill deferment plan and dedicated customer service credit team for those struggling financially.
"Our priority now is to ensure our report into this incident is thorough and accurate and we will provide full transparency as the report will be submitted to the Regulatory Authority and will be made public. Let me again apologise to our customers and especially retail businesses who have already had a very difficult year.
"I am highly aware that a power outage is never convenient but this time of year, in particular, is especially difficult. My promise is that we will do everything possible to avoid a repeat of this incident."
Read More About
Category: All, News, technology