The first doses of the Covid-19 vaccine were administered yesterday [Jan 11], and Minister of Health Kim Wilson apologized for the delays experienced with people trying to call the vaccine registration number, and noted that the Government now has an online form people can fill out.
The Government posted the graphic below, saying, "The first doses of the Pfizer BioNTech vaccine were administered yesterday, and the Ministry of Health has received numerous calls from people trying to register. Unfortunately, this did cause a slight delay in the team being able to respond to all of the calls.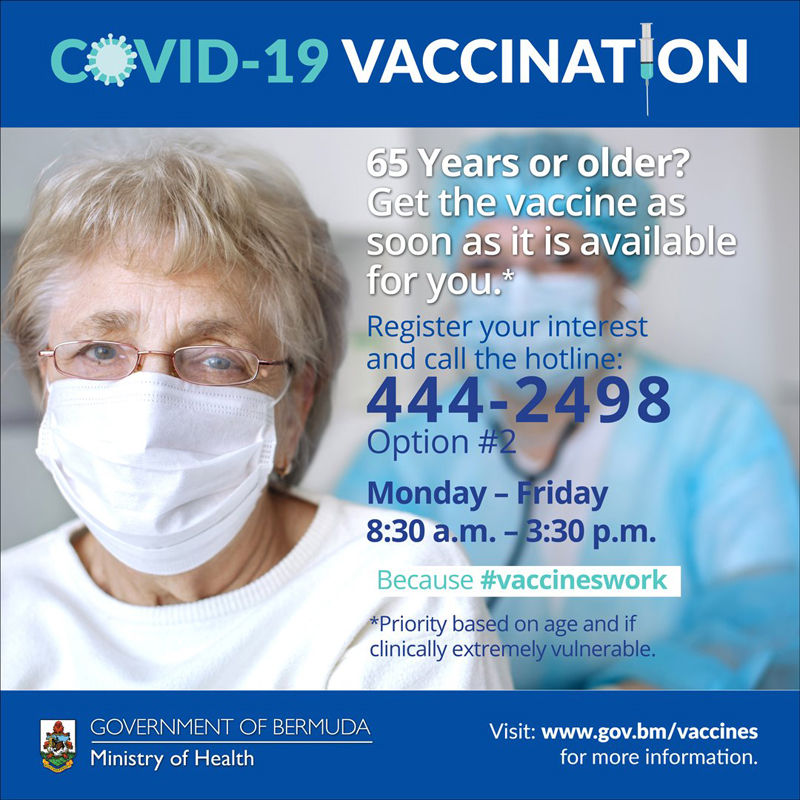 Minister of Health Kim Wilson explained: "We apologize for the delays being experienced as persons try to get through to the vaccine registration number. Our team is working extremely hard to answer as many calls as possible, and we appreciate your patience. We are placing more resources in this area to accommodate the demand – a demand which is most welcome."
"We want to vaccinate as many people as possible so that we can help protect them, their loved ones and, also, help the Island to achieve herd immunity. According to most experts, if we are able to vaccinate 60 – 70% of the population, we can halt the transmission and spread of the virus."
"If you are interested in registering for the vaccine, fill out the convenient online form here. For more information on the COVID-19 vaccination programme, and the priority scheduling for the first batch of the vaccine, please visit gov.bm/vaccines."
Update 5.17pm: The online form was working fine, however it currently not available. We have asked Government for clarification and will update if able.
Update 5.38pm: The form is back up and running, we assume, not know, was just a brief tech issue that caused it to be down for a short time.

As the island and world deals with the Covid-19 pandemic, we are doing our best to provide timely and accurate information, and you can find more information on the links below.
Read More About