A total of 48 raw recruits yesterday got their first taste of life in the Royal Bermuda Regiment.
The latest recruits arrived at Warwick Camp for the start of two weeks of training designed to give them the basic military skills to build on.
The 40 men and eight women started off on the right foot with the issue of boots, uniforms and other equipment they will use over Recruit Camp Alpha 21.
Soldiers get issued with their new uniforms and kit on their first day at Warwick Camp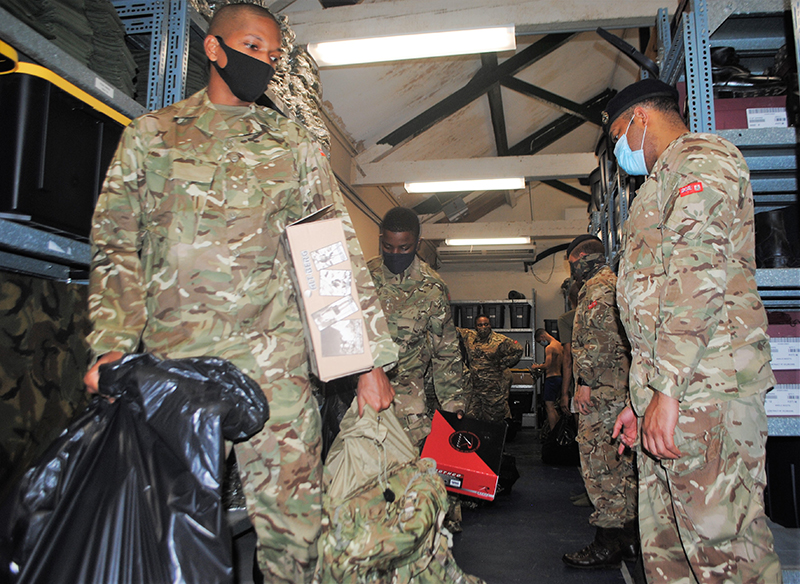 2nd Lieutenant LeeAnn Tucker, 29, who only returned from the UK's prestigious officers' training school Sandhurst last November, said she was looking forward to her role as platoon commander for the camp.
The former Corporal, a nursing assistant from St George's, added: "I'm excited to be in this position.
"It's a different experience from the rest of the Recruit Camps I have done. Now, as a platoon commander, it's taking a step back and learning the role I'm in."
Pte Nathan Richardson, 24, from Smith's, gets to grips with his new boots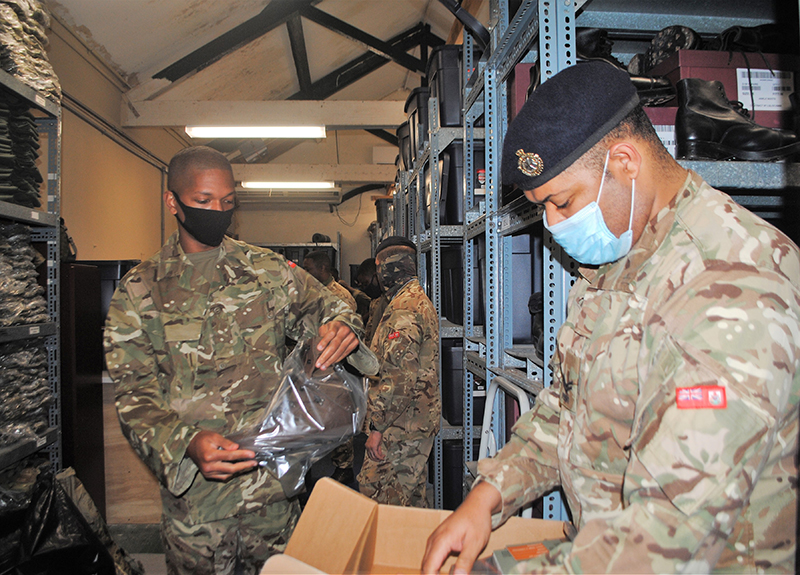 She admitted: "At first, you're a bit of a bucket of nerves, then it's 'I got this – I can do it'.
"I've done it for six years as a Corporal – this is just a step up. The biggest challenge is the different personalities. Everyone is just meeting each other. It's all about people getting along with each other and working as a team."
Pte Ronesha James-Dill gets her new kit in order with help from Sergeant Wolette Darrell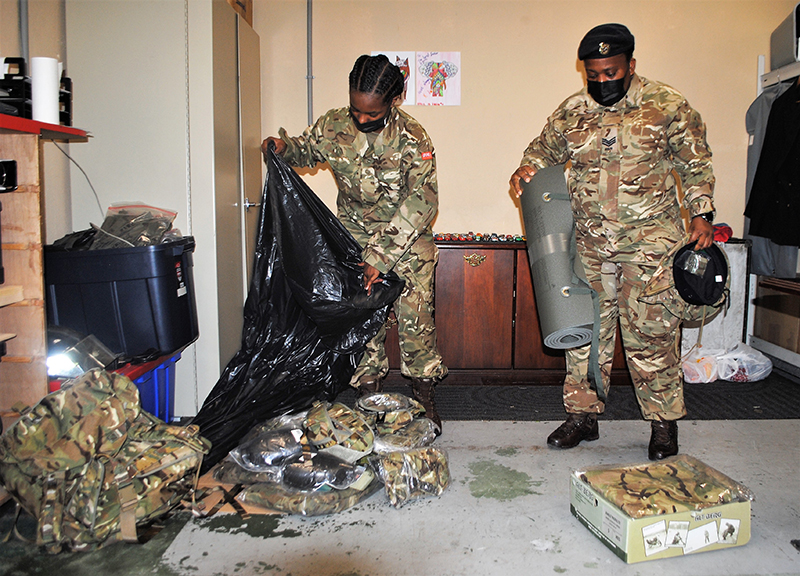 2nd Lt Tucker said, "Being the first female officer for a while, there is a little pressure. But it's still just about getting the job done, learning to relax, not get stressed about it and do the very best I can."
She added: "I feel I am a role model for women in the Regiment and I show them that it's possible to be a Private and aspire to higher rank."
New soldiers get their first taste of military cuisine at Warwick Camp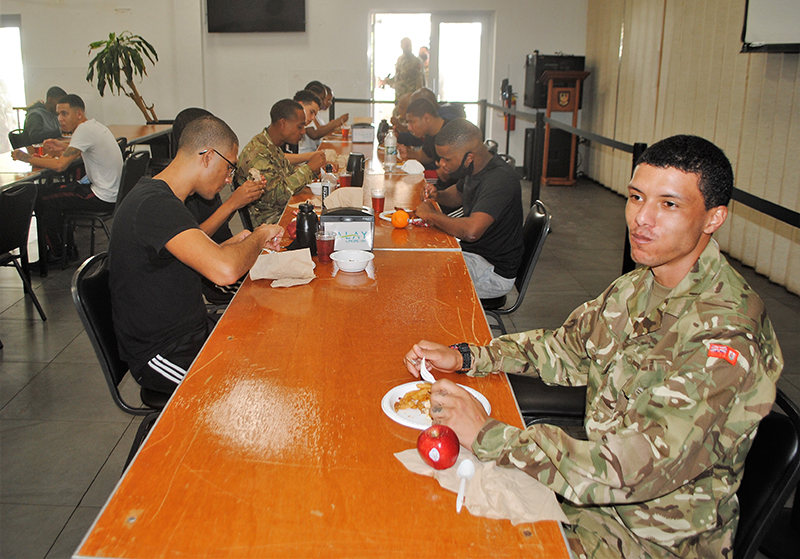 Private Shi-Shun Burgess, 19, a salesman at telecommunications store The Hub, Warwick, said he joined the RBR partly because of the attractive pay rates.
But the former Cadet force member added: "It's also to keep me organised and to better myself. The Cadets helped me a lot and I figured this is just the next step.
"It feels good – even the food is pretty good. I expected it to be worse."
Ronesha James-Dill and Shi-Shun Burgess on their first day at Recruit Camp Alpha 21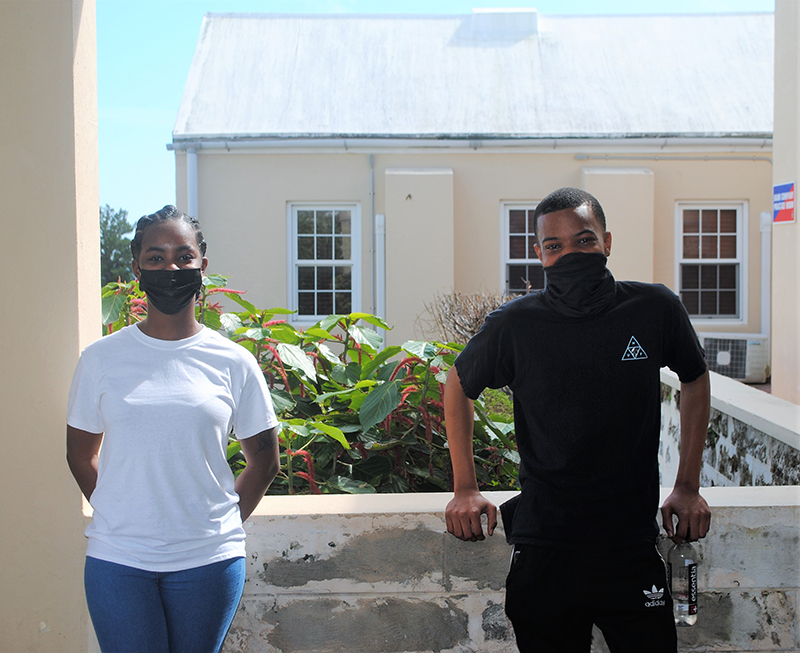 Pte Burgess added he had his sights set on becoming a Sergeant and was considering the RBR Coast Guard as an option when he finished Recruit Camp.
Pte Ronesha James-Dill, 18, said she was so excited at starting at Warwick Camp she did not sleep the night before she was due to report for duty.
She added: "I joined for the discipline. I like challenges – anything to push myself further."
Pte James-Dill said she knew what to expect from military life because she is from a dynasty of soldiers – her brother Calshunto James is a Corporal, sister Asiyah James is an RBR chef and her twin sister Rotesha is serving in the British Army.
Pte Gianluca Guglielmucci awaits the finishing touch to his new uniform – an RBR beret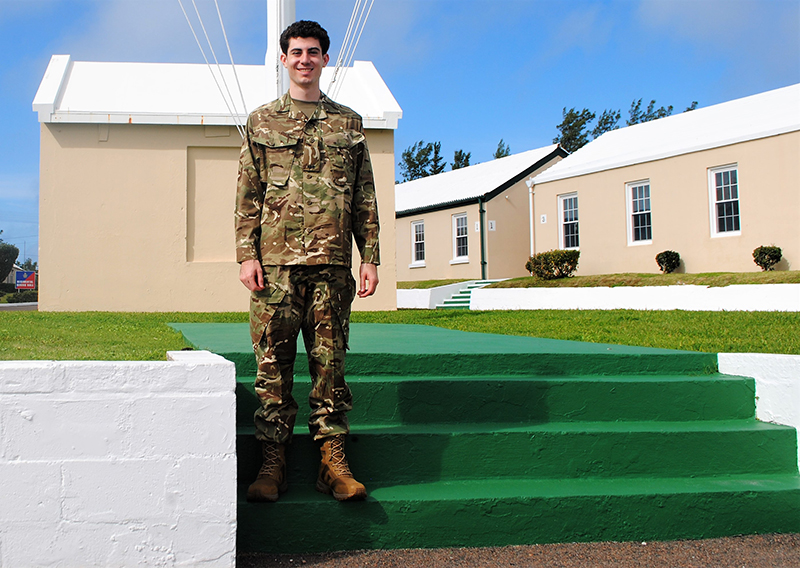 She added: "It's a bit of family business, really. I would like to join the British Army or the Royal Navy because I like being on the water."
The office administrator at wholesalers Viking Foods added: "I want to learn more team work skills. I'm quite good at that, but there is always room to grow and room to improve.
"I want to go as high as possible in the RBR. I wouldn't have joined if I didn't want to do that. I'm looking forward to it all and how I will change mentally, physically and emotionally."
2nd Lieutenant LeeAnn Tucker talks to new soldiers as they await their kit issue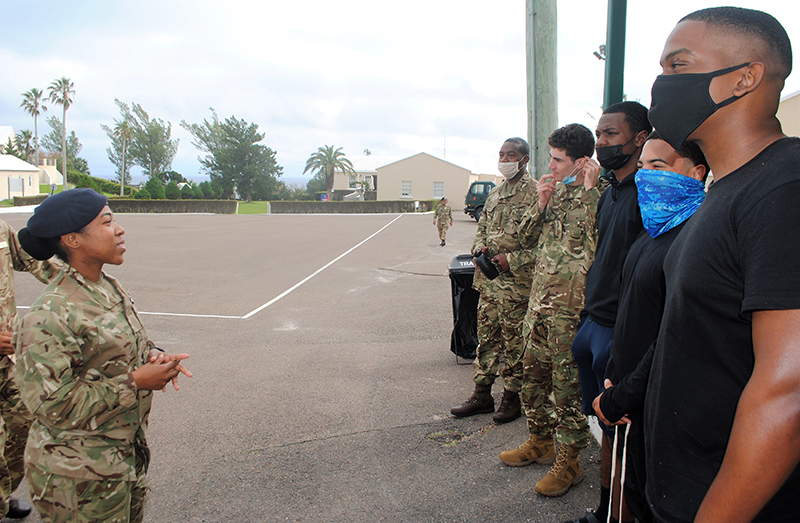 Pte James Dill said: "I'm a bit nervous about the assault course, but I think it'll be fine – just don't doubt yourself."
Pte Gianluca Guglielmucci, 23, from Paget, said he signed up for the experience and to gain new skills.
The accounting and finance graduate from the University of Kent in the UK added: "It's also about adventure and serving the country.
"I aim to stay in the Regiment and have a career here. I'm really interested in the Coast Guard – I want to learn more about the maritime life of the island. I'm also looking forward to the firing range and building relationships with everyone here."
Photos courtesy of Cpl Andre Place, RBR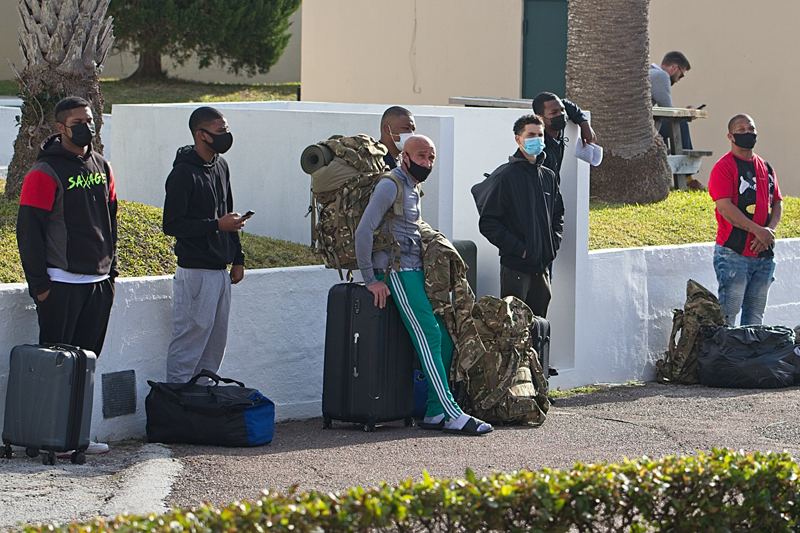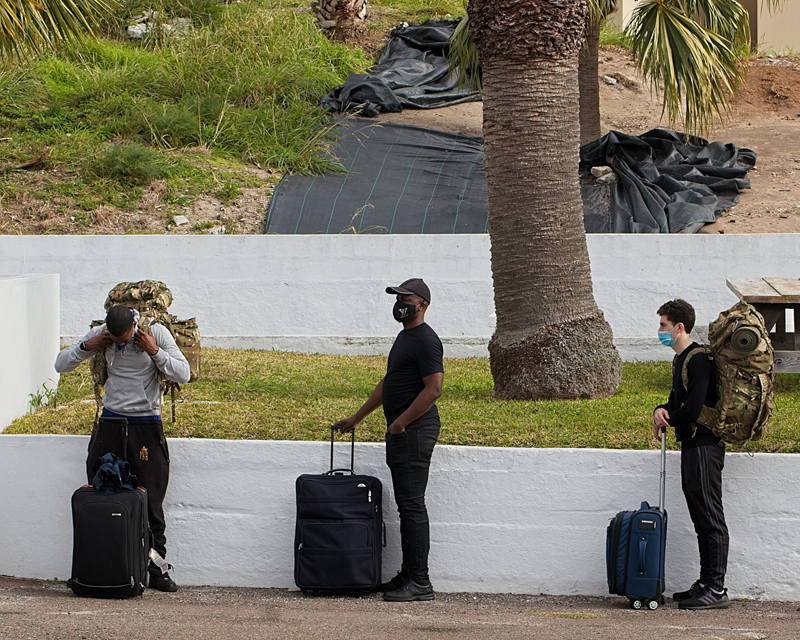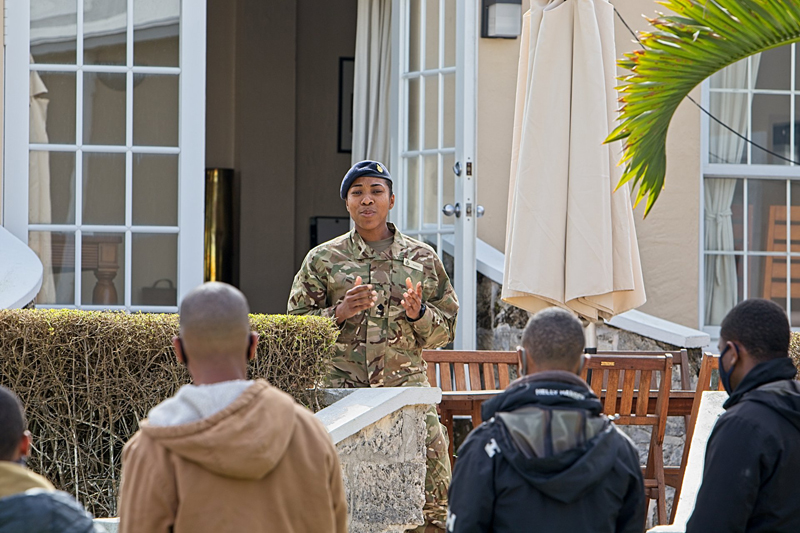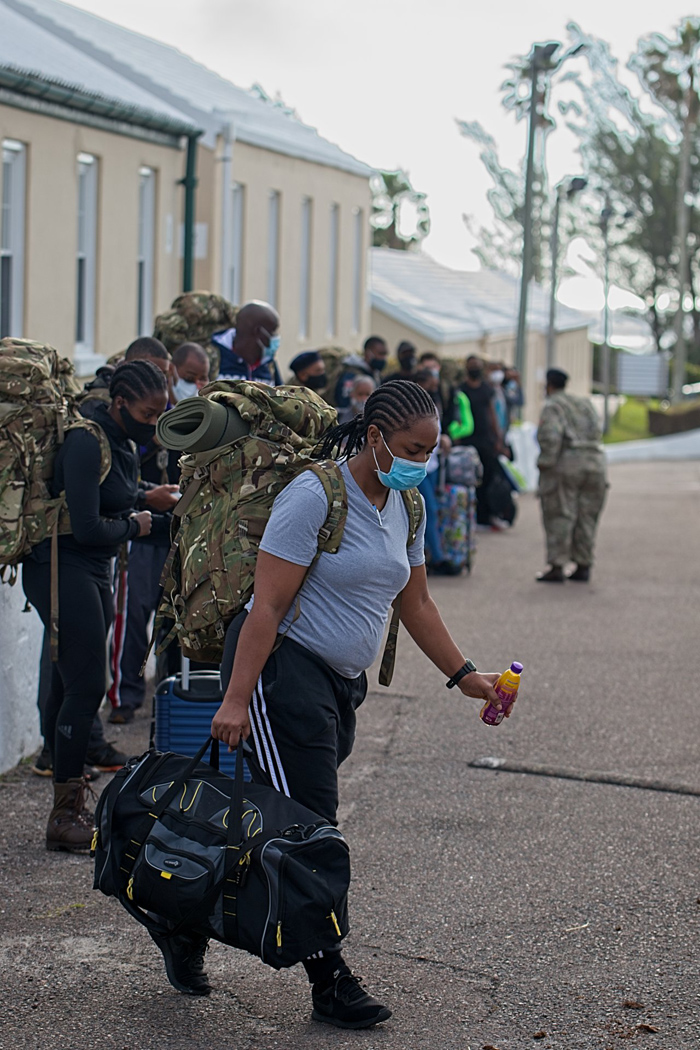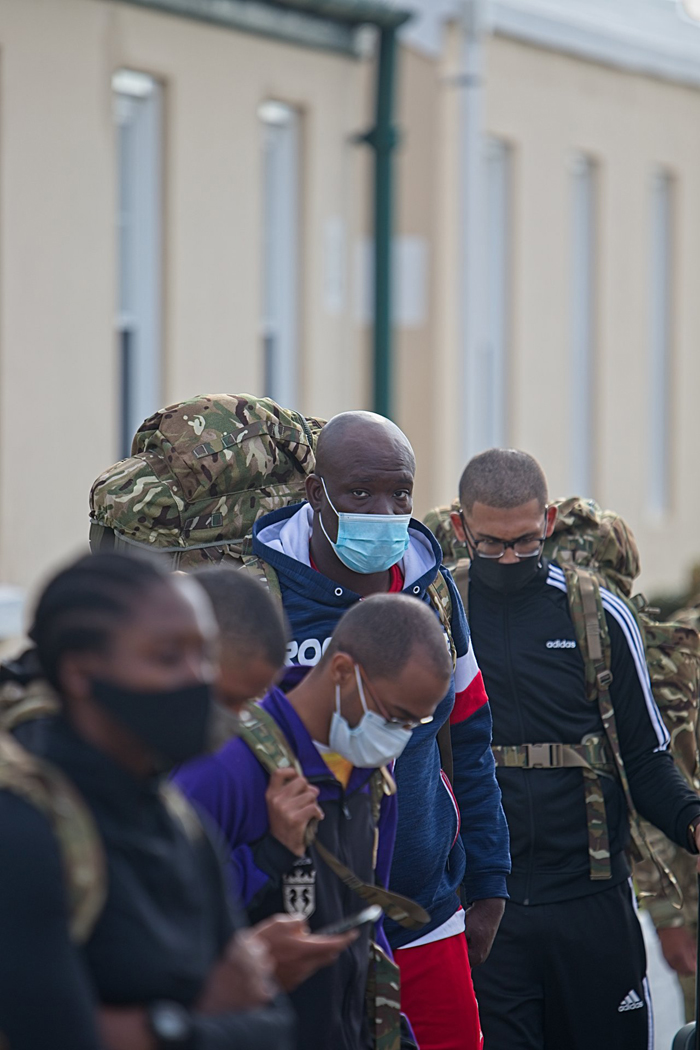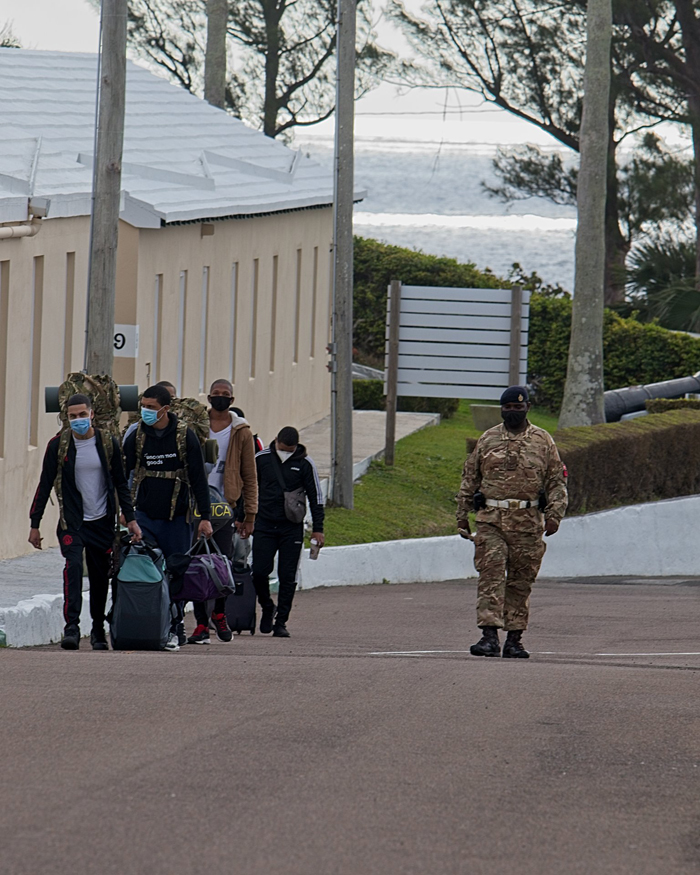 Read More About