8% of businesses in the City of Hamilton, North Hamilton, St. Georges, and Dockyard are permanently closed, 65% are fully open and 27% are temporarily closed and/or operating on reduced hours according to a foot survey conducted by the Bermuda Chamber of Commerce to record new data on the impact of Covid-19 on businesses.
A spokesperson said, "The Bermuda Chamber of Commerce has conducted a follow up foot survey to record new data on the impact of COVID-19 on business in Bermuda. Conducted in December, 2020 the new survey examines the change in business operations across four major business communities including: the City of Hamilton, North Hamilton, St. Georges and Dockyard compared to the August 2020 survey results.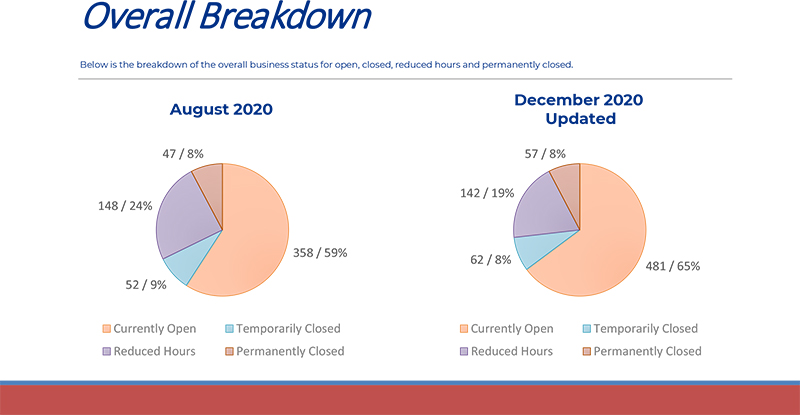 "The updated data from the survey was collected over a two week period in early December, and continues to look at the overall status of businesses who are currently operating as fully open, on reduced hours, temporarily closed and permanently closed. The survey has continued to focus on four main sector to include: food and beverage, personal care, clothing and specialty stores [which include gift stores, homewares, unique products and combination stores].
"See attached slides on the total impact in the 4 main regions.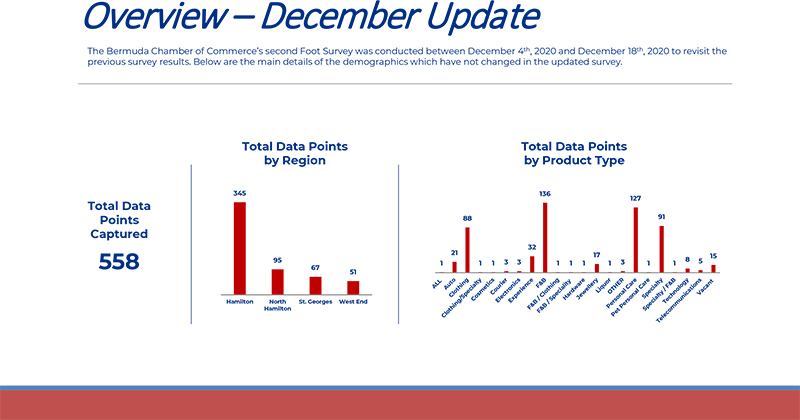 Key takeaways are:
Permanently closed 8%, Fully open 65%, with Temporarily closed and Reduced hours representing 27%.
The breakdown by sector is as follows:
Personal Care Fully Open 85%, Permanently Closed 5%, Temporarily Closed 3%, Reduced Hours 7%.
Clothing Fully Open 64%, Permanently Closed 6%, Temporarily Closed 6%, Reduced Hours 24%.
Specialty Fully Open 55%, Permanently Closed 5%, Temporarily Closed 16%, Reduced Hours 24%.
Food & Beverage Fully Open 59%, Permanently Closed 7%, Temporarily Closed 12%, Reduced Hours 22%.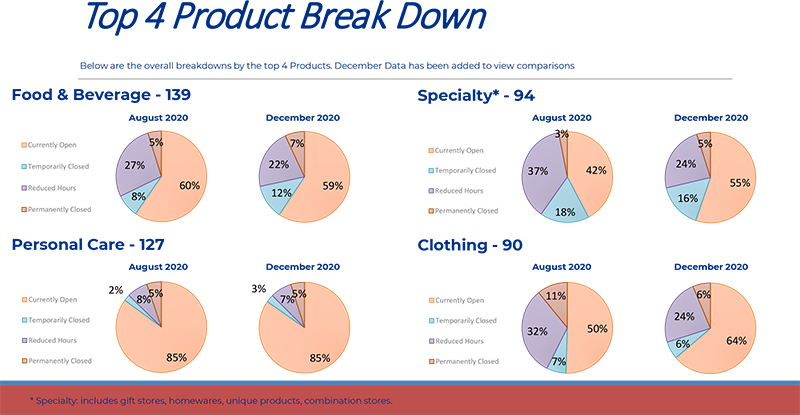 Kendaree Burgess, CEO at the Bermuda Chamber of Commerce shares: "The Chamber of Commerce is pleased to be able to continue to support the business community by providing this valuable information. The majority of the new data shows there are some positive signs with business sectors, but COVID-19 is still greatly effecting businesses across the island. The impact of COVID-19 is still very prevalent to all businesses and the Chamber will continue to support and advocate on their behalf."
Note: The survey breakdown is as follows:
Total businesses surveyed: 558
St. Georges 67
North Hamilton 95
Hamilton 345
Dockyard 51

As the island and world deals with the Covid-19 pandemic, we are doing our best to provide timely and accurate information, and you can find more information on the links below.
Read More About