Construction of the new Career Development Centre at Bermuda College has "officially commenced," with the project — which will include a 3,542 sq. foot addition with a number of state-of-the-art features — made possible thanks to a $3.8 million donation from several Bermuda-based re/insurers.
A spokesperson said, "Bermuda College Foundation announced today that construction of the state-of-the-art Career Development Centre at Bermuda College has officially commenced.
"The project was made possible after a $3.5 million donation by several Bermuda-based [re]insurers including Athene Life Re Ltd., a reinsurance subsidiary of Athene Holding Ltd. [Athene], Athora Holding Ltd., Aspen Insurance Holdings Limited and Catalina Holdings [Bermuda] Ltd.
"The four companies have also committed an additional $300,000 of funding for the Centre bringing the total donation amount to $3.8 million.

"Once completed, the Centre will offer programmes across a number of relevant sectors that will help with local workforce development and training that will enhance the Bermuda economy.
"With a focus on programmes in the FinTech and Cyber Security fields, the Centre offers an expanded technology infrastructure that will allow for innovative research and development initiatives.
"The Centre will also feature a model classroom, state-of-the-art computer lab, a theatre and lecture hall, innovation lab and Bermuda Professional and Career Education [PACE] opportunities. The public can view the 3-D plans by clicking here."
Renderings via the Foundation website: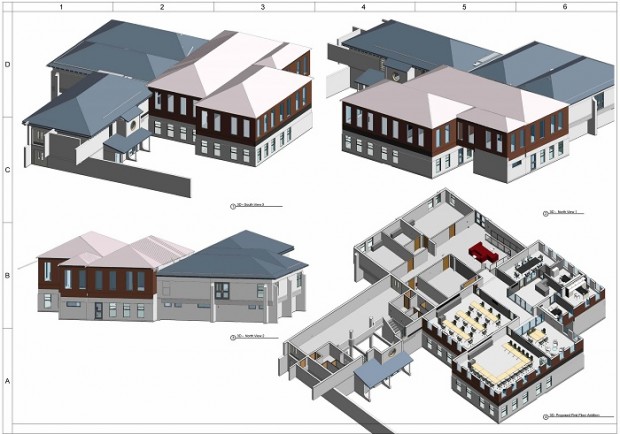 "We are delighted to see the concept, that was developed to support the tremendous $3.5 million gift now becoming a reality," said Garry Madeiros, Deputy Chairman of Bermuda College Foundation.
"On behalf of Bermuda College Foundation Board, I thank the donors for funding this renovation project and technology upgrade at the College which is a great kick-start towards the Foundation's $15 million Capital Campaign. Their collective investment in our College, our Community and our Future is truly invaluable."
His comments were supported by Bermuda College President, Dr. Duranda Greene who noted the project epitomised the philosophy of a community college and its community.
She said, "We are thrilled construction of the Career Development Centre is underway as we've been hard at work preparing for this day. I'm indebted to the dedication of our team for bringing us to this milestone. The Centre exemplifies the College's commitment to the community to transform lives through innovative education with state-of-the-art technology and facilities, and thus enhance the success of our students."
A spokesperson explained, "The Centre will be created with a 3,542 sq. foot addition on a portion of Hallett Hall, the renovation of the existing space and the lecture theatre located at 30 College Rd, Paget PG 04, Bermuda.
"The building enhancements include upgrades to the existing facilities and infrastructure as well as the introduction of additional, modernised spaces and resources."
"Athene and our insurance colleagues in Bermuda are deeply committed to the Bermuda community and to investing in its people," said Bill Wheeler, President of Athene Holding Ltd.
"Athene's connection to the Career Development Centre builds on our history of supporting education-based initiatives in our communities. Now that construction on the Centre has begun, we are excited to see the fruition of our planning and look forward to watching it foster talent in the next generation of working professionals."
A spokesperson added, "The Career Development Centre will be open to Bermuda College students, faculty, staff and the community for a variety of purposes and has the capacity to impact nearly 2,500 individuals per year through its programmes.
"After a very competitive bid process, OBMI was chosen to design the Centre, and Overnight Construction was selected to construct the project. The project is scheduled to be completed before the start of the Fall 2021 semester."
The Foundation website offers the 'Summary of Key Features' below:
Model Classroom – adaptive technology for special needs students, audio visual console station, interactive smartboard system, electronic flipcharts, video production system, security paging system, mounted acoustic speakers, modular tables suitable for teams, ergonomic chairs

Model Computer Lab – same as above plus: (2) monitors on each table, (25) new student computers with specialized software, augmented reality technology, large tables suitable for active learning, ergonomic chairs

Renovated Lecture Theatre – new seating/furniture, state-of-the-art podium with table, projectors, screens, mounted acoustic speakers with amplifiers, electronic whiteboards, video production system, controllers for light/sound, document camera, Wacom tablet

Innovation Lab – projection and streaming equipment, 3-D printers & scanners, educational robots/IOTs, prototyping equipment, new hardware & software, modular desks/chairs for collaborative educational/networking activities

PACE Offices – The Professional and Career Education Division's administrative offices will be moved to the Centre, allowing for a "one-stop" concept for clients.

Read More About