[Updated with video] The Bermuda football team played against Canada this evening [March 25] as part of the World Cup Qualifiers in Florida, with Canada recording a 5 – 1 victory, with Kane Crichlow scoring the goal for Bermuda.
Cyle Larin gave Canada a 1 – 0 lead in the 19th minute, and he scored again in the 27th minute, so Canada took a 2 – 0 lead into the half time break.
Match stats courtesy of ESPN: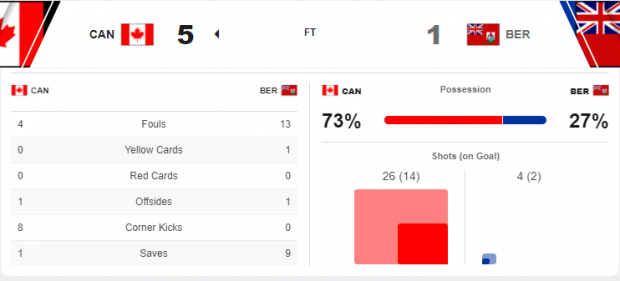 Richie Laryea scored in 53rd minute to give Canada the 3 – 0 lead, however Bermuda's Kane Crichlow scored in the 63rd minute to pull a goal back for Bermuda, and make the score 3 – 1.
Cyle Larin completed his hat trick with another goal in the 69th minute to put Canada up 4 – 1, and then his teammate Theo Corbeanu scored in the 81st minute to put Canada up 5 – 1.
Bermuda's starting line-up was Dale Eve, Eusebio Blankendal, Dante Leverock, Jaylon Bather, Calon Minors, Roger Lee, Lejuan Simmons, Kane Crichlow, Chae Brangman, Cecoy Robinson, and Jordan Outerbridge.
Canada's starting line-up was Atiba Hutchinson, Milan Borjan, Samuel Adekugbe, Kamal Miller, Steven Vitoria, Stephen Eustaquio, Cyle Larin, Junior Hoilett, Lucas Cavallini, Alphonso Davies, and Richie Laryea.
Bermuda's next match will be on Tuesday, March 30th, when they will match up against the Aruba National Team, with the game also set to take place in Florida

Read More About