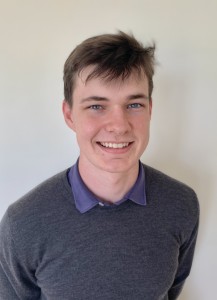 Engineering company iEPC has hired William Welch as an intern as part of his university engineering programme.
A spokesperson said, "William is a first year Mechanical Engineering student at the University of Waterloo in Canada. Like many, he attended classes virtually from home in Bermuda during the fall term due to COVID-19 restrictions.
"Having completed his first term in December 2020, he started with iEPC in mid-January as part of his co-op work term requirements. The University's co-op programme entails studying for one term, completing a work internship for the next, then going back to school for the following term, and so on.
"There are six co-op terms in all during the University of Waterloo Engineering programme, approximating two years of work experience along with a four-year honours degree.
"William heard about the iEPC internship from a family friend."
Mr. Welch said, "The friend introduced me to an engineer at iEPC. We connected and I was introduced to other engineers and interviewed. I was very grateful and excited that the iEPC team saw my potential and identified ways in which I could help them with their work during a 12-week internship."
The spokesperson said, "iEPC is involved in many areas of engineering including mechanical, structural, civil, electrical and environmental engineering."
Mr. Welch said, "It was a good opportunity to learn about all of those aspects of engineering while also getting to experience what it is like to work in the engineering world. The job was also in Bermuda which made it appealing because I did not have to travel to Canada where most of the University of Waterloo co-op jobs are located.
"Relocating to Canada has been nearly impossible in the past year."
The spokesperson said, "The internship involves shadowing different engineers at iEPC and watching what they do and how they do it, in addition to helping out on projects, such as survey work and data analysis. His work has included working with iEPC engineers on a variety of tasks from analyzing emissions data to surveying a building site, to cataloging a registry of BELCO tanks.
"William said he first became interested in engineering in grade 11 of secondary school."
Mr. Welch said, "That was the point when I realised that I love building stuff and figuring out solutions to problems. Although, even before that, I loved figuring out how things worked and had always wanted to create. My ultimate career goal is to have a job that I really enjoy doing and allows me to help people. I hope to achieve that by becoming a professional engineer."
The spokesperson said, "At the end of this internship, William will return to university for the spring term. He said: "I feel like I will take a lot of skills and knowledge with me from this work term that will help with my studies and with future employment.
"I think the most surprising thing I have learned so far is how engineering is not just about designing something; it is also about budgeting, figuring out solutions and generally helping the client figure out what they want and need.
"William's advice to young people looking to enter the engineering field."
Mr. Welch said, "Work hard at your mathematics and core sciences like physics and chemistry. You'll need them to get into an engineering university programme. Don't give up – get help from teachers, tutors and study groups when you need to.
"Also, experiment. See what jobs and paths appeal to you by trying them. Every time you get a chance, try something new, so by the end of university you will know what you would want in your career."
iEPC Director of Project Management, Michael Maughan, said, "William has been a great addition to the team and is quick to learn and assist in many aspects of our work. Though his engineering studies are off to a somewhat difficult start due to COVID-19, I am sure he will succeed and excel as an engineer and look forward to assisting him during his studies and beyond."
Read More About