The "intersection of literacy, language variation, and poverty" will be explored in Bermuda College's second Literacy Series workshop.
"Dr. Julie Washington, Director of the Dialect, Poverty and Academic Success Lab at the University of California, Irvine [UCI] believes that language provides the foundation for the development of reading skills, so children will have to learn the 'language of school,' which is also the language of books, in order for them to become good readers. Her virtual presentation, on March 22, will focus on providing support for reading and language development in the classroom and at home," a spokesperson said.
"She will share her research on understanding the role of cultural dialect in the assessment and identification of reading disabilities in school-aged African-American children. She will also discuss disentangling the relationship between language production and comprehension on the development of early language skills for children growing up in poverty."
Dr. Phyllis Curtis-Tweed, Vice-President of Academic & Student Affairs at the College explained the significance of the workshop for local educators and parents or guardians, saying, "What will be of particular interest to teachers and parents, I imagine, will be the correlation between how a child's idiolect in their home environment can impact their learning when they have to switch to the more formal classroom language; and how the two can affect the development of reading. It also reveals the potential roles of teachers and parents in recognising and then guiding that process to ensure classroom learning success for everyone."
A spokesperson added, "Educators who participate can earn CE units from Bermuda College to be credited toward professional development targets.
"The 90-minute virtual presentation will be held Monday, March 22 at 6:30 p.m. via Zoom. Interested persons are required to register on the College website at www.college.bm."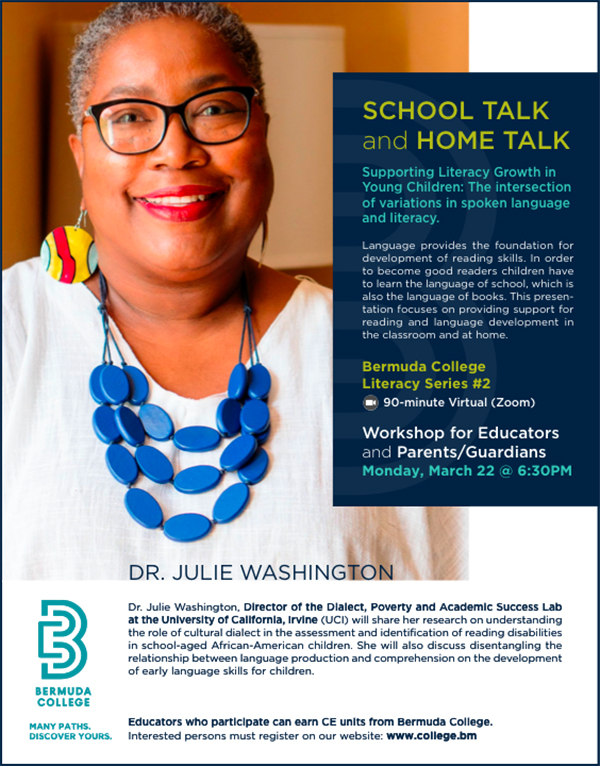 Read More About