CURB will be holding its latest community webinar "Black Masculinity & Legacies of Subjugation: Negotiating Power in the Corporate World and Beyond" on April 29th from 6:30pm to 8:00pm, and the public is invited to participate in the discussion.
A spokesperson said, "The community forum and panel discussion will reflect on the racial ideology that has framed blackness and masculinity for centuries and how its ideas persist into the present in corporate spaces and beyond – ideas that, at their core, have traditionally undermined his humanity and framed him as inferior and a threat.
"These perceptions, and the ideology that they extend from, became embedded over centuries in the collective psyche and our systems, to such an extent that black men are required to navigate them and their impact as part of their social and economic identity, consciously or otherwise.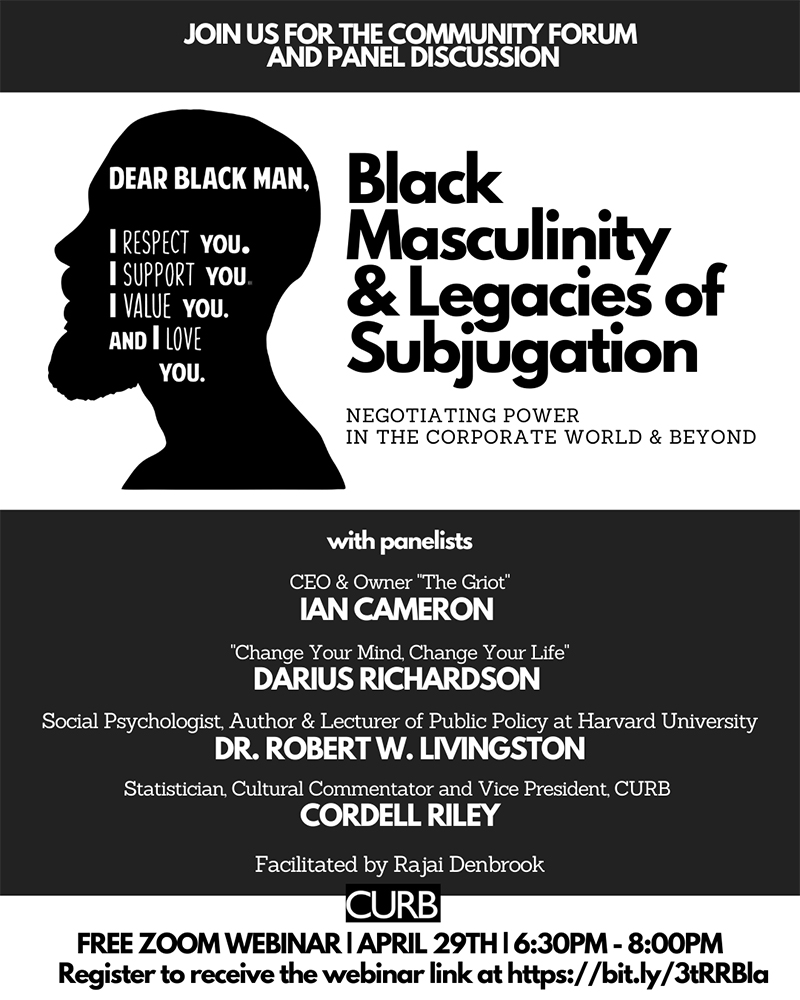 "Panelists for the evening include Ian Cameron, owner of 'The Griot', men's rights advocate Darius Richardson of 'Change Your Mind, Change Your Life', social commentator, statistician and CURB Vice President, Cordell Riley, and social psychologist, author and Lecturer of Public Policy at Harvard University, Dr. Robert W. Livingston.
"CURB is exceedingly grateful to have such a strong panel. Each member is exceptionally positioned to offer rich insight into the topic so that the forum is grounded in meaningful, informed, and forthright dialogue. We invite everyone to be a part of this important discussion.
"Interested attendees can register at https://bit.ly/3tRRBla to receive a link to the Zoom webinar. Registration will remain open until the beginning of the forum. Persons can also email CURB at admin@uprootingracism.org or call/WhatsApp 707.1496 for any further assistance or more information."
Read More About
Category: All