Inside Caribbean Football provided a chart of the leading goalscorers so far in the Concacaf World Cup Qualifiers, with Bermuda's Kane  Crichlow – who scored once against Canada and twice against Aruba — tied for second place.
Cyle Larin from Canada is the leading goalscorer with 4 goals, three of them came in the first game when Canada defeated Bermuda 5 – 1, and he also added one goal when Canada defeated the Cayman Islands 11 – 0.
Four players including Bermuda's Kane Crichlow have three goals from the two games. Crichlow scored Bermuda's lone goal in the match against Canada and he also scored twice in Bermuda's 5 – 0 win over Aruba.
Image courtesy of Inside Caribbean Football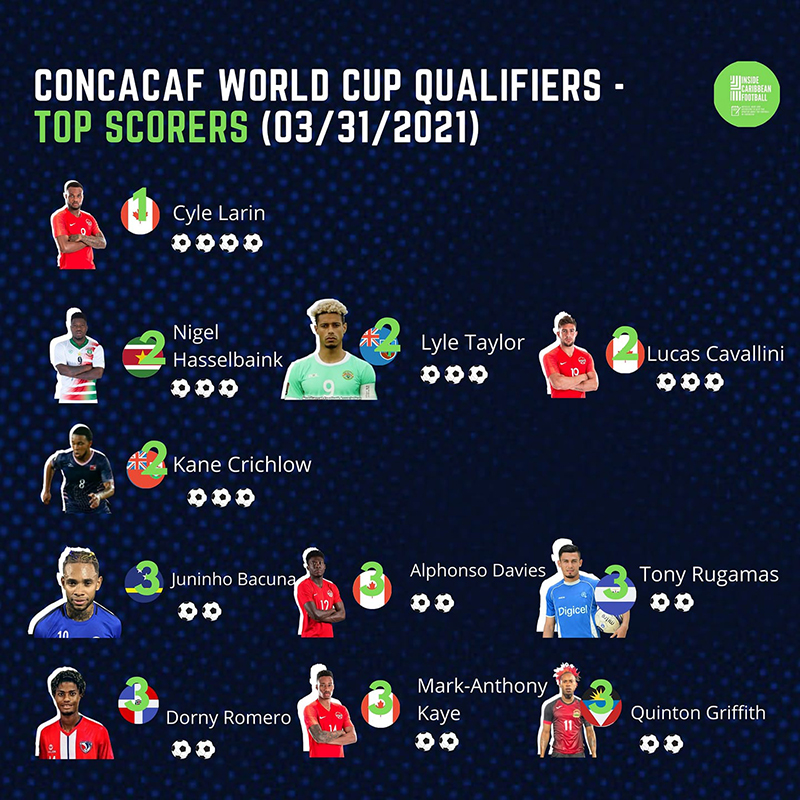 Concacaf World Cup Qualification Leading Goalscorers
4 Cyle Larin – Canada
3 Nigel Hasselbaink – Suriname
3 Lyle Taylor – Montserrat
3 Lucas Cavallini – Canada
3 Kane Crichlow – Bermuda
2 Juninho Bacuna – Curacao
2 Alphonso Davies – Canada
2 Tony Rugamas – El Salvador
2 Dorny Romero – Dominican Republic
2 Mark-Anthony Kaye – Canada
2 Quinton Griffith – Antigua and Barbuda
2 Nowend Lorenzo – Dominican Republic
2 Carlos Bernardez – Belize
2 Juan Barrera – Nicaragua
2 Ariagner Smith – Nicaragua
2 Keithroy Freeman – St. Kitts and Nevis

Read More About