In recognition of Earth Day, the African American Museum in Philadelphia will host a Virtual Earth Day Celebration featuring the award-winning work of Bermuda's Dr. Quito Swan, with a focus on Environmental Justice.
The free event will take place today [April 22] via Zoom from 5.30pm to 7.00pm. To register, click here.
A spokesperson said, "This event is focused on exploring the life and work of Bermuda National Hero Dr. Paulu Kamarakafego.
"Participants will be able to log on by Zoom and we invite Bermudians to attend this virtual event.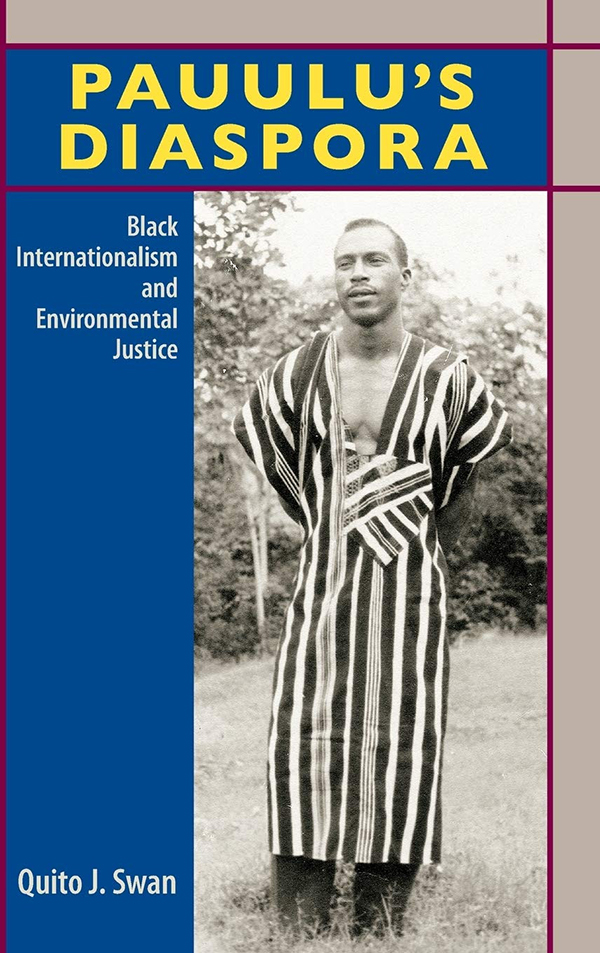 "The AAMP Book Club meets once a month via Zoom to reflect upon an important and/or recently released book in relation to our current exhibitions and other important topics in Black art, history and culture. In observance of Earth Day, this month we are joined by scholar Dr. Quito Swan, who will discuss excerpts of his monumental latest work, "Pauulu's Diaspora: Black Internationalism and Environmental Justice," so be sure to register now.
"This program and discussion led by AAMP's Docent Corps is a great way to connect and share ideas with others who have read the book, or to learn about the book and author prior to reading it.
"A digital copy of the chapter to be discussed and the Zoom link will be emailed after registration. Registrants can also receive a special $15 discount on book purchases by using the promotional code AAMP at checkout. Just click here to buy your copy of "Pauulu's Diaspora" today!
"Named as a 2021 National Endowment for the Humanities [NEH] Fellowships Open Book Program awardee, a finalist for the 2021 Association for the Study of African American Life and History [ASALH] Book Prize, and one of the African American Intellectual History Society's [AAIHS] Best Black History Books of 2020, Pauulu's Diaspora is a sweeping story of black internationalism across the Atlantic, Indian, and Pacific Ocean worlds, told through the life and work of twentieth-century environmental activist Pauulu Kamarakafego.
"Challenging U.S.-centered views of Black Power, Quito Swan offers a radically broader perspective, showing how Kamarakafego helped connect liberation efforts of the African diaspora throughout the Global South. In a riveting narrative that runs through Caribbean sugarcane fields, Liberian rubber plantations, and Papua New Guinean rainforests, "Pauulu's Diaspora" recognizes a global leader who has largely been absent from scholarship.
"In doing so, it brings to light little-known relationships among environmental justice advocates.
"Quito Swan is Professor of Africana Studies at the University of Massachusetts Boston, where he directs the William Monroe Trotter Institute for the Study of Black Culture. An historian of the twentieth century African Diaspora, Swan is the author of "Pauulu's Diaspora: Black Internationalism and Environmental Justice" [University Press of Florida, 2020], "Black Power in Bermuda" [Palgrave Macmillan, 2010], and the forthcoming "Pacifica Black: Black Internationalism in Oceania" [New York University Press, 2021].
"He has garnered national awards and grants for his research, including fellowships from the National Endowment for the Humanities, the American Council of Learned Societies, Harvard University's Radcliffe Institute, the Sasakawa Peace Foundation, the Wilson International Center for Scholars, and Australia's University of Queensland.
"His research, teaching, and community work has taken him across the United States, Britain, Australia, Kenya, Venezuela, Papua New Guinea, Fiji, Vanuatu, and Bermuda. Swan co-edits the Black Internationalism book series at the University Press of Illinois."

Read More About
Category: All, Environment