Sixty Bermuda Hospitals Board [BHB] nurses will receive a hand-crafted gift bag in memory of Bermudian missionary Freida Nusum who died of Covid-19 in Panama last April and to mark the official start of Nurses' Month.
Ms Nusum and her husband Sheridan were living in Panama as missionaries when the pandemic started last year. Unfortunately, the couple both contracted the virus and were hospitalised in Panama, both in serious condition. Ms Nusum succumbed to the illness. Her husband recovered.
Judith Lawrence was crestfallen at the loss of her sister.
"To help me recover and to honour Freida's life, I decided to make a donation," said Ms Lawrence. "Freida was a giving and caring person and so I thought a donation to nurses who have worked so hard during this pandemic, would be fitting.
"I enjoy crafts and so decided to make 60 gift bags. I used materials Freida had collected for me in her travels. Other family donated products to put in the bags – socks, candy, hand sanitizer, cream and tissues," she continued.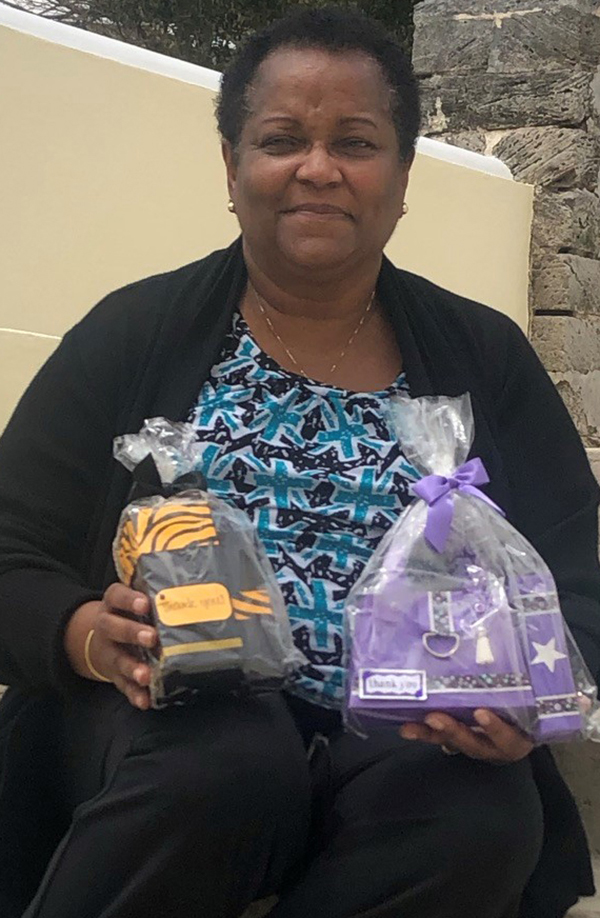 BHB have made the donation a week-long event, holding daily draws to determine the winning nurses.
"We extend our sympathies to Ms Lawrence and her family on the loss of her sister," said BHB Chief of Nursing Judy Richardson. "Our nurses are touched by this kind gesture.
"The recent surge of Covid 19 in Bermuda has had a huge impact on our frontline nurses and healthcare workers. Her beautiful gift bags will be appreciated by each of our nurses who receive one. Our nurses tend to the needs of patients at every stage of their existence – from birth through to end of life."
Ms Richardson continued: "Just being there for patients, their carers and their families in these pressured times is so critical. We thank Ms Lawrence for her generosity."

You can find more information on the links below and also on our dedicated website BermudaCovid.com, which is the most comprehensive resource and historic record available of Bermuda's handling of the pandemic.
Read More About