[Updated] Dr. Ty Douglas will be hosting a Pre-Mother's Day Special, with a number of special guests, including his own mother Lucy Douglas, Carmen Starling, Tracey Richardson and Heather Martin.
A spokesperson said, " Join us on Saturday, May 8th at 6pm bda time for a dynamic pre-Mother's Day Special conversation! Bermudian Author and Professor, Dr. Ty Douglas will host a conversation with some of his favorite mothers from Bermuda and around the world.
"Special guests include his mother–Lucy Douglas, a licensed professional counselor; Carmen Starling–a gifted educator and learner; Tracey Richardson–popular Bermudian singer; and Heather Martin–aka "Chef Mommy," who is an author and member of American Grammy nominated gospel music trio "Virtue".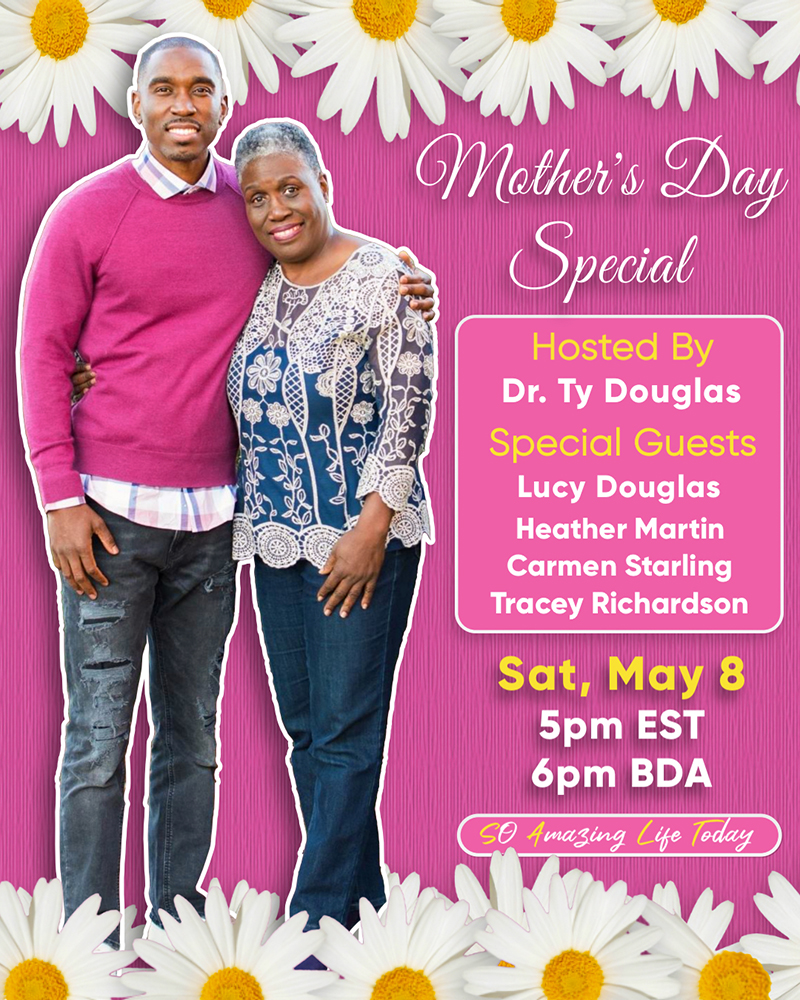 "Much like last year's Father's Day Special, this conversation promises to be authentic, fun, and powerful! These amazing mothers have experienced the challenges and triumphs of motherhood, including topics we don't always talk about like food preparation for children with food allergies and facing mother's day after the loss of a mother.
"They will give you some of their tips and strategies for surviving and thriving as mothers and educators in the midst of a global pandemic. There promises to be some surprises and additional special guests from their families who will join the broadcast! There will also be a live chat, opportunities for 'mother's day shout outs to moms' and time for some of your questions to be answered."
Update | The live broadcast has concluded and the replay follows below
Update: Several 'shout outs' were emailed to Dr Ty Douglas and they follow below, you can also see many others shown at the bottom of the screen on the video above.
From Pamela Ingham to Mom Reid: "Happy Mother's Day Tiger"From Andrea DeSouza: To Linneth Lewis, you have shown me what sacrifice of a mother looks like and for that I'm truly grateful and blessed. Love you tons, Andrea.

From Amanda Bean: Happy Mother's Day to my mom Madree Landy. Q

From Carmalita Simmons: Wishing all mothers a very happy Mother's Day.

From Pauline DeShield: Happy Mother's Day to Lois Scott , Julia Dears Joy Joell and Joy Bean

From Amanda Blakeney: Happy Mother's Day to Sheila Blakeney and Gina Butler!!

From Wanda Spence: Happy mothers day to all the amazing mothers around the world who held down our families, raised up our children, and supported our brothers. Text for today "I praise you because I am fearfully and wonderfully made; your works are wonderful, I know that full well Psalms 139:14

From Carys Caisey: Wishing all the mothers a very Blessed and wonderful days…to all women who take on mothering roles..God Bless You

From Jukita Benevides: Happy Mother's Day to all the amazing women in my family The Robinson Family our Ma Ardine Robinson would be extremely proud!!!

From Caleb Jn Pierre: Happy Mother's Day to Professor Ann PARSONS of Bermuda College- Everybody's mother, literally. Thank you for all the hard work you do to educate our students.

From J Walker: Happy Mother's Day to All Mothers

From Melina Roach: Happy Mother's Day to Yvonne Roach

From Sherma Webb Clarke: Shout out across the pond to my mom, Shirley Webbe, who set the example for poise and grace. Thank you for your love and support.

From Leah Dean: A special shout out to Julie Richardson. Amazing mom of four and grandmother of soon to be 12!! We love you.

Happy Mother's Day to Cassandra Lewis Freeman!

From Eunice Tucker: To all the Mothers that have filled in for me throughout my life since after my mother's passing. Appreciate all of you and a blessed Mother's Day

From Dr. Ransford Pinto: Happy Mother's Day to all Moms

From Susann Burcher: Happy Mother's Day to my Daughter and to my sisters in love Lucy and Latonya

From Shirley Wilson: To my dearest friend Lucy Douglas..love ya

From Kamaria Williams: Happy Mother's Day to all the mothers and those who mother!

From Diana Ming: To Mothers everywhere on planet earth, Happy Mother's Day. You are essential.

From Linda Holdipp: Blessings to my so amazing mother Linda Hollinsid!

From Russ F: Happy Mother's Day to all
Read More About