In celebration of the READ Caribbean, the Bermuda National Library will be hosting a screening of an African/Caribbean movie entitled "Joseph" on Saturday [June 5].
A spokesperson said, "For the month of June, Bermuda National Library is celebrating READ Caribbean and promoting Caribbean stories, authors, cookbooks and highlighting our connections in our collections!
Trailer for Joseph
"In addition, we invite you to join us for the Friends Movie Experience, as the Friends of the Library presents an online film screening of the award winning movie JOSEPH on Saturday, June 5th at 7pm .
"Joseph is a powerful African/Caribbean movie by Step by Step/Praise Academy,that addresses the connecting and rebuilding of the cultural heritage between the Caribbean and Africa. The film will spark conversation about culture, class, belief systems, self-discovery, traditional vs modern medicine and family conflicts.
"Join in a LIVE interactive Q&A session with the Writer/Director, Marcia Weekes and Executive Producer Dave Weekes. The discussion will be moderated by Latoya Bridgewater of Empowered Me Wellness and include special guest Cultural Ambassador /International Soca Queen Alison Hinds. We are also excited to have educator, Founder/Executive Director of the Ace It Foundation [Ghana], Quinton Sherlock and our community/cultural partner, Ian Cameron, co-owner of The Griot, participate in the discussion.
"The Friends of the Library teamed up with Sargasso to offer an enhanced movie experience to everyone in Bermuda who supports this event. Sargasso is offering 20% off of delivery just for this event!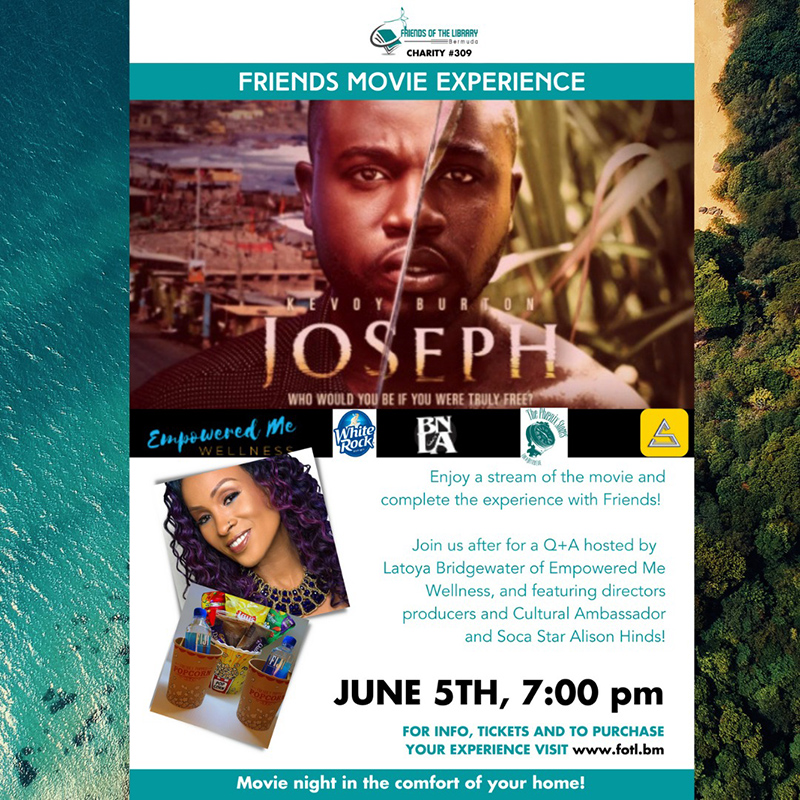 "Visit www.fotl.bm to purchase tickets and your Friends of the Library Movie Experience Package with 3 snack bucket options. All funds will go to the Friends of the Bermuda National Library to support the library.
"We hope that you can join us. Feel free to share the event details and posters with your family, friends, colleagues, members and followers. Follow us at Bermuda National Library on Facebook, @bdalibrary, @fotlbermuda on Instagram and www.bnl.bm for library information, events and updates.
"Joseph is a film about a Jamaican doctor, who comes from a family of wealthy doctors, but he is in turmoil over his African ancestry. This quest was inspired by stories of Africa from his grandfather and a fellow Ghanaian doctor who studied in Jamaica. The star is in anguish, with thoughts and desires to find out more about his roots, but meets stiff opposition and ridicule from his family who thinks he is being ridiculous and backward thinking. It is a battle to be overcome; or he could be crushed by it. The film was shot on location in Ghana, Jamaica and Barbados. Step By Step Productions is a film company operating out of Barbados in the Caribbean."

Read More About
Category: All, Entertainment, Films/Movies