Gina Spence Productions will host a free virtual fundraising concert titled "Save The Island" on Sunday, June 27th.
A spokesperson said, "Gina Spence Productions Charity #856, "GSP", featuring Last Call, Bermuda's own Billboard Chart-toppers, will host a FREE Virtual Fundraising Concert titled "Save the Island". The free concert will be aired on Sunday, June 27th, 2021 at 7:30 pm via Channel 82 local tv and all media and social outlets such as Facebook and Channel 89.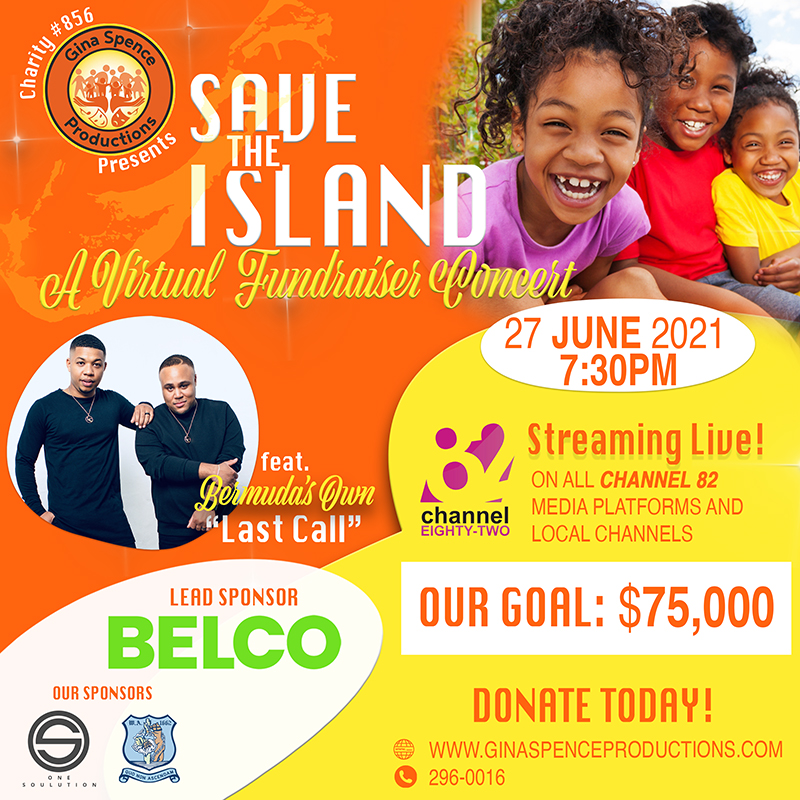 "The event is geared to bring hope and healing to our community while bringing awareness to the 72 Children left behind due to gun and gang violence while raising funds for the Champions Program which provides clinical, social support, and essential needs to children left behind due to gun violence or any other form of homicide.
"Our community still struggles with gun and gang-related violence. Victims often leave children behind to make sense of their parent's death.GSP is the only grief-specific organization for children in Bermuda. Without the proper grief support, the tendency for perpetual anti-social behavior is increased and the cycle of injury continues to advance.
"During the 1-hour airing of "Save the Island" FREE Virtual Fundraising Concert, Bermuda will see, for the very first time, some of the faces of the children and surviving parents as they share their experience being a part of the Champions Program.
"Our charity goal this year is $75,000 with an aim to provide adequate support to our children. Donating is easy! Visit www.ginaspenceproductions.com, call 296-0016, or email info@ginaspenceproductions.com.
"There are 72 children left behind and the community of Bermuda has 72 reasons to give. No donation is too small; any amount will be greatly appreciated."

Read More About
Category: All, Entertainment, Music