Impact Mentoring Academy and Pangaea Educational Services announced their STEM Summer Camp.
A spokesperson said, "Offering a focus on science, technology, engineering, and math, the STEM Summer Camp gives parents the chance to enrol their children in a camp that blends fun with an engaging curriculum.
"Considered to be the curriculum of the future, STEM education is being adopted by leading institutions to prepare students for tomorrow's emerging job market. STEM's "learning by doing" approach allows for a deep understanding of complex disciplines like science and technology.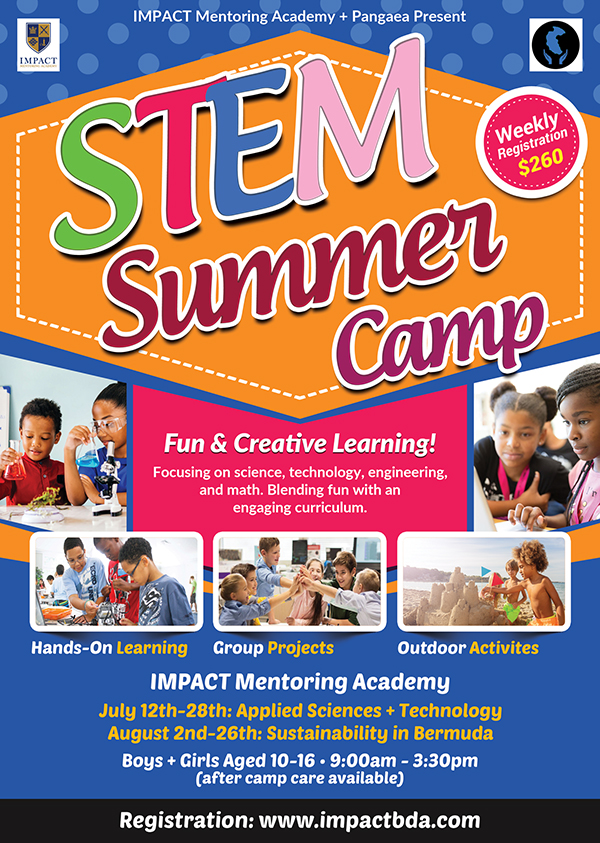 According to STEM Summer Camp's head counsellor, Kyrsten Burrows, campers will enjoy a project based learning experience: "Teams of three will be given an initial budget of 50,000 "STEM bucks", which will allow them to bid on projects and purchase materials from the camp's supply store. Each project will have its own difficulty, minimum bid, project value, and criteria.
"We plan to challenge our students' ingenuity, resource management, and cooperation through a team competition of who can finish each camp with the greatest amount of STEM bucks. As a reward, the winning teams will be given prizes for their efforts."
Mr. Burrows continues: "STEM is playing an increasing role in future careers. Integrating understanding of these concepts is paramount in the positioning of Bermuda's youth. Although there have been existing efforts towards STEM education in our community, none have been carried out in such a unique and engaging fashion. I believe this will be an exciting experience for all prospective students of our camp."
In addition to the engaging STEM learning, there will also be plenty of fun in store: "We also focused heavily on incorporating exciting activities to facilitate learning. Some of these activities include laser tag, field trips, swimming, sand castle competitions, and app building."
The STEM Summer Camp will run from July 12th – 28th, and again from August 2nd – 26th. The first camp will focus on applied sciences and technology, and the second camp will be based on sustainability in Bermuda.
The camp is open to boys and girls, aged 10-16, and is being offered at a cost of $260 per week. It will be held at IMPACT Mentoring Academy, in the old Berkeley Institute building. To register, visit www.impactbda.com. For inquiries and more information, contact kburrows@imabda.com.

Read More About
Category: All