Bermuda Hospitals Board [BHB] is now offering a number of hospital clinics at the Lamb Foggo Urgent Care Centre.
A spokesperson said, "Bermuda Hospitals Board is now offering a number of hospital clinics at the Lamb Foggo Urgent Care Centre, where mental health, diabetes, asthma and Patient-Centred Medical Home services are now available by appointment between 9am and 1pm on Wednesdays. The urgent care service will continue as usual, and open at 2pm until 10pm as it normally does on a weekday.
"Called the Integrated Health Clinic [IHC], the delivery of these services together outside of the main hospital campuses is the first deliverable of a strategic integrated healthcare programme by BHB, led by Deputy CEO, R Scott Pearman.
"The goal is to better meet the healthcare needs in Bermuda by improving service coordination and care pathways for patients to increase quality and patient outcomes, and decrease system costs."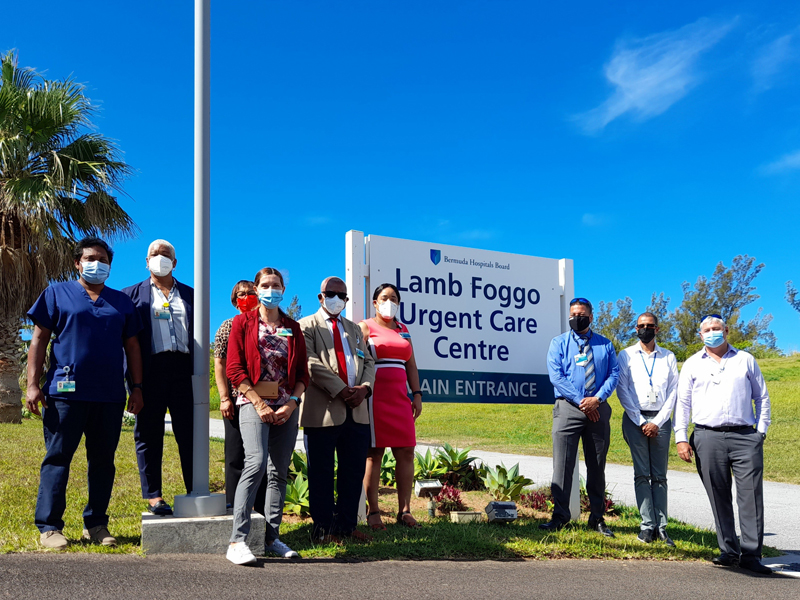 Project lead for the IHC, Dr Anna Neilson-Williams, Deputy Chief of Psychiatry, comments: "By integrating care currently only available at MWI or KEMH at the Lamb Foggo facility, BHB wants to help people manage health conditions nearer home. The overarching goal is to improve outcomes for people with chronic issues and support their needs in the community.
"This, in turn, will hopefully reduce emergency mental health and medical admissions, which are disruptive to patients' lives and costly. Co-locating clinics also provides an opportunity for greater coordination and integration between healthcare providers as patients may need multiple services."
Dr Neilson-Williams adds: "The opportunity in the near future will be to also add consultations for specialists, such as in cardiology and neurology later on."
Mr Pearman comments: "The IHC is starting at Lamb Foggo because it is an existing BHB facility and provides the hospital with an opportunity to increase utilization of the facility by offering clinical services that are needed by the residents of the eastern parishes. The IHC is based on a neighbourhood service model therefore services will be by appointment only for residents of Smiths, Hamilton and St. George's Parishes.
"The Urgent Care Centre will continue to serve all Bermuda residents. Residents of non-eastern parishes will continue to be seen at KEMH for their clinic appointments. Based on our experience at Lamb Foggo, our intention is to offer a similar IHC service in the West in the future. We remain very mindful of establishing and gradually building these services based on need."
Mr Pearman adds: "Integrating care around the patient is at the heart of the new BHB strategy. This includes not just having clinics working together out in the community, but more integrated care pathways for patients within BHB services and in collaboration and partnership with the wider healthcare system. We look forward to keeping the community updated as we make improvements."
BHB added, "Access to the clinics at the IHC is by referral from a physician. Individuals who are referred to these clinics will have the option of accessing the services at the hospitals or at the Lamb Foggo UCC, if they live in the East, when they are contacted for an appointment."

Read More About